Volunteer abroad with i-to-i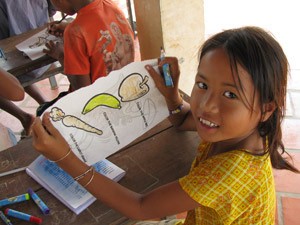 If overseas travel to you means really making a positive difference – however small – in the country you visit then why not volunteer abroad on one of the packages offered by i-to-i?
When you lend a hand you can be sure that your adventure overseas transforms from being a memorable experience to an unforgettable one. And whatever it is that interests you, i-to-i is sure to have the meaningful travel programme you are looking for, whether you want to work with children or animals, or on building or conservation projects.
To find out more about some of the amazing and unique experiences we offer, read on.
All about voluntary work abroad
When you choose to take a tour of a country that also allows you to get stuck into voluntary work abroad, you are rewarded with the chance to immerse yourself in the lives of the local people and see a side to the nation not often witnessed by regular holidaymakers.
That is what makes the packages offered by i-to-i so special – we provide you with opportunities that really allow you to make a difference, meet new people, expand your knowledge and skills, as well as create memories that will last a lifetime.
Through us, you could become part of the local community by working on building projects where you help to construct homes for underprivileged families in countries like Kenya, Costa Rica or Vietnam, or renovate schools in Nepal.
Alternatively, you might choose to make a difference to the lives of young people in the destinations you visit by teaching. By helping young people learn English in places like India, Peru, Zanzibar, Argentina and Thailand, you could provide them with the skills they need to succeed in the future.
Of course, there are several opportunities to dive into the fields of wildlife and conservation volunteering on i-to-i packages. You could work at an elephant sanctuary in Sri Lanka, with orangutans in Borneo or pandas in China.
There are also chances for you to put your skills to use on a marine conservation project in South Africa or a rainforest protection programme near the Amazon. You could even try your hand at sports coaching, community development or secure an internship.
But whatever it is you ultimately decide to do, you can be sure that your time abroad will be spent making a real difference, meaning that your stay in the country will be all the more meaningful.
Lend a helping hand abroad with i-to-i
At i-to-i, we know that travelling overseas is one of the most life-changing and unforgettable experiences you will ever have and we believe that volunteering for some or all of your time there will make it all the more memorable.
However, we also understand the importance of relaxing, having fun and discovering new things while you are abroad – and you will find that each of our packages provides you with more than enough opportunity to do this!
We are the original volunteer company, helping people like you work abroad in 24 countries across the globe, and we can offer you our support on every step of the journey.
Whether you are 18 or 80, have one week to spare or 12, visit our website or contact us today on 0113 205 4620 and start planning your adventure.

---