Cook Islands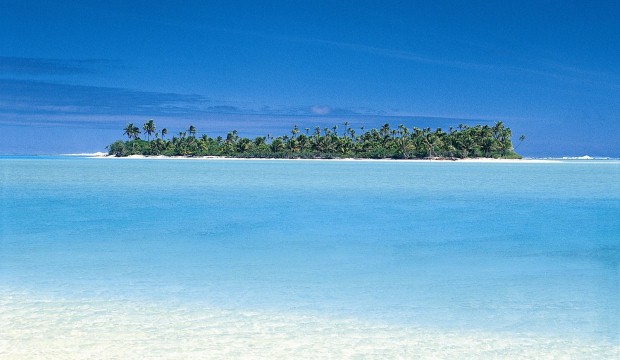 ---
The Cook Islands are a collection of15 islands, scattered across the heart of the Pacific Ocean.
They lie in the centre of the Polynesian Triangle, flanked to the west by the Kingdom of Tonga and Samoa and the east by Tahiti and the islands of the French Polynesia. The Cook Islands spread over a vast area roughly the size of India but have a population of just 18,000 – similar to that of a small English town.
From the lush green rugged mountains that epitomise the main island of Rarotonga to the unforgettable turquoise lagoon of Aitutaki and the bizarre Makatea (raised coral reef), red earth and grey cliffs of Mangaia, the scenery is endlessly diverse and the attractions are limitless.
The Cook Islands were previously renowned as a crucial stop-over on the backpacking circuit for the young and adventurous, but with the opening and refurbishment of many high-end properties, these South Pacific Islands are also welcoming increasing numbers of honeymooners, luxury holidaymakers and empty-nesters travelling the world in style.
Getting to the Cook Islands:
Air New Zealand offers a weekly direct service, from London Heathrow to Rarotonga via Los Angeles departing on a Sunday. Air Rarotonga is the national carrier that operates regular scheduled flights from Rarotonga to eight of the other islands in the southern and northern groups. Regional flights between Tahiti and Rarotonga are operated by the code-share service between Air Rarotonga and Air Tahiti Nui once a week (Tuesday).
Destinations in the Cook Islands:
Snorkelling in the Aitutaki lagoon: A visit to the Cook Islands is not complete without seeing the beautiful island of Aitutaki, which is less than one hour's flight from Rarotonga. The breathtaking allure of its crystal clear turquoise waters and sparkling white beaches is an essential ingredient in any Cook Islands holiday.
Explore Rarotonga by scooter: With only two main roads on the island, visit the bustling village markets, stop by the beautiful beaches and drive through the banana and pawpaw fields. The drive couldn't be more beautiful with lagoons and reefs to one side and high mountain peaks and lush rainforests on the other.
Get close to nature on Atiu: Atiu is also known as Enuamanu (Island of Birds) as on this tiny island many exotic species of bird can be found including the rare Kopeka which builds nests deep inside the limestone caves. Explore the caves, learn about the legends and fish the well stocked ocean for a BBQ dinner.
Experience the whale migration: The Cook Islands are ideally located to be lucky enough to witness migrating whales. Visit the Cook Islands during late September to November and visitors will be able to see these magnificent creatures as they make their journey across the warm South Pacific waters.
The official Cook Islands tourism website is www.cookislands.travel
Cook Islands Essential Information:
Capital: Avarua
Time Zone: GMT -10
Language: English and Cook Islands Maori
Currency: New Zealand dollar (NZD). For up-to-date exchange rates see: www.xe.com/ucc.
International dialling code: +682
More articles about Cook Islands