The 10 best New Year's parties in the world
Monday, 8 November 2010 12:00 AM
New Year is arguably the biggest party night of the year, however, all too often it is something of an anticlimax consisting of overpriced entry to a local bar or a house party that fails to go off with a bang.
Here are my top ten places to have a fail-safe amazing New Year's Eve holiday:
1. Las Vegas, USA
Why not ring in 2011 with 300,000 other revellers in Sin City; what could better than starting New Year with an evening of gambling, fireworks and cocktails in America's neon wonderland? For a price you can rub shoulders with celebrities in one of the cities exclusive clubs such as Lax, where this year you can see in the New Year with host Kim Kardashian for the bargain (!) price of $150.
If you'd prefer an evening of music, Jay Z and Coldplay will be heading the bill at the Cosmopolitan casino resort, however currently tickets are by invitation only. If you're on a budget, there's no need to miss out on the fun: on December 31st, The Strip is turned into a giant street party so the cash conscious can just turn up and enjoy the spectacle without having to worry about entry fees.
2. Niagara Falls, Canada
Numerous hotels in the Niagara area offer New Years Eve packages ranging from a sit down gourmet meal to a dance with fireworks.
However, the true attraction of Niagara on New Years' lies in the falls themselves which are illuminated especially for the occasion. Head to the Canadian side of the falls for a huge free concert and lavish fireworks display.
3. Reykavik, Iceland
Iceland's capital is currently a hot destination; partly due to the banking crisis, which made it considerably more affordable, and also due to the incredible city nightlife and natural richness of the country.
New Year's Eve in Iceland is huge: restrictions are lifted on who can purchase fireworks and the city people embrace this by putting on their own fireworks displays, often spending a small fortune in the process. Watch from a high vantage point, with a flask of warming liquor, as the city absolutely erupts at midnight.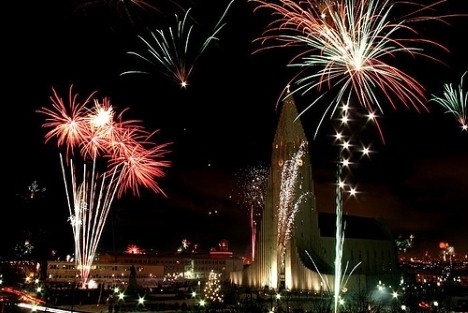 4. Rio De Janeiro, Brazil
Brazilians are world renowned for their party spirit and New Years, or Reveillon as it is known, certainly doesn't disappoint. Copacabana beach is the setting for this epic party and is bedecked with numerous stages as throngs of party goers dressed in white (a long-standing tradition) drink and dance.
Revelry begins in the daytime when offerings are made in the sea to the Goddess Iemanja; the Queen of the Ocean. Fireworks mark the start of the New Year and, this being Brazil, parties stretch out into the next morning. Expect crowds of up to two million and an abundance of Latin spirit.
5. Koh Phangan, Thailand
Thailand's monthly full moon beach parties on the island of Koh Phangan are generally thought of to be some of the best in the world. The full moon party at New Years is bigger than ever and crammed with over a hundred thousand sun seekers and backpackers.
The party consists of fire dancers, numerous DJs and stages, as well as notoriously potent red bull and whisky buckets, all in a stunning tropical location. Be prepared to party until sunrise.
6. Kitzbühel , Austria
Winter ski holidays are now a mainstay for many people's year; why not extend the Christmas spirit past December 25th and celebrate new years in the snow at a picturesque resort such as Kitzbühel in Austria.
This is an especially great idea if there's a large group of you who can share a chalet. Celebrating New Year at a ski resort has the added bonus of allowing you to work off those Christmas pounds with some snow sports prior to the big night however, this is peak season so be prepared to book early.
7. Edinburgh, Scotland
New Year in Scotland is known as Hogmanay and has many customs associated with it including 'first footing' which places importance of being the first person to cross the threshold of a house in order to ensure a year of good luk.
Auld Lang Syne, which is now sung in many countries, originated in Scotland. Head to Edinburgh for the best and most lavish New Years' celebrations including a street party (take a warm coat!) and fireworks display over Edinburgh Castle.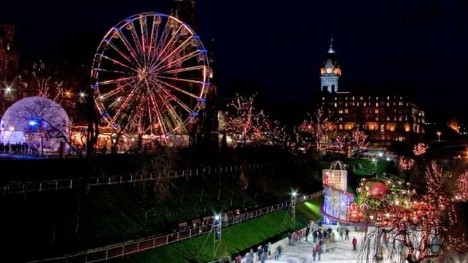 8. Goa, India
Goa was well known in the sixties for being the epicentre of the hippy trail: a colourful, free living paradise in which spirituality and hedonism happily coexisted. An influx of package tourists meant that Goa's 'off-the-beaten-track' hippy image was diluted and it fell slightly off the map as it succumbed to package holidays and overdevelopment.
Anjuna is the main party place for New Years, with unofficial raves starting and ending throughout the night. The Hill Top hosts the biggest New Years' party in the area and lasts for four days: if you have the stamina and enjoy dancing to trance under the stars, surrounded by palm trees, this is the place for you.
9. New Orleans, USA
New Orleans is one of the most culturally intense cities in America: a rich, fiery mix of Caribbean, French and Colonial influences where beads are thrown from wrought iron balconies at attractive people passing below and voodoo is allegedly still practiced behind closed doors.
New Year's Eve sees a giant illuminated gumbo pot dropped from the Jax Brewery before people head to continue the revelry in the heady, Bourbon fuelled, atmosphere of the French Quarter. Grab a Mint Julep and join the fun!
10. Sydney, Australia
Fireworks are a spectacle wherever they are; however nothing compares to the sky, fizzy with fireworks, illuminating the iconic Sydney Opera House below it. Because of its location, Sydney is one of the first cities to see in the New Year and it does so in style, setting the standard for the cities that follow it.
Sydney has the great advantage of being warm; so street parties don't involve braving the cold and January 1st can be spend recuperating on the beach. The fireworks display on the Sydney Harbour Bridge is so large that it can be seen from 16km away and attracts over 300,000 tourists from around the world.
This post was written by Helen Cross who works for travel site Simonseeks: inspirational travel guides and London Hotels.