Find flights to Cancun with Virgin Atlantic
With its beautiful beaches, crystal-clear waters and pleasant temperatures, it should be no surprise that Cancun has long been a popular travel destination. If you're looking to book a flight to the Mexican city, however, make sure you do so through Virgin Atlantic.
As we are one of the world's leading airline companies, you can be confident of getting competitively-priced flights to Cancun that see you travel in total style.
Why fly with Virgin Atlantic?
Cancun is an amazing place to visit, whether it's for business or pleasure, but, no matter why you want to head to the city, booking a flight through Virgin Atlantic means you will arrive in complete comfort.
A flight from London Gatwick to Cancun International takes 10 hours and 45 minutes (and 9 hours when coming back), but our extensive array of food and entertainment options means your journey across the Atlantic Ocean will be a thoroughly pleasant experience.
Select Economy and you'll have a fully-adjustable chair that allows you to relax in comfort. If you feel you need extra space to stretch out during your flight, however, we enable you to upgrade to seats that give you additional legroom. You will be provided with great-tasting food and drink while you fly too, although if you have any particular dietary requirements please let us know in advance so we can accommodate to these.
Upgrade to Premium Economy and you will have a dedicated cabin crew who are on hand to see to your every need. As you fly, you'll be given a complimentary glass of fizz and have meals served on china dinnerware with stainless steel cutlery.
Our Premium Economy offer more comfortable seats than in Economy and as we provide a Premium Economy amenity kit, which includes a toothbrush and eyemask, you can relax for every minute of your flight. By using your personal seatback TV, you can watch a selection of films and shows, listen to music and play games.
Those wanting to travel in real style, however, should opt for an Upper Class flight. This is our equivalent of business class, so you'll be given a complimentary glass of champagne before your flight takes off and provided with an array of gourmet meals and snacks served on the finest cutlery.
After you've eaten, you can relax on your fully-reclining bed, which is larger than those offered in business class by any other airline, and you'll find you have everything you need to enjoy a stress-free, relaxing flight.
Of course, the particular services that are available to you will vary depending on what class of travel you book. No matter which one you pick, however, you can expect to arrive in Mexico feeling refreshed and ready to see the sights.
Cancun is a great destination to visit
Once you've touched down in Cancun, you'll find there are plenty of things to keep you occupied, though it is perhaps the 14 miles of golden sand that attracts most people.
These are certainly great places to sunbathe, but if you feel like being more active then dive into the crystal-clear Caribbean Sea for the chance to see exotic fish and intricate coral formations. If you're lucky, you may even get the chance to swim with dolphins in the wild.
Shopaholics, meanwhile, should stop by Mercado Coral Negro. This amazing open-air market contains a range of stalls where you can pick up handmade souvenirs, while Plaza Zocalo is a wonderful place to find authentic locally-made goods.
Come the evening, make sure you head out to some of Cancun's top nightclubs. These are great spots to relax and have a few drinks, while fantastic lightshows and live music will keep you entertained. Head to Coco Bongo and you can expect to take in an array of thrilling performances, ranging from acrobats to cabaret acts.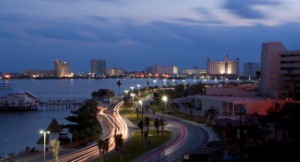 Need a flight to Cancun? Come to Virgin Atlantic
Cancun truly is a magical destination, so if you are looking to get a flight there to experience it for yourself fly with Virgin Atlantic.
If you'd like to speak to a member of our flight information team before making a booking, though, please get in touch. You can visit Virgin-Atlantic.com or call us on 0844 209 7770, while our reservations line can be reached on 0844 209 7777 and is open 24 hours a day.
---