Find beautiful beaches and gorgeous views with Jersey.com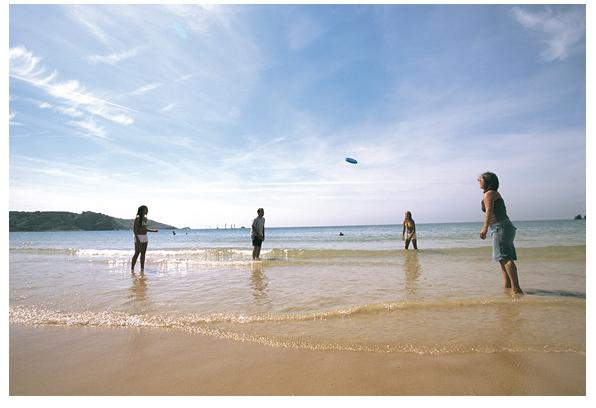 The island of Jersey is littered with beautiful beaches and simply amazing views – so if you're looking for somewhere special to visit on your break, this could be the place for you.
In fact, there are so many fantastic beaches and views on offer that you may find deciding exactly where to go difficult! That's where Jersey.com can help.
With us, you can find ideal spots for afternoon walks, relaxing in sandy suntraps or the perfect photo opportunity. Why not browse our site today to find out more?
What beaches can I visit in Jersey?
When it comes to beaches, Jersey is a veritable haven.
There are so many locations around the island where you can relax in peace, enjoying the feeling of the sand between your toes. Long stretches of soft sand can be found in the south and the west, while fascinating rock pools are situated on beaches in the north and east.
Whether you want to relax on the beaches themselves or simply admire the view, there will be a destination for you in Jersey. Perhaps one of the best beaches on the island is St Ouen's. Stretching along for some five miles of golden sand, it is the ideal place for surfers to catch some waves – but caters just as well for those who simply want to sunbathe or build sandcastles.
Meanwhile, St Brelade's Bay is another treasure. Facing south, it enjoys a long day of sun and is home to a small parish church at its western end. Sheltered from winds, it is a popular, busy beach that sees shade creeping in only in the late afternoon.
Also on the south coast, Beauport is a fantastic beach that captures an amazing amount of sun, while also providing shelter from virtually all winds because of its surrounding cliffs. A gorgeous location, Beauport is perfect for an evening dip in the sea or a romantic picnic on the sand as the sun goes down.
Meanwhile, if you're staying in the east why not pay a visit to Green Island? This south-facing beach is known as a local suntrap and is sheltered from gusts. And with a combination of soft sand and rocks for climbing, it could also be a fun place to play for children.
Where can I find amazing views in Jersey?
Beaches are not the only thing to admire in Jersey – its views are fantastic, too. And you'll find that – as with the beaches – there is an incredible amount of choice when it comes to discovering somewhere to go.
Perhaps one of the best places to visit on the island is Sorel Point, which is situated on the northernmost tip.
Here you will be able to enjoy stunning vistas over the Paternoster Reef and the island of Sark, as well as the local lighthouse. And if you're lucky, you'll also be able to see the Normandy coast in the distance.
Situated on the north-west of the island, Grosnez Castle is another great place to see some beautiful views. Widely believed to have been constructed in the 14th century, the castle is an imposing sight to behold.
Meanwhile, Le Pinnacle can be spotted to the south. A 61-metre high rock, this was used for thousands of years as a ceremonial site.
Discover great beaches and views with Jersey.com
If you're keen to see the very best of Jersey's beaches and views, you'll find Jersey.com to be a great help. Offering a range of useful information, tips and offers, we have everything you need for the perfect trip to this scenic isle.
So, why not visit us today and start planning your break?
---