Experience the real Africa in Zimbabwe
Monday, 11 July 2011 12:00 AM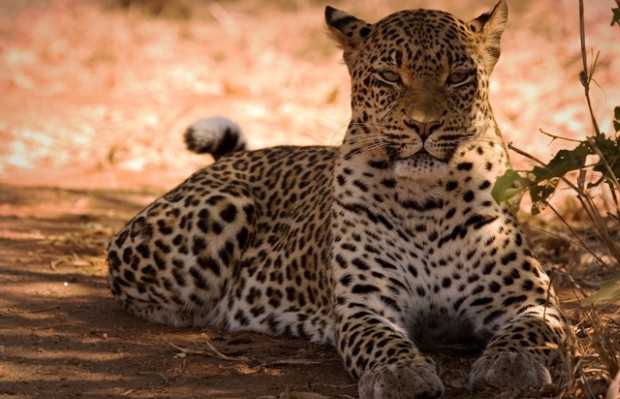 Piers Lunnon-Wood, son of the late novelist Mike Lunnon-Wood, takes a very personal trip to Zimbabwe and discusses why you should not overlook what is still one of the world's most beautiful locations.
The first time I touched down in this majestic country, it was almost 10 years ago to the day, and I don't confuse my words when I say that is has changed.
A decade ago, I was a boy and I arrived with my father by my side, wide-eyed at the prospect of seeing where he was from. The fireside stories I had been brought up on, the rules I had been bound to, the morals I had been taught had come from his growing up in Rhodesia.
I was about to taste the broth from whence this man had come.
This time however, things have changed. I am no longer a boy and my father, instead of standing by my side, I was now carrying in an urn. His final stipulation, for me to venture back to his home and drop him in the Zamabezi from a fishing boat with the people he had grown up with a lifetime ago in the old country.
Let me tell you a little bit about travelling to Zimbabwe.
When you have arrived, you will have to pay $55USD (£34) as a Brit for your visa, a price worth paying as now you have unprecedented access to what must be one of the most scintillatingly beautiful countries I have experienced. I have been lucky enough to visit a lot.
Whether it is unfathomable bright orange sunsets you want, bathing elephant and buffalo coming to the water hole to drink in late afternoon light while you nurse your favourite tipple, or whether you fancy the full VIP treatment at one of the many immaculate lodges along the Zambezi bank, then Zimbabwe has it.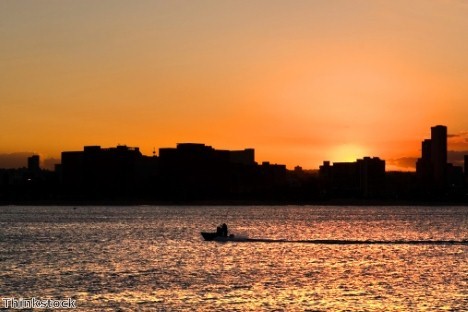 (photo: Thinkstock)
I cast my mind back a few years to a stay at Chickwenya camp in Mana Pools. We flew in, in Joe's light aircraft and where picked up from an arid airstrip by a young Zim guy with a cold box full of ice cold Castle lagers. (If you are yet to try this beer, be cautious, they go down very easily!).
We were driven through the bush back to the camp. There we were greeted with hot towels and another myriad of drinks. By this time, the sun was setting. Shown to our rooms, it proceeded to get better – charming air conditioned, thatched lodges with verandas on the front, overlooking the river; the beds made up with 800 thread count Egyptian cotton sheets lay invitingly; chocolates and ice cold fresh lemonade waited for us as we entered.
The cool air hit us as we walked in, open air showers outside, allowing you to really appreciate the sounds of the bush at first light told me this place was a class act.
A while later, the inviting table was laid up on the river bank in spectacular colonial fashion ready for the guests to emerge from the days' activities, whether they had been fishing, game viewing, reading in one of the many raised Game hides in the trees or just sat by the pool.
As the sun dipped behind the hills, creating a dark orange vista which then turned pink, the catering staff brought out platters of freshly caught Zambezi Bream and a host of wonderful, fresh salads. The dusk turned to night and the rest is history.
While Chickwenya, is not for the shoestring traveller, if you know what you like, and you have the means to back it, then take my advice – go to this lodge. Rates are varied, as it is seasonal, but your best chance of combining great game viewing, and some great weather, is March-April time. It should be said, Zimbabwe's summer is very hot and on the wetter side, and the winters are cooler and very dry. Your call.
There is something to be said for being self-sufficient in the bush, with your own cold box, your own supplies and your own vehicle; you certainly feel more intrepid, as you sit around your own fire, and cook fish you caught.
I prefer it in many ways, and it is the option I take when I go these days. Quick tip: always assume when you are out in the valley on your own time, that anything you have is probably of interest to a large number of the local wildlife. Keep it stashed away, and never, ever go into the water!
So if you have booked a few days on Sperwing Island, what can you expect?
Well, Lake Kariba backs onto the Matusadonna Hills of the national park, and in my mind, some of the best opportunities to track wild rhino on foot and see wild lion anywhere in Africa. A short boat ride from the Island, easily arranged by popping down to the pontoon and asking when the next excursion is, sees you tie up on the bank, and hop into a land rover.

(photo: allstar)
This is not the Maasai Mara. There are no Zebra-painted trucks hording heaps of loud tourists with beeping digital cameras. Here, you can go out with just your family, or maybe even on your own.
When you approach a pride of lion on a fresh kill, there is no radio call sent out to other trucks in the area, which descend on the site like flies on an impala carcass. You can sit there as long as you like, digging into the provisions, watching as the majesty of nature unfolds in front of you.
If it is relaxation in the most beautiful country in the world you want, then take a punt on Zimbabwe. Because after all, you never can tell when countries like Zimbabwe, an awe-inspiring poetry of sounds and smells and tastes will become inaccessible due to the faults of people in power.
by Piers Lunnon-Wood
Follow us @travelbite