A weekend in…Buenos Aires
---
Buenos Aires, the capital of Argentina, is often referred to as the 'The Paris of the South'. With its European art nouveau-influenced architecture, large boulevards and distinct café culture, it's not hard to see why.
Combine these European flavours with the joie de vivre and colourful chaos of Latin America and you'll get a taste of life in Buenos Aires – just one of the reasons why it's one of the most fascinating cities in the world.
Home to around 13 million porteños (people of the port), Buenos Aires is a sprawling city with several distinct areas. Central Buenos Aires is home to the world's widest avenue 9 de Julio, always alive with activity and honking, bright yellow taxis, and the 68-metre-high Obelisco – an iconic landmark of the capital (pictured below).
In the north you'll find the fashionable districts of Palermo, Belgravo and Recoleto, jam-packed with plush shopping malls and landscaped parks. In complete juxtaposition, head south and you'll find the grittier side of Buenos Aires – the famously colourful La Boca area and the market-lover's haven of San Telmo.
Sightseeing highlights:
You'll need a good few days to see all the sights, but if you're handy with a map there's no reason why you can't get a good feel of the city in 48 hours. It's easiest to explore one area of Buenos Aires at a time.
Central: The Plaza de Mayo – the centre of some of Argentina's most turbulent political moments, including the uprising against Spanish colonial rule on May 25, 1810 (hence its name) – is the centrepiece of central Buenos Aires. It's where you'll find one of the most recognisable buildings – Casa Rosada, or Pink House (pictured below).

Local legend has it that the pink hue of the government building initially came from mixing whitewash with bulls blood, signifying the unification between two warring political factions, the federales (red) and the unitarios (white).
The building is probably best known in association with Evita (Eva Perón), Argentina's idolised First Lady, who served from 1946 to 1952 (or perhaps from Madonna's filmed rendition of Don't Cry For Me Argentina!).
Just off the bustling 9 de Julio, in the microcentre, is where you'll find some of the city's best shopping areas. Calle Florida is one of the biggest and where you'll find leather goods, commercial shops and even al fresco tango performances. Pop into Galerías Pacifico, an elegant shopping centre, where you'll find a dome painted by prestigious artist Castagnino.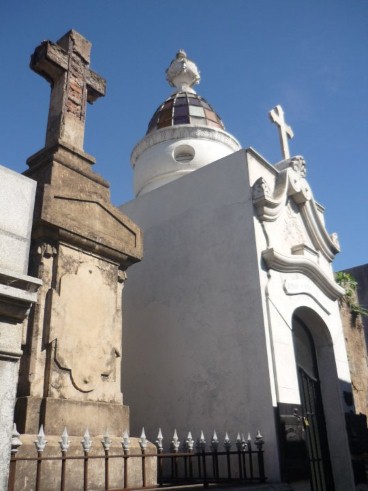 North: The Recoleta cemetery (pictured left) should be on any traveller's to-see list whilst in Buenos Aires (probably one of the only places in the world where you'd consider a cemetery to be a tourist destination!). The final resting place for Argentina's most famous (and wealthiest!) residents, Recoleta cemetery is packed with over 6,400 architecturally-stunning mausoleums – including the burial ground of Evita.
As Evita is such a prominent figure in Buenos Aires' history, it's a good idea to pay a visit to the Evita museum – situated in a stylish turn of the century mansion in Palermo, where you can get an insight into her incredible life, from her beginnings as an actress to becoming Argentina's political figurehead.
Palermo is also the place to go for lavish shopping malls and landscaped parks, including the pretty Japanese Garden and UN Square, home to one of Buenos Aires' newest landmarks, the Floralis Generica – a giant steel flower, whose petals open during the day and close at night (pictured below).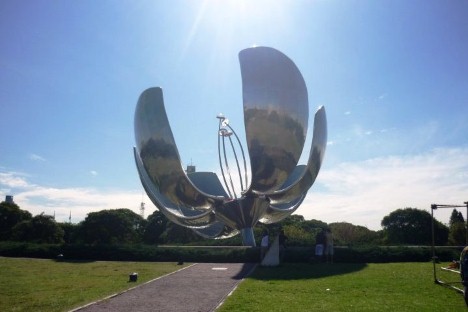 South: The south of Buenos Aires is the beating heart of the capital, nowhere more so than La Boca – a hub of activity, artists, creativity and colour. It's also the oldest area of the capital. Most of the action takes place on and around the main street, Caminito (pictured below), famous for its multi-coloured buildings.
The area is also football-mad (La Boca colours are blue and yellow) and if you really want to get a feel for La Boca life, go see a game at the la Bocca Soccer Stadium – there's nothing quite like a South American football match! (But keep your wits about you; it can get pretty full-on!). For a slightly more relaxing experience, browse the works of art in the interesting Modern Art Museum – Fundación PROA.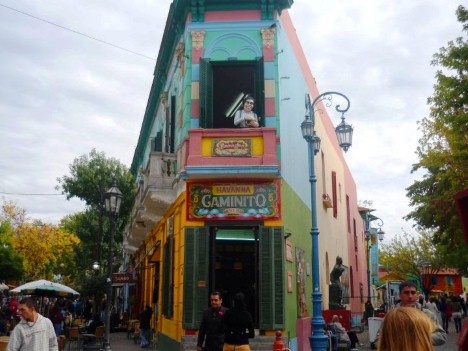 The neighbouring bohemian barrio of San Telmo is the perfect place to while away the hours. Its fading elegance of cobbled streets and traditional coffee shops epitomise the real Buenos Aires; the hints of grandeur revealing its past as the residential district in colonial times until the yellow fever epidemic in 1871 forced the upper classes to move to what is now the Recoleta neighbourhood. Now, San Telmo is a treasure trove of interesting market stalls and shops, scattered along labyrinthine streets snaking off the oldest plaza in Buenos Aires – Plaza Dorrego.
Get lost in the hustle and bustle of the Sunday market, when hundreds of locals and tourists alike descend on the pretty neighbourhood to peruse the plethora of market stalls selling everything from homemade jewellery to art and antiques. With the lively music of accordions playing in the background and tango performances on every corner, there's no better place to soak up the electric atmosphere of Argentina's capital.
Experience:
No visit to Buenos Aires is complete without witnessing real Argentine tango and no venue is more famous than Café Tortoni – the oldest coffee shop in Argentina. Preserving the flavour of traditional Buenos Aires, there's nowhere more atmospheric to watch the enthralling dancers in action.
From the traditional to the bizarre…and they don't come much more bizarre than Tierra Santa theme park, a land of all things Biblical. It's worth a visit just to see the mechanical 40ft Jesus 'resurrect' every hour to the accompaniment of Hallelujah blasting from speakers (pictured right).
What to eat:
Steak, steak and more steak…
Buenos Aires, like the rest of Argentina, is all about a good steak (sorry vegetarians – you'll have a tough time finding a good meal). If you're only going to eat steak once during your stay, make sure it's at La Cabrera in Palermo, so good it's more an experience than a meal out. Expect giant slabs of steak and not a lot else (the meat's so good you won't care that there aren't many side orders). You even get a glass of bubbly while you wait for a table!
Snack away during the day on tasty empañadas – one of a number of local fast-dishes called 'minutas'. For dessert, you'll be hard pressed to find somewhere in the city, nay the continent, that doesn't serve dulce de leche – sweet, creamy caramel commonly served with ice cream or in between shortbread biscuits, known as alfajores.
By night:
Buenos Aires truly is a city that never sleeps and the capital is teeming with good bars and clubs; there's a venue for every traveller's tastes. For cocktails and sophistication, head to the abundance of venues in Palermo and you'll find a scattering of clubs in the area called 'Palermo Hollywood', west of Plaza Cortazar, reaching into Colegiales and Belgrano. Arcos del ferrocarril (from Libertador y Infanta Isabel to Av. Sarmiento y Casares) is another nightlife hotspot of Buenos Aires. Asia de Cuba, Crobar, Pacha and Cocoliche are some of the most popular clubs.
By Sarah Gibbons
Photos: Sarah Gibbons
Follow us @travelbite
---