Beyond Paris: Follow the valley of the Seine
Tuesday, 22 April 2008 12:00 AM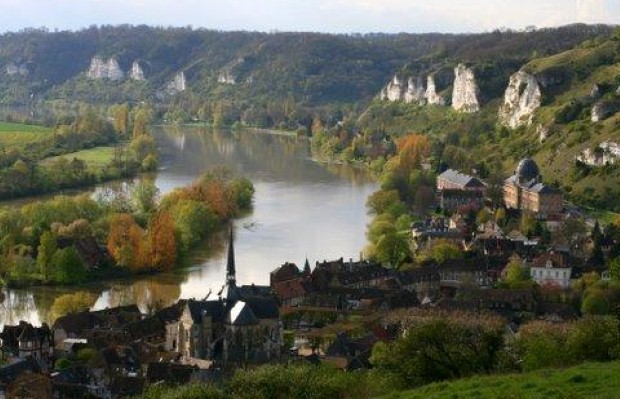 The river Seine loops its way through fields of grain, orchards, marshland, peat bogs and forests from Paris to the coast at Le Havre. This historic waterway is dotted with ancient towns, chateaux and monasteries.
With the Eurostar delivering passengers to Paris faster than ever, an exploration of Haute Normandie is a rewarding short-trip for visitors who want to see more of France but only have time to travel a few days from the capital.
Our first stop after picking up a hire car at the Gare du Nord was the ancient town of Vernon, around 80 kilometres from Paris.
This is not a touristy town and the cobbled streets, wrought iron gates, carved beams and shop signs are not marred by postcard-sellers or other tourist tat.
Despite heavy bombardment during the Second World War, there are still a number of streets lined with attractive half-timbered fifteenth century buildings in Vernon but its most symbolic building is the old mill down by the river.
Perched across two piers of the ruined bridge, the 16th-century mill was famously painted by Claude Monet, who lived a few kilometres away in Giverny.
The church of Notre Dame on Place Barette-Vernon features a high-gothic rose window and a series of modern stained-glass windows that give the impression of banks of wild irises in the sunshine.
The local market on Saturday mornings is a good place to stock up on picnic supplies. Or on pig's ears or horse meat should you so desire.
Next to the old mill is Chateaux Tourelles, which was built in the Middle Ages by King Philippe Auguste as part of the town defences against the Normans.
The countryside is lovely and several walking trails start here, winding through the densely-wooded hill and peaceful riverbanks. See the tourist information office in the centre of Vernon for maps and details of these walks.
You can even walk the five kilometres from Vernon to Giverny along a former railroad on the riverbank.
On the outskirts of Vernon (the Avenue des Capucins) is the Chateau de Bizy, hiding behind ancient trees in its extensive park.
Built for Fouquet – the Duke of Belle-Isle and Marshal of France – around 1740, the baroque splendours of Bizy soon passed to the acquisitive Louis XV.
The stables were famously modelled on those at Versailles and the salons of the chateau itself are stacked with beautiful 18th century furniture.
Claude Monet lived in the nearby village of Giverny from 1883 until his death in 1926 – some 43 years – building a garden that was his 'art in life'.
Monet designed his garden to provide colour and beauty from April through to October so you can plan your visit for whether you want to see the famous waterlilies in August or the purple wisteria on the Japanese bridge in May.
There is an underlying symmetry that is somehow complemented by the riotous plantings and Monet used his garden as a subject hundreds of times.
In 1893 he purchased extra land across the railway and began work on the famous water, or Japanese, garden (now accessed by a tunnel under the road).
Several rooms in house are covered with his exquisite collection of Japanese woodcut prints and these elegant images inspired a new botanical creation, full of exotic curves and mysterious reflections.
It is lovely to think of the ageing (and increasingly blind) painter pottering around his garden, enjoying the perspectives and colours.
The ruins of Chateau Gaillard stand high above the Seine and the pretty village of Les Andelys, commanding a view down the river from the chalky cliffs to the fertile fields and forests.
Richard Coeur de Lion built this stronghold above a deep curve in the river to defend his Norman lands against the French king Philippe Auguste.
Almost unbelievably the fortress was completed in only a year by a mammoth effort from over 6,000 labourers in 1198.
But Richard died only a year later and the French embarked on a long and bitter siege of the seemingly impregnable bastion. A final bombardment saw victory for Philippe Auguste and by 1204 Normandy was part of France.
The ruined castle is still a magnificent sight, jutting out like a ship above the river.
We wandered among the shattered walls and climbed the hillside opposite for a view over the whole valley.
Our final stop was Rouen, which was once the stronghold of Plantagenet kings and later gave cold comfort to Charles II.
We visited the mighty cathedral (also painted by Monet) and the church of Saint-Ouen before walking through the flower market to the infamous Place Jeanne d'Arc.
Follow the river Seine – and the history of England and France – in Haute Normandie in a short-break from Paris.
Details:
There are many hotels and gites if you want to spend a night or two exploring the region.
In a quiet valley near Vernon La Ravine chambres d'hote has four comfortable rooms upstairs in a converted barn beside the two-hundred-year-old farmhouse.
Downstairs is a cosy kitchen and living room and Alain provides a warm welcome and a delicious breakfast.
Monet's house and garden at Giverny are open daily except Mondays from April 1st to October 31st, 09:30 to 18:00 local time. Entrance is ?5.50 (£4.40).
Chateau de Bizy is open from April 1st to November 1st 10:00 to 12:00 and 14:00 to 18:00 local time everyday except Mondays. In March it is open for individuals on Saturdays and Sundays from 14:00 to 17:00.
Chateau Gaillard is open daily except Tuesdays and May 1st from mid-March to mid-November, 10:00 to 13:00 and 14:00 to 18:00 local time.
Natasha von Geldern