Secret London travel blog: Meatballs restaurant
Wednesday, 14 March 2012 1:31 PM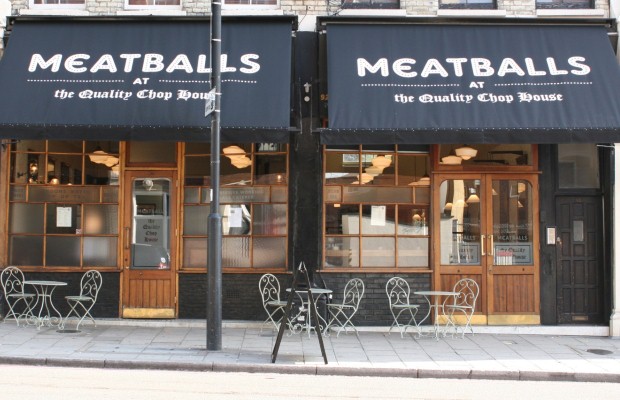 Quality food that's also affordable is becoming a bit like Black Rhinoceros – an endangered species.
I have been told about, and read about, numerous restaurants that are claiming to make quality, reasonably priced food but they still charge over £15 for a dish and that, chefs and restaurant owners, is not affordable for most!
However, after scouring the city I have found an establishment that are purveyors of quality, well-priced food – Meatballs, at the Quality Chop House on Farringdon Lane.
The meat is sourced from local butchers, Barratts of Englands Lane, and its all free range (but according to their website they make no claims for their courgettes). I like a restaurant with a sense of humour!
Meatballs is run by Hugh and by his American wife Shelly, who was working the night my date and I went for our meal. It is rare to see the owners of a restaurant working on the floor and it's nice to see.
The way it works is that you choose your type of meatball, then you choose something to go underneath or you can opt for the Slider, which includes any three meatballs in mini buns. This option is popular for hangovers and it's also the most cost-effective at £5.95 for a whole dish.
The Date had the Guest Meatballs, which was spicy pork and sage with plum sauce, and I had the pork and rosemary with Parmesan cream sauce. When I have had meatballs in the past I have found them to be somewhat flavourless, but not these meatballs. They were moist and full of flavour, and the mashed potato was creamy and buttery.
The meatballs will set you back at most £6, and if you want something underneath you will have to pay a further £3. So, at most a dish will cost you £9. That is affordable for a restaurant in the centre of London.
They have an interesting wine selection. They sell natural, organic, unfiltered wine. They normally sell it by the bottle, but they are beginning to do it by the glass too. I tried a glass of the organic Cabernet Sauvignon. It's a very muscular wine; you need to have the beef and ricotta meatballs with this one. It was a bit too strong for the pork and rosemary.
The décor reflects the building's history as an 18th century chop house. They have kept the character of the venue and it feels old fashioned, like you have stepped back in time. They have mixed up the eras a little with some old fashioned 1920 style music and cocktails.
The venue was designed by Sir Roland Plumbe, an architect in the late 18th Century, and the Quality Chop House became an 'eating house' for the working classes where they could get good hearty British food.
Over 100 years later things may have changed and the British food has given way to filling tasty meatballs with a British twist, but the most important thing Meatballs have stuck to is its affordability.
Visit www.meatballs.co.uk for more information.
By Catrin Hughes