Visit the Falkland Islands on an Antarctic cruise
Wednesday, 19 December 2012 6:59 AM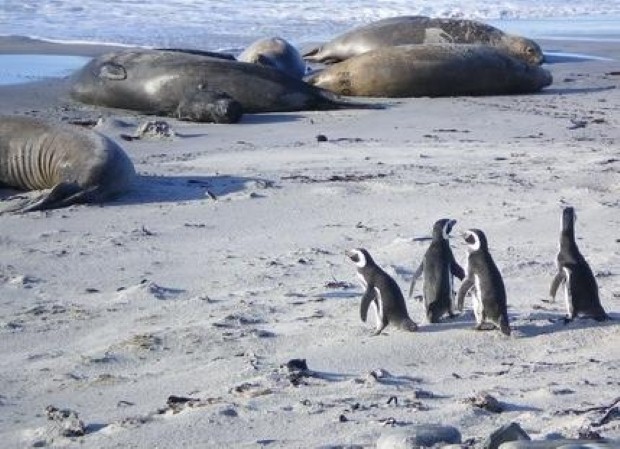 ---
A trip to the Antarctic is likely to be something you only do once, so you should make the most of the experience by booking a cruise that takes in as many of the region's top sights as possible. The Falkland Islands are one place that ought to be on your itinerary.
This archipelago off the coast of Argentina is renowned for its amazing wildlife, with its more than 700 small isles providing the ideal environment for a host of interesting creatures. There are also two main islands, which are inhabited, where you can find out more about what it is like to live in this part of the world.
Here's an overview of what you can expect if you visit the Falkland Islands as part of a holiday to this region. Book on to Explore Worldwide's comprehensive Antarctic cruise for £7,189 without flights and you can not only visit the archipelago, but also South Georgia and Antarctica.
Port Stanley
Port Stanley is situated on East Island and is the capital of the Falklands. You'll notice many references here to its British heritage – there are red phone boxes on the streets and several traditional pubs if you want to feel as though you're at home.
The town is home to many monuments worth exploring during a stop here, including Christ Church Cathedral and Whale Bone Arch, the latter of which is made from the jaw bones of two blue whales and was erected in 1933. There are also two museums you can explore – the Falkland Islands Museum, which details the development of the settlements here, and the Maritime Museum, where you can learn all about the area's seafaring history.
Other East Falkland attractions
There are many places on East Falkland where you can watch some of the Falklands' amazing wildlife. The beaches are home to various species of penguin – including the gentoo, Magellanic and rockhopper varieties – as well as sea lions, southern elephant seals and numerous other birds, such as storm petrels.
You also have a good chance of spotting whales and dolphins in the waters just offshore as you explore seaside spots like Cape Dolphin, Bertha's Beach and Elephant Beach Farm.
Attractions on West Falkland
The other main isle in the archipelago is called West Falkland, which has a much smaller population than its counterpart, but also boasts some of the most striking scenery in the islands.
There are several mountains on the isle – including one of the tallest peaks in the archipelago, Mount Adam, which stands around 700 m above sea level. There are also sheer cliffs along sections of its coastline, which are a breathtaking sight to behold.
All of this amazing scenery makes West Falkland an ideal place for walking and there are numerous trails crisscrossing the isle. If you want to hike around Mount Adam, for example, you'll need to head to the north-west, while there are fantastic coastal trails in the south-east of the island, some of which provide views over Falkland Sound.
Highlights of the Outer Islands
For wildlife spotting opportunities, and the chance to really experience the wilderness of the Falklands, the Outer Islands are the best place to visit. There are vast bird colonies here, as well as areas where you can see penguins, seals, whales and other marine mammals.
Pebble Island, for instance, is the perfect place for bird watchers to explore, as it is home to more than 40 different winged species, including gentoo, rockhopper, Marconi and Magellanic penguins, black-necked swans, imperial cormorants and numerous wading birds in its wetland areas.
On Weddell Island, meanwhile, you'll find a wide range of animals, including reindeer, and Patagonian foxes, and you'll have the chance to see birds like albatrosses and petrels soaring overhead. Another good place to visit is Sea Lion island, which supports colonies of elephant seals and sea lions, while orca whales are frequently seen off the coast (particularly between November and January).