History teachers may sometimes wonder how best to engage their students and bring the past to life.
One good way to help students remember what they learn in the classroom is for them to see it themselves.
Here at STS Travel, we believe that hands-on experiences are one of the best ways to enhance teaching. For subjects such as history, visiting famous sights and seeing different cultures can be an excellent way to improve students' understanding of the time period they are studying.
Classical school trips from STS Travel can take you and your pupils all over Europe, but when it comes to the classics, Greece really stands out. Its ancient civilisation and association with philosophy, democracy and sports make it a fascinating destination to visit.
Where do you go on classical school trips to Greece?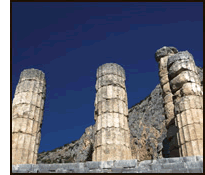 Here at STS Travel we offer an itinerary taking in some of the most famous historic sights in the country. You can start your tour in Athens, where a trip to the Acropolis and the Parthenon can be included in your itinerary, as well as visits to some of the city's museums.
From there, we will take you to destinations such as Peleponnese, Eleusis, the Corinth Canal and the Tomb of Agamemnon.
In addition to teaching your students about Greek history, trips of this kind can also aid any classics lessons relating to Greek mythology.
While taking one of the classics school trips with STS Travel, you can also spend a day exploring Olympia, which as the name suggests, is the birthplace of the Olympic Games.
Although we offer set itineraries for our classical school trips, if there are any sights you would like to visit that are not included, then we are happy to re-quote and fit them in.
What else do you get from an STS classics school trip?
Here at STS Travel, we will do more than just arrange excursions.
Our team will help you every step of the way, from booking flights and other transportation, to arranging accommodation and meals.
We can also organise Greek Multi Centre Tours and offer additional excursions for areas not covered by the main itinerary.
Any group that books a classics school trip to Greece with STS Travel will also be provided with a map of the country and a guide to Greece free of charge.
---