Thursday, 28 April 2011 12:00 AM
Let's face it, Hawaii wouldn't be the first choice destination for those looking for a budget break but don't be put off, it can be done and Lauren Hill's on hand to show you how.
With six Hawaiian Islands each calling out to you to come and stay on their shores, you can be forgiven for not knowing which island to choose.
Most holiday makers will head to the famous shores of Waikiki after touching down in Honolulu, Hawaii's capital on the most populated island, Oahu.
Affordable accommodation
By far, the cheapest accommodation you'll find in Waikiki will be hostels and beds will inevitably be in the form of bunk beds. Most hostels will have a few private rooms but if you don't mind sharing with around six people, you'll be able to save yourself a few dollars.

Waikiki beach (photo: Thinkstock)
Lemon Road is only one block and about a two-minute walk away from the beach and is where most of the hostels in Waikiki can be found. An extra bonus is that this is a much better location than some of the more premium hotels.
For a nights stay in a hostel you can expect to pay anywhere between £19 and £25 per person for a private double with your own bathroom and between £15 and £17 per person for a 6 bed dorm with a shared bathroom.
Bitesize budget grub
One thing that the Americans won't be beaten on is burgers and if you fancy one, Teddy's Bigger Burgers is the place to go. Located one block back from the beach on the corner of Lemon Road, you can choose from either 'big', 'bigger' or 'biggest.' Not only is the food great but so is the value.
Catch some waves
When it comes to entertaining yourself during the day, you can't be in Hawaii, the home of surfing and not try your hand at it. If you don't think you can muster the strength to be jumping up and down, body boarding still remains hugely popular and a lot of fun.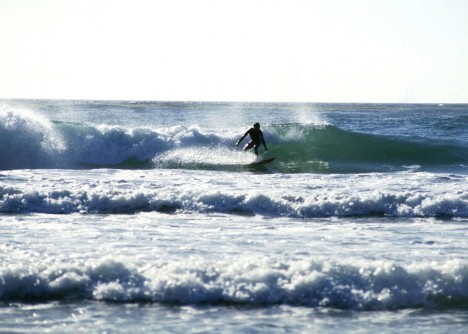 Surfing (photo: Jupiter images)
A day in the water shouldn't cost you too much. Water temperatures in Hawaii are warm most of the year round so don't feel pressured into investing in a wetsuit, that's just an unnecessary cost. You can hire boards from most places, either for a few hours, half a day or a full day. Guests in some hostels may not even have to pay; they might only expect you to put down a deposit. The current in Hawaii is very strong so a few hours catching the waves may be all the paddling your arms can handle.
Wallet-watching sights and attractions
Regardless of your age or interest in WWII, Pearl Harbour is definitely worth a visit. Entrance is free and many hostels will even run free transport. It'll be time well spent if you can set aside about three hours to visit the harbour. You'll get a chance to watch a short video, get some history and then a boat trip over to the memorial and back. It's a hugely popular tourist attraction so it is well worth getting there as early as possible. If you want to make your own way there, buses run regularly from Waikiki to opposite the memorial.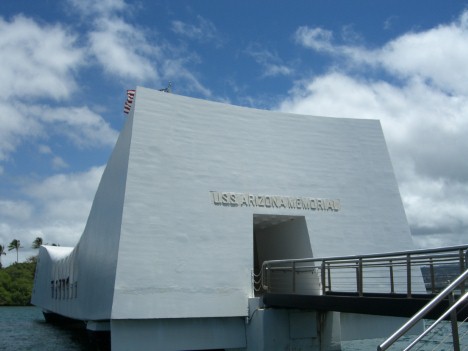 Pearl Harbour memorial (photo: Lauren Hill)
Diamond Head is a crater that can be seen when flying into Honolulu and it's most definitely worthy of the 1.75-mile walk to get to the top of it. You will be treated to a breath taking view of the whole of the west side of the island. But be sensible, whilst the route is accessible for most – don't decide to walk up there in the middle of the day in the summer months because there is no shade. The trek finishes with a tunnel so you may want to bring along a small torch if you can get your hands on one. Access to the park is $1 (£0.60) per person or $5 (£3) for a car.
It's well worth getting away from the hustle and bustle of Oahu if you get a chance. Inter-island flights between the smaller islands are all likely to go via Honolulu so choose flights carefully so that you don't spare hours waiting for your next flight in Honolulu airport. There is now a limited inter island ferry service and afternoon ferry rides can be choppy because of the tides.
Maui is said to be the luxury island and is home to some world-class resorts and golf courses. It has been voted in recent years as The Best Island in the World. Non-refundable return flights between Oahu and Maui are around £80-£85 and take about 35 minutes. The depth of the water surrounding Maui is shallower than the islands which is why marine life is much more visible. Especially in winter, the most popular 'must-do' on Maui is hump-back whale watching.
Finally, Hawaii is home to some of the world's most stunning scenery from dramatic waterfalls on the Big Island to paradise beaches Kauai – and the biggest perk of all, is that they're free.
by Lauren Hill