Details
Email
Direct email
Website
Visit website
Address

THE HOLIDAY PLACE – 1-3 Drakes Court Yard – London – NW67 JR

Phone/ Fax

020 7644 1755/

020 7644 1799

Established
1986
Follow us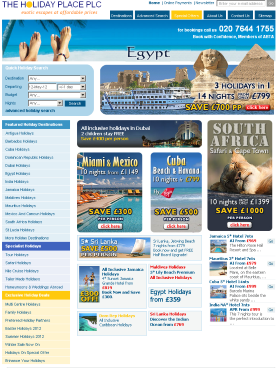 The Holiday Place is a well established specialist tour operator whose primary aim is to provide quality, personalised and ulitmately memorable holidays to a variety of travellers. Whether your dream holiday lies amongst the golden beaches and tropical vibes of the Caribbean, or stalking the wild cats in Africa, The Holiday Place endeavours to create the best holiday for you.
They have a fantastic range of great value hotels and resorts across the world's most exciting and exotic locations. You can choose between discovering the beautiful mysteries on offer in Egypt, relaxing in a laidback hotel in the Jamaican sunshine or journeying through Cuba's colourful cultures- whatever travel experience you desire, The Holiday Place is sure to have a great value holiday ready for planning.
So what are you waiting for? Think of what's on the top of your travel wish-list and take a trip to The Holiday Place today!
---