Top 5 diving honeymoon destinations
Saturday, 25 June 2011 12:00 AM
The classic honeymoon involves jetting off to paradise and lazing on an exotic beach, but why not do something a bit different? Enjoy an activity, such as scuba diving, and make memories that last a lifetime.
Here are the top 5 diving honeymoon destinations, as chosen by PADI:
The Maldives
Undoubtedly one of the top honeymoon destinations in the world is the Maldives: tiny gems of lush green palm trees and pure white sand dotted in the middle of the Indian Ocean. Surrounded by warm, crystal-clear waters teeming with marine life, even non-divers can join in the fun by snorkelling in the shallows. However, to see the best that these remote atolls have to offer, you should head out on a dive boat, where you will be treated to encounters with sharks, Manta rays, Eagle rays and turtles, not to mention a myriad of colourful reef fish.
Egypt
Egypt is often overlooked as a honeymoon destination, but this is a crying shame as the country offers a fantastic climate with constant sun and hot temperatures and the diving is second to none. Best of all, you can stay in luxurious five-star hotels and resorts without breaking the bank, so you can enjoy all the pampering you require while still logging dives on some of the world's best walls, reefs and shipwrecks.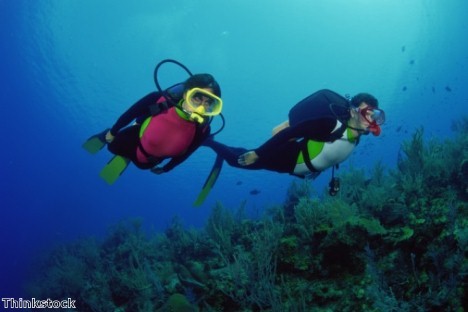 (photo: Thinkstock)
The Bahamas
Sun-drenched white-sand beaches fringed with palm trees, warm clear waters lapping gently, sprawling resorts catering to your every whim and some of the best diving in the Caribbean at your fingertips can only mean one thing – the Bahamas. Whether you want busy and bustling with a kicking nightlife or idyllic and unspoilt, the numerous islands in the Bahamas archipelago will be sure to supply you with what you need.
Indonesia
If you want something a little more exotic for your honeymoon, then the substantial archipelago that is Indonesia could be just the ticket. From tourist-haven Bali to the lesser-visited spots of North Sulawesi, you are sure to find superb diving characterised by weird-and-wonderful critters, many endemic to the area, along with hotels for all budgets, from the bargain-basement to the extremely expensive.
Cornwall
If you don't fancy sleeping awkwardly on a plane for hours, why not look closer to home? The South Coast of Cornwall has some of the best diving in the UK. Whatever your fix – shipwrecks, colourful critters, fish life or mammals – Cornwall will be able to deliver.
Follow us @travelbite