Thailand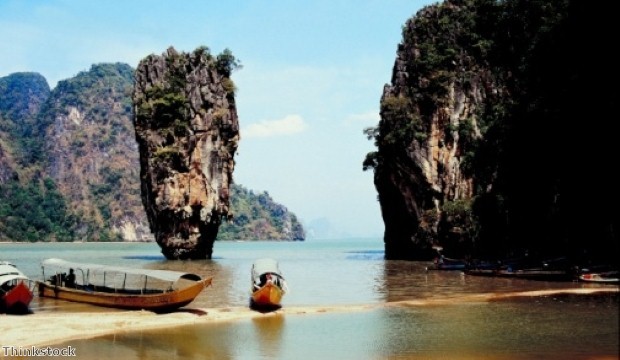 ---
Once a mecca for those in search of a secluded, spiritual break, Thailand has undergone a complete travel makeover in the past two decades.
The new class of long-haul traveller has turned the south-east Asian country into a major holiday destination, with both package and bespoke luxury operators now offering infinite possibilities.
Thailand offers everything a tourist could want, from the bustling streets, jam-packed markets and high-flying city life of Bangkok to the laid back idyllic island tranquillity of Koh Tao.
The Kingdom of Thailand is cultural hotbed, with endless temples, monuments and palaces, many linked to the national religion Theravada Buddhism, and the country's ties with other Asian nations such as India, China and Cambodia for example.
Destinations in Thailand:
Bangkok: The capital, and by far the nation's largest city, Bangkok is the cultural and political centre of Thailand. While visitors may grow weary of the city's relentless traffic, smoke and noise, this place is an absolute must-visit.
Most beachside holidaymakers will have to catch a connecting flight from the city's main airport, and the smart ones stay for a short city break. The Grand Palace is a vast and lavish complex incorporating many golden temples, domes and halls, and is the official residence of the King. Other attractions include the floating markets and numerous museums, but a ride along the city's hectic streets or a bite in a roadside café can be as absorbing as any amount of sightseeing.
Chiang Mai: Serving as the gateway to the northern Thai hills, the city has grown far beyond its medieval city walls. Temple-lined lanes and streets still illustrate the city's fine history, showing glimpses of the days of the great Thai dynasties.
With over three hundred Buddhist temples it's no wonder Chiang Mai attracts so many foreign visitors, and the city also hosts several festivals and is conveniently located near three national parks and Thailand's highest mountain.
Phuket: The country's biggest island, roughly equalling the size of Singapore, Phuket was probably the first region of Thailand to really get tourism. While some say foreign investment and tourism has spoilt the island, Phuket still proves popular with western travellers. The main tourist draws of Patong, Karon and Kata, are very overdeveloped, but there are still some hidden gems dotted around the island's vast coastline – as well as many smaller, more secluded islands just off its shores offering the idyllic beach break many expect from this part of the world.
Koh Chang: Sitting near the Cambodian border, Koh Chang is the country's second largest island but certainly not its second most developed. The island has managed to retain its charm in a way the likes of Phuket and Samui have perhaps failed. Roughly 85 per cent of the island is included in the Mu Ko Chang Marine National Park, and as such Koh Chang still offers breathtaking landscapes and unspoilt beaches and coves.
Koh Samui: A relatively small island just off the east coast of Thailand, Samui, as it is generally known, offers a blend of bright light tourist traps and back to basics serenity. The main towns of Chaweng and Lamai offer all the usual tourist staples, bars, nightclubs and restaurants serving international cuisine (even a McDonalds and Tesco's supermarket), but the less popular areas around Bo Phut and Mae Nam still cater for relaxed back-packing types with a lazy fishing village atmosphere.
Getting to Thailand:
With around 50 airlines flying from the UK to Thailand travel links couldn't be better. Thai Airlines, British Airways, EVA Air and Qantas are probably the most popular providers, all flying to Bangkok direct from the UK.
Getting around in Thailand:
Most island hoppers will have to head to Bangkok, Singapore or Hong Kong and catch a connecting flight to one of the islands' smaller airports, but this offers the opportunity to extend your holiday, starting or finishing with a quick city break.
Backpackers may well choose to bus or train from Bangkok to the coast or up to Chiang Mai and on through to Laos, China and Vietnam. Naturally this option is much cheaper, but Thai buses are less than luxurious and famously unreliable. That said, land travel is always the best way to really experience any country, so a couple of hours stop in a rural backwater shouldn't dissuade the discerning traveller.
Thailand Essential information
Capital: Bangkok
Major resorts: Pattaya, Thung Salaeng Luang, Koh Samui and Phuket
Time Zone: GMT +7
Language: Thai (official), English
Currency: baht (THB). For up-to-date exchange rates see www.xe.com/ucc
International dial code: + 66
British Embassy: visit the website for more information