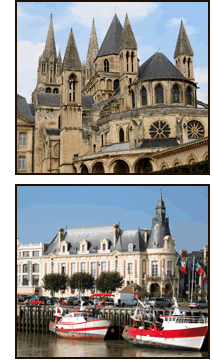 One of the most popular places for school trips is the Normandy region of France, which is steeped in history and can offer pupils the chance to visit some of the most important places of the last 100 years.
School trips to Normandy could prove perfect for older students studying towards a History GSCE qualification as a trip to the area can give a personal touch to coursework or exam answers – and STS Travel offer excursions to the region which are ideal for all.
The firm runs Chateau du Baffy, a huge building which can sleep up to 98 people. The chateau boasts its own private gardens and grounds and is conveniently located for all of the sights in and around Normandy, which include the Bayeux Tapestry and the D-day landings museum at Arromanches.
STS Chateau du Baffy is on the outskirts of the village of Colombiers-sur-Seulles, which is just six kilometres away from Juno beach, a significant area for the Normandy landings of the second world war.
Other options on a school trip to the chateau include the chance to visit a local goat's cheese factory, as well as activities such as a traditional French evening where pupils will be able to sample delicacies including frogs' legs and snails.
Pupils may also enjoy a film night which STS Travel can help you organise in the comfort of the chateau, or maybe a shopping trip into the nearby town of Calais. As well as this, STS Travel can also help you to put on events including discos and quizzes, which are sure to keep pupils amused on a school trip to Normandy.
Other interesting and historically relevant places to head on a school trip to Normandy could include Mont St Michel, dubbed the eighth wonder of the world, as well as Falaise, which is the town in which William the Conqueror was born. It is also the spot where the end of the Battle of Normandy took place.
STS Travel can include as many of these excursions as you like on a school trip to Normandy, so give them a ring today and start organising your own educational getaway to France.

---