Bikes and butterflies in Bolivia: mountain-biking down 'Death Road'
Tuesday, 1 November 2011 3:37 PM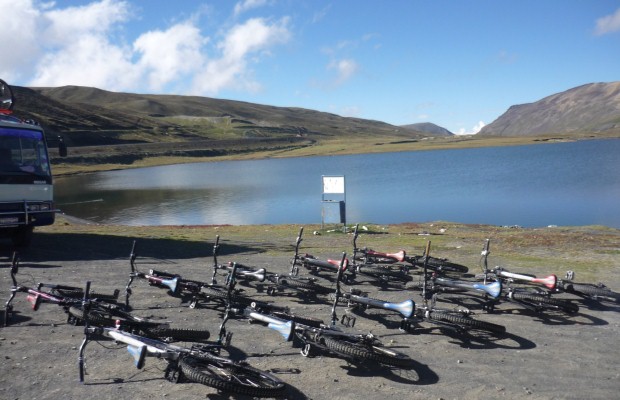 By Sarah Gibbons Follow @SarahGibbons_
Sarah Gibbons experiences mountain-biking down the World's Most Dangerous Road in Bolivia.
"Remember, do not look at the butterflies," our tour guide exclaimed to us – a group of rather nervous-looking mountain-bikers.
Our rugged daredevil of a tour guide then recounted a story of one poor boy who admired one of the many azure-blue specimens which fluttered past him, only to find himself falling a few hundred feet off the cliff (it seems your body unconsciously follows your eyes). Luckily he was not too badly hurt as he fell onto a ledge.
This is the moment I wondered to myself what on earth I was doing here in La Cumbre on the outskirts of La Paz, at an altitude of 4700m above sea level, just about to bike 3000m down 'Death Road' – the World's Most Dangerous Road.
The famed Yungas Road, dubbed 'Death Road', is a 43-mile stretch of stomach-clenching, unfenced highway that connects La Paz to the Yungas Valley. Generally no longer used by vehicles, it has become a thrill-seekers attraction in recent years; a 'must do' for many on a trip to Bolivia (it also featured on Top Gear!).
After some deep breaths (and a few doubts on whether I could still ride a bike) we began to whizz down the snaking tarmac highway, descending through a valley of craggy snow-capped peaks. This isn't so bad, I thought to myself, my eyes streaming as the cold mountain air rushed past me.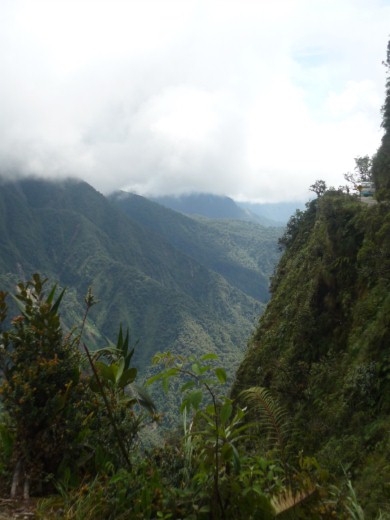 That was all to change. After a short break, our cheerful guide pointed out, with a smirk, that we were about to begin the 'real' Death Road. With some apprehension, I looked down on the route ahead: a thin, snaking path of hairpin turns and steep descents, one side a solid rock wall, the other a sheer drop of thousands of feet.
I clenched my brakes with fervour as I gradually made my way down the first barrier-less section, the vibrations from biking over rocks the size of oranges reverberating through my body. I made a mental note not to bite my tongue. Adrenaline pumping, I began to pick up speed, all the time keeping a firm grip on my beloved brakes, twisting and turning through the dusty air, occasionally passing under a trickling waterfall, which hit my helmet with a refreshing splash. And yes, plenty of beautiful butterflies fluttered past my face, teasing my eyes. Must not look!
Sneaking a glimpse at the spectacular scenery whenever possible, the snow-capped peaks had been replaced by miles of undulating hills of lush greenery; a river in the distance shimmering in the steamy sun. Descending fast, it began to feel much hotter and we began to shed layers of clothing.
The road was 'safer' now: the straights less steep and the track less winding. I now had to do some work to keep the bike going, carefully trying to avoid the crumbling rocks strewn across the road, until we reached the end.
With a rather numb bottom and white-knuckled hands that would not un-clench, I clambered off the mountain-bike which had been my best friend for the past five hours, relishing the feeling of relief and achievement.
After a few well-deserved beers, a shower and a visit to a monkey sanctuary (a much more relaxing experience if you ask me) thoughts turned to how we were going to get back up to the coaches – back up at La Cumbre. It was then that I realised the only way back was back up Death Road by van; the road that really didn't seem wide enough for a couple of bikes side by side, let alone a vehicle…
The next half an hour consisted of me shutting my eyes and thinking of happy places until we arrived safely back up at the top, much to all of our relief.
Fantastic and terrifying, this clearly is an activity for the thrill-seekers and not the faint-hearted.
A day of adrenaline, hesitant bursts of enthusiasm and gleeful relief, I had made it down the World's Most Dangerous Road and the butterflies had not won.
By Sarah Gibbons
Fact Box:
Sarah Gibbons went on a tour organised by Gravity-Assisted Mountain-biking. Details available at www.gravitybolivia.com. Note that this is a potentially dangerous activity and should be taken seriously.