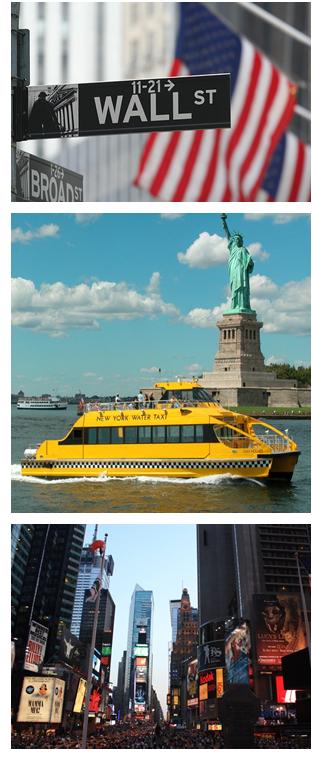 Not only is New York the largest city in America – it is home to some eight million residents – but is also one of the most famous. If you're after a bite of the Big Apple, look no further than the holidays to New York we have on offer here at Bon Voyage.
Whether you want to take in some of the world's leading galleries and museums, do a spot of shopping along Fifth Avenue, visit the locations of some of your favourite television shows and films or see iconic attractions like the Statue of Liberty, we are sure to plan something that appeals to you.
See the sights with holidays to New York
New York is full of breathtaking sights and sounds, so be sure to spend as much time as possible exploring the city's five boroughs – Manhattan, Brooklyn, Staten Island, the Bronx and Queens. No matter where you go on your break in the Big Apple, you are certain to find something fascinating.
One place you may want to head to is Times Square in Manhattan, one of the city's major hubs. While drinking in the atmosphere, you are bound to see one of the iconic yellow taxis. Why not try and flag one down for an authentic New York holiday experience?
Take the free Staten Island ferry, where you can take in the dazzling skyscrapers and bridges of Lower Manhattan as well as getting breathtaking views of Ellis Island and the world-famous Statue of Liberty – both of which are sure to be highlights of any New York trip.
On Staten Island itself, it is worth paying a visit to both the Garibaldi-Meucci Museum and Staten Island Zoo. And when visiting the Bronx, you can observe hundreds of plants at the New York Botanical Garden.
If you want to take a break from the concrete jungle, head to Central Park. Here you can go for a relaxing walk and take in some natural scenery, which is sure to be a welcome change from the skyscrapers you will see during your New York holiday.
Remember, there is plenty to see on your NYC break outside of Manhattan. If you're travelling with younger children, consider taking a walk over the Brooklyn Bridge to check out the New York Aquarium in Brooklyn.
And sports fans won't want to leave the city before catching a classic American game of baseball – Citi Park in Queens is a great stop if you'd like to see the New York Mets play.
Shop 'til you drop and take in some culture while on New York holidays
New York is widely-regarded as something of a shopping mecca, if you want to give those plastic cards a workout while on holiday, you should head to Fifth Avenue in Manhattan. The iconic street is lined with high-end designer outlets – whether you're after a stylish accessory or a completely new outfit, you will have little difficulty finding something that you simply have to purchase.
Want to take in a little culture during the course of your holiday to New York? You will find plenty of museums and galleries for you to visit.
The Guggenheim and the Metropolitan Museum of Art are just two of the cultural institutions you can visit, while the Museum of the City of New York – as the name suggests – documents the city's history and development over the years.
However, if you want to take in some contemporary works during your travels trip, visit the Museum of Modern Art – known locally as MoMA – on Manhattan's 53rd Street.
And if you fancy a trip to the theatre, head to the legendary Broadway. Here, a variety of musicals and plays are performed throughout the year. Carnegie Hall and the Lincoln Center for Performing Arts are just two of the other venues in New York that put on a number of musical and theatrical performances.
Booking your holiday to New York
With Bon Voyage, it could not be easier to book a holiday to New York. With our team of dedicated experts on hand to help, you can quickly organise the trip of your dreams.
You can visit New York as part of a trip through the US – you may want to visit Philadelphia or New Jersey after staying in New York for a few days or combine the breathtaking cities of New York and Las Vegas in a single holiday – although if you choose to stay within the confines of the Big Apple you will find plenty to do.
Get in touch with us today – we can be reached by phone, email, online or at our offices in Southampton – to start planning your New York holiday.
---