Hot spot: The Stag and Huntsman, Hambleden
Friday, 4 January 2013 9:37 AM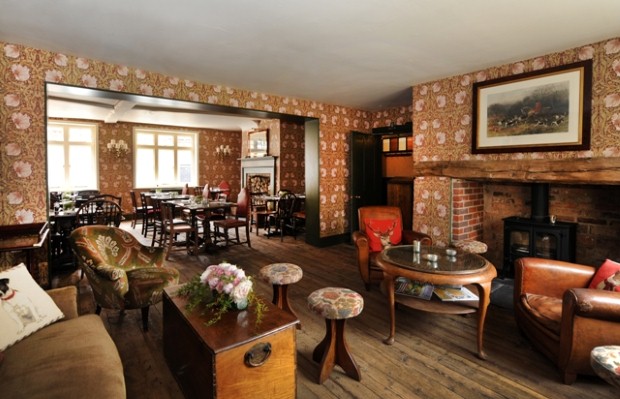 By Sarah Gibbons Follow @SarahGibbons_
Arriving in Hambleden, a picturesque village near Henley-on-Thames, is almost like stepping back in time, as Sarah Gibbons discovers
The tiny, quintessentially English village remains remarkably unchanged with little sign of modernity. Having been the home of everyone from the Earl of Sunderland to W.H.Smith, the charming historic haven has benefited from the protection of the National Trust which has worked to keep the village as it was.
It was hard to believe that London is located not more than an hour away and it's not surprising that Hambleden has been the location of choice for many a TV programme and film, including Band of Brothers and Chitty Chitty Bang Bang.
Our base in which to discover the scenic Chiltern Hills region was the village's historic pub – The Stag and Huntsman.
Having just been renovated under the guidance of interior designer Karine Flynn and heritage architect Ptolemy Dean – the surveyor of Westminster Abbey – I was looking forward to seeing how they would capture the charm and character of the old property, whilst combining it with modern comforts.
Our suite – named Henley Hill – certainly lived up to my expectations. It was surprisingly roomy, with a separate lounge area and I loved all the interesting features and touches of character, from antler coat hooks and glass bell jar lights to the vintage-style Roberts radio. The room wasn't without modern luxury either, with a large crisp-white bathroom, a selection of 'tea pigs' beverages and a delightfully large bed.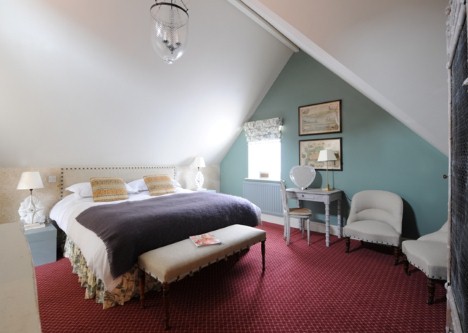 The interiors throughout the hotel were welcoming, featuring quirky patterned wallpaper and homely touches – definitely retaining the charm of the old pub. We enjoyed cosying up on the sofa with a drink, gazing out on the rolling hills beyond the village.
Our evening was spent in the restaurant which aims offer a traditional and unpretentious menu. Dishes on offer included pot-roast pheasant and venison cottage pie among others – all very hearty, classic meals. I knew I didn't need a starter! I opted for pan roast chicken breast with a mushroom and Madeira sauce, served with a leek rosti. It was very tasty; the perfect meal on a cold winter night and I polished off every morsel. I may have been rather full after my main course, but I couldn't resist the sticky toffee pudding – it was delicious! The only thing that the menu perhaps lacked was a few more options for vegetarians and a few lighter dishes for those that didn't fancy something quite so hearty.
Breakfast was also served in the main dining room and I chose my favourite breakfast meal – Eggs Benedict. Having eating this dish many times in many places, I found it to be spot-on and alongside a pot of tea and the paper, it was the perfect start to our morning.
With warm, friendly staff, lovely rooms and classic British cuisine, a stay at the The Stag and Huntsman made for a delightful winter break in the countryside.
By Sarah Gibbons
Rooms start from £100 and are inclusive of Full English breakfast and VAT. For more information visit The Stag and Huntsman website.
Follow us @travelbite