Cruising the Yasawa Islands in Fiji
Monday, 16 January 2012 11:19 AM
Cruising around the Yasawa islands, located to the north-west of Fiji's Western Division, is a 'must' for many holidaymakers travelling to Fiji. Despite its remote, tropical location in the South Pacific Ocean, this group of islands attracts both those seeking luxury and backpackers alike. The draw? The Islands' beauty, tranquillity and water-based activities.
I arrived as the latter; a lone female backpacker on the last leg of her six-month adventure. There was no doubt in my mind where I would be spending most of my 12-day stint in Fiji.
I spent my first two nights on the mainland, using the opportunity to explore the capital, Nadi, and to book my Yasawa cruise which had been recommended by various other travellers I'd met en-route.
Getting there:
There's only one way to reach the islands and that's by Yasawa Flyer (for the northern islands) and their sister company, South Sea Cruises (for the southern islands). As a backpacker fed up of making decisions by this point, I opted to book one of the all-inclusive Awesome Adventures passes, cheekily named 'Ultimate Lei'.
So for seven days and six nights, all my accommodation, transport, food and four activities were taken care of leaving me to worry only about which whether or not to have another Bounty rum and coke (always answered with a yes, of course!).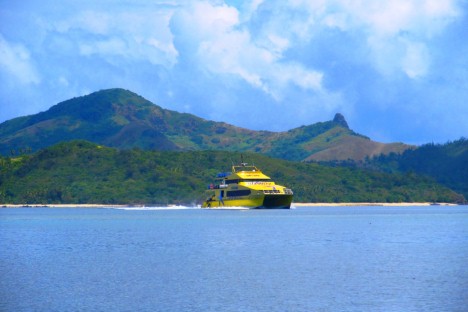 The Yasawa Flyer(pictured left) is a high-speed modern, hop-on-hop-off catamaran that departs Denarau Marina in the morning, taking the whole day to travel right to the north of the Yasawas and then back again, picking up and dropping off passengers on the way.
A very efficient and comfortable service, the journey between resorts offers fantastic views of the islands and, if you're as lucky as I was, dolphins playing next to the boat. Never has the cliché of crystal-clear turquoise waters ever been more fitting.
There are 29 resorts in total and rooms can be booked at the time of buying an all-inclusive pass or on-board the Yasawa Flyer if you opt for a flexible transport-only Bula pass.
Operated by South Sea Cruises, there are also day cruises and sailing trips you can take around the southern Yasawa islands. As a part of my 'Ultimate Lei' pass, the Seaspray Day Sailing trip was included, although this can also be booked separately.
The 83-foot schooner lazily cruises around a handful of small islands, one of which was the setting for the film Castaway starring Tom Hanks, stopping to let passengers off to go snorkelling and to visit a traditional Fijian village kava ceremony, providing on-board snacks, lunch and live music from the crew.
Accommodation:
The resorts throughout the Yasawa islands are surprisingly big and offer activities, access to beaches as well as hillside walks to take in the island views.
Due to the fact that the islands are largely disconnected from the mainland, electricity doesn't run all day and the water is usually cool, filtered sea-water. But time on the Yasawas can easily be spent without hot power-showers and Facebook…
The meals on the islands were the best I'd eaten in months; for six days I ate delicious buffet-style meals, where my plate was stacked with local and fresh vegetables, fruit and potatoes, barbequed meat and fish, always encouraging me to going back for seconds and – occasionally – thirds.
In the evenings there is always some sort of entertainment going on, from kava tasting to traditional fire dancing and musical performances. The social areas are usually right next to the beach and evenings are spent eating and chatting to fellow travellers or resort staff.
I found the accommodation basic but comfortable; even the 114-bed dorm room on the party island, Beachcomber, was pleasant enough! (Although I only slept in dormitory rooms, double, twin and family rooms are also available at the resorts).
Activities:
I doubt my Fiji experience would have been as memorable if I'd spent every day sunbathing. The Yasawas offer so much when it comes to experiencing paradise, from beach volleyball and reed jewellery-making to snorkelling with reef sharks and swimming in dark underwater caverns. Activities can be booked at each resort, where staff members are happy to inform you of the day's activities.
But of course there will be days when chilling is absolutely necessary (more than likely to recover from all those Bounty's the previous night!), so it's lucky that traditional massages are on hand from local villagers. However, if you do fancy a bit of 'me' time (what can I say…paradise is hard work), there's a shaded hammock with your name on it.
The combination of the efficiently-run shuttle catamaran and the friendly staff, who were always hospitable and seemed to have a genuine interest in making everyone's stay relaxing and enjoyable, made for the ideal trip – I couldn't recommend cruising the Yasawas enough.
Follow us @travelbite