Tuesday, 20 December 2011 10:33 AM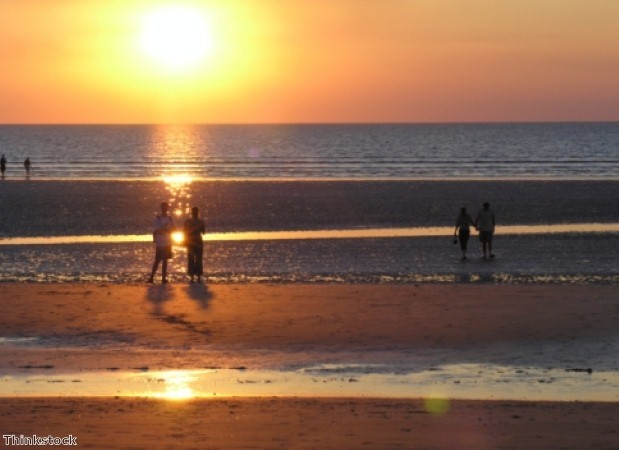 ---
If you're planning a holiday to Australia, you might want to consider booking flights to Darwin, a city in the Northern Territory that has warm weather all year round and would be the perfect destination for anyone keen to escape the cold and soak up a few rays of sunshine, regardless of the time of year.
Here are our picks of the best attractions to take in once you've stepped off your cheap flight from the UK.
Darwin Harbour
Given how warm the weather is throughout the year, you are sure to want to spend as much time outside as possible on your holiday. You could begin your trip at Darwin Harbour, which is bigger than its Sydney counterpart and is surrounded by tidal waters and beautiful mangroves.
You can spend a day here fishing for jewfish, barramundi, threadfin salmon and golden snapper, or go scuba diving among the wrecks below the surface. There are several old ships that can be found underwater thanks to Cyclone Tracey and the second world war, so there is a lot to see and explore.
From here, you could head to the George Brown Darwin Botanic Gardens. This attraction was set up in the 1870s as a way of supplementing the city's unstable food supply, but now attracts crowds of tourists each year.
Visitors to the gardens will be able to spot aroids, orchids, bromeliads, palms and cycads, as well as wandering through mangrove forests, open woodland, coastal fore-dunes and monsoon forests. There is also a rainforest gully that has ponds and a waterfall.
One of the most interesting features is a self-guided walk that will take you through the use of plants by Aborigines, as well as how local animals and vegetation have been harnessed over the years.
Urban attractions
Elsewhere, the areas of Mindil Beach, Nightcliff and Parap are well worth a visit. Over the weekend, these districts come alive with open air markets, with a dazzling array of stalls selling food from all over Asia, as well as local handmade arts and crafts – the perfect opportunity to pick up a few mementos of your trip to Darwin.
If you're not keen on shopping, the open-air markets are still great to explore as they regularly host performances by artists and musicians, as well as sessions of traditional bush poetry and street theatre, along with free stock-whip cracking lessons.
Another great attraction of Darwin is Aquascene at Doctors Gully, which is right in the heart of the city. You can feed hundreds of fish by hand here, as they come to shore at high tide. This daily feeding ritual started more than 50 years ago, when a local resident began throwing bread to some mullet at high tide.
Now, visitors from far and wide to do the same, with trays of bread provided at regular intervals. You may well see mullet, milkfish, rays, catfish and cod if you look in the shallows carefully.
Looking to take in some art? The Aboriginal Fine Arts Gallery in Knuckey Street could be a great choice, with lots of contemporary and traditional Aboriginal art and crafts to see. You will be able to have a look at paintings, works on bark and hand-woven baskets, among other exhibits.
Excursions from Darwin
Head out of the city and you'll be able to visit a number of fascinating sites in the Darwin region.
Litchfield National Park is the place to go for nature enthusiasts thanks to attractions such as its unique rock formations, spectacular waterfalls and the awe-inspiring Tabletop Range plateau.
Mary River National Park is also well worth a visit for its wonderfully unspoiled wetlands, which is home to all manner of creatures from tropical fish to saltwater crocodiles. Keen birdwatchers will be in their element here, as there are countless species to keep an eye out for.
Refresh yourself
Once you've worked up an appetite, you can take your pick of cafes and restaurants in Darwin for a spot of lunch or dinner. For al fresco dining, head to Buzz Cafe in Cullen Bay, which has hand-painted tables that are shaped to make sure all guests have a waterfront view.
Caf'Parap could also be a good choice for gastronomes, particularly those in search of haute cuisine. This eatery can be found in Parap Village, four kilometres outside the city. Here, you will find a wide range of savoury and sweet dishes, with the menu including favourites such as eggs benedict, pastries and croissants.
Darwin is a destination well worth visiting whatever your tastes and preferences. So, why not start planning your trip by searching for cheap Darwin flights and planning your itinerary today?