Exploring Montreux's musical heritage – and beyond
Tuesday, 28 January 2014 1:43 PM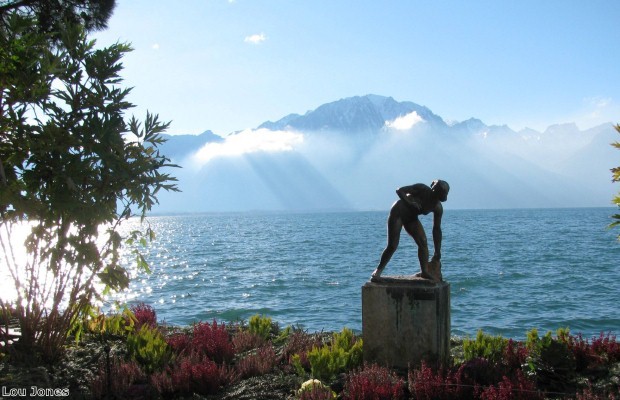 Music festivals and a new permanent Queen exhibition make this Swiss Riviera town on the shores of Lake Geneva a world-wide draw, but Lou Jones finds its quiet side just as intriguing
Montreux's role as a haven and inspiration for artistic talent is revealed with a stroll along the water's edge, passing busts of musicians and composers including Igor Stravinsky and Freddie Mercury who stands silhouetted against the lake at the front of the main square, Place du Marché.
Here you will also find a display in tribute to Claude Nobs – the local mastermind of the Montreux Jazz Festival (Montreux Music and Convention Centre) – whose charm and diverse passion for music drew the very best to this stunning but unlikely setting, from Etta James to Eric Clapton.
Claude was still actively involved with the festival when he passed away in January 2013 and his presence looms as large as Freddie's.
For music anoraks like me, a trip to Montreux is about seeing its rock landmarks and getting a feel for its appeal to everyone from hippies to jazz cats. The impressive art-deco Montreux Palace hotel (2 Avenue Claude-Nobs) towering above the lake is where many musicians choose to reside, especially those with a taste for opulence.
La Petit Palais across the road is where guitar classic Smoke on the Water was recorded by Deep Purple in 1971. Its legend leads to Montreux Casino (9 Rue du Théâtre) which caught alight while holding a Frank Zappa concert, inspiring the song's lyrics and biting riff.
The casino was also the scene that year of two concerts by a young, hot-to-trot Led Zeppelin; the band's blues rock blasting out through speakers on to the lakeside for a gathering of fans who missed out on tickets.
After the casino was rebuilt it housed Mountain Studios where the cream of rock, including the Rolling Stones and David Bowie, came to work on their albums (Keith Richards and David Bowie were nearby residents in the 1970s).
When Queen bought the studios in 1979 it became one of their main recording hubs, and an intimate, poignant location for the band's final album Made in Heaven before Freddie Mercury passed away shortly after in 1991. Montreux had become a sanctuary for Freddie thanks to the discretion of locals, and the soul-lifting setting which inspired his final song, A Winter's Tale.
Queen no longer own the studios, which have been relocated elsewhere, but their presence has returned to the renamed Casino Barrière de Montreux, where a permanent exhibition, Queen: the studio experience Montreux, has been installed, giving fans the chance to immerse themselves in the atmospheric control room.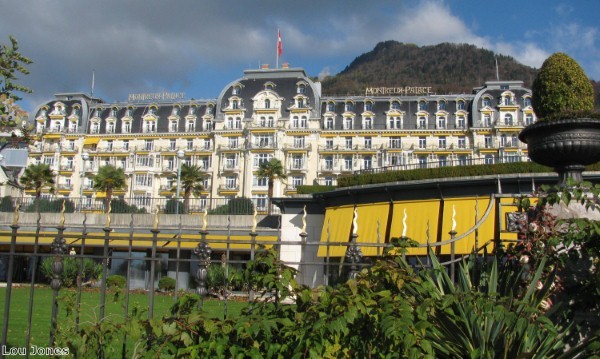 Montreux and beyond
However, there's a lot more to see and do in Montreux for those that want to do more than follow in their musical icons' footsteps.
Grand hotels, boutiques and sophisticated bars and restaurants cater for day-trippers from nearby towns and ski-resorts, while its location – framed by the snowcapped Alps – provides a healing backdrop for rest and rejuvenation.
If the sun is shining, head down to the lakeside path, which is easily accessible from the train station or anywhere along the town centre. Palm trees, vivid flowers, and quirky statues make it a surreally beautiful experience. Seating is provided throughout, and it's hard to resist the frequent urge to stop and observe the view like a living gallery painting: changing from a brilliant blue canvas for floating swans and clouds finely lit by sun rays.
Montreux is a great base for exploring Switzerland's French-speaking Vaud region. If you're short on time, there are excursions to meet most interests that will fill half or most of a day.
The GoldenPass train costs just under £50 standard return and delivers a two-hour panoramic journey up through the hillsides and deep into the snow-brushed Alpine landscape beyond. You will see charming chalets, fairytale forests, rushing ravines, and maybe a paraglider or bird of prey circling above.
There's the option of getting off at ski resorts along the way, including glamorous Gstaad – frequented by the rich, the royal and the famous – or waiting until the end of the line at Zweissman which has some tea-rooms and small shops to while away an hour before the train heads back. Coaches are roomy with huge windows so it's not essential to book first class front-window seats, but worth reserving seats during high season.
Between May and October it might be hard to resist catching the 'chocolate train' to the Gruyère region to see how indulgent dreams come true in an artisan chocolate factory and cheese-making dairy.
Families and those wanting to explore the tree-covered mountains above the town should take the cogwheel train that leaves regularly from Montreux Station, travelling 2,042m (6700 ft) above to Rochers de Naye. Explore the Alpine garden and the sanctuary for marmots, contemplate staying in one of the Mongolian yurts for a night in the clouds, and head off along the walking trails to burn off some of that cheese…
Vineyards are in abundance along the Swiss Riviera so if you'd rather exercise your drinking palate, book a trip to one of the winemakers in nearby Lavaux to sample some of the region's crisp whites.
History buffs and anyone with a streak of Romanticism should head straight to the 13th Château de Chillon (Chillon Castle) perched east of the town on the lake. This is where Lord Byron visited with Percy and Mary Shelley in 1816 after scaring themselves with ghost stories, prompting Mary to conjure up her macabre classic Frankenstein, and Byron to pen The Prisoner of Chillon.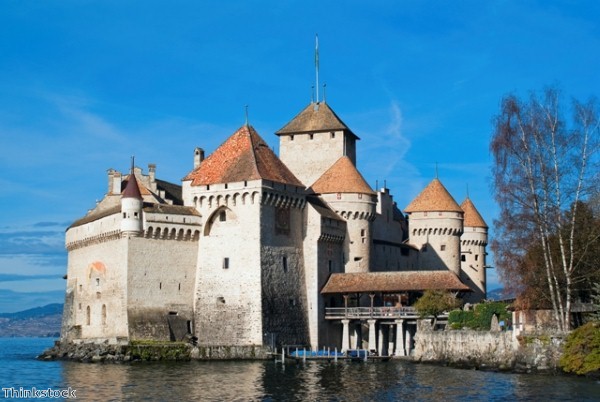 In the evening
Swanky accommodation is plentiful, and if you're staying out of season rooms are available at reduced prices. Boutique hotel Villa Toscane (2 Rue du Lac) has a convenient location and access to five star spa facilities including pool, sauna, and steam room.
While live music options are plentiful during the Jazz Festival, out of season there are not many nightspots to cram in so there's no rush to get out of the hot tub before heading out.
Montreux is compact and walkable, with a few steep areas on the way up to the Old Town. It's worth the effort for a culinary experience at local's favourite Caveau des Vignerons 'Chez Gloria' (30 Rue Industrielle) or the Restaurant Le Museum.
Here you can indulge in local Swiss cuisine, including tangy cold cuts, boozy, pungent fondues, and juicy steaks. Non-cheese lovers should be prepared for a wall of 'eau du fromage' on entering (and the budget-conscious for a burning hole in their wallet) but it's good fun.
If your credit card is still intact, head to Harry's New York Bar (55 Grand Rue) for late night drinks. Bag a spot at the bar (reservations recommended at weekends) to soak up the sophisticated ambience and observe the bartenders in action. A livelier crowd can be found at Mayfair House (52 Grand Rue), or enjoy a drink with a view on the terrace at Hotel Suisse-Majestic (45 Avenue des Alpes).
For an informal evening, find a cosy nook in the White Horse Pub (28 Grand Rue) which has Swiss, German and Belgian lagers on tap, a pool table, jukebox, and basic hunger-busting snacks. Step outside to enjoy your drink with gulps of Alpine air and a view across to the lake.
A younger crowd hangs out at the Jazz Café (8 Rue des Alpes) which has great-value drinks. While nursing a goblet of vino near the window I was thrilled to find a set of rare photo books to flick through that captured Montreux Jazz Festival through the decades, with quotes from Claude Nobs himself.
While I would love to experience the excitement of live performance in Montreux, I enjoyed unearthing some of its treasures in quiet.
FACT BOX:
Getting there: Direct return flights to Geneva International Airport from London Heathrow start from approximately £120 with British Airways (www.britishairways.com) and £90 return with EasyJet from London Gawick (www.easyjet.com).
A double room with four star hotel Villa Toscane (www.villatoscane.ch) starts from £85 per night.
Find train times and schedules at www.sbb.ch. Trains from the airport wind north around Lake Geneva to Montreux in just over an hour (similar journey time by car).
When to go:
Montreux's microclimate ensures that weather conditions are generally temperate throughout the year.
Go in July or August to enjoy its lakeside vista in full bloom, with temperatures on average 20C (68F), or December (4C, 39F) for magical Christmas markets.
Montreux comes alive during festival periods (Montreux Jazz Festival takes place during the first two weeks in July), but in quieter months like November hotel prices are lower (if not food and drink) and you can truly soak up its laid-back ambience.