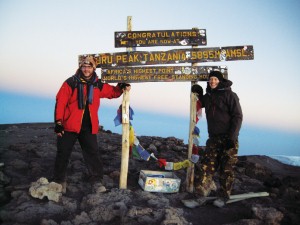 Just imagine standing at the top of Mount Kilimanjaro, breathing in the crisp air and gazing out at the spectacular view below.If this sounds like the holiday adventure of your dreams, make it a reality with help from Explore Worldwide.

As experts with more than 30 years of experience taking customers to some of the most astonishing locations around the world, we can help you arrange to climb Mount Kilimanjaro as part of a truly unforgettable holiday experience.

Tips for getting to the top of Kilimanjaro

Located in Tanzania, Kilimanjaro is the tallest freestanding mountain in the world. Its highest summit, the Uhuru Peak, towers some 5,895 m above the vast flat plains below.

With few other mountains or hills anywhere in the region, the view is unlike any other on the globe – and you can even see the Earth's curvature as you stare out over the horizon.
Whether you're a seasoned peak bagger or are new to mountain trekking, careful preparation is essential for anyone wishing to get to the top of Mount Kilimanjaro.
Getting ready should start at least two months in advance, depending on your experience and fitness levels – taking steps to ensure you are physically capable of the sometimes arduous climb is essential.
Try to do exercises that strengthen your leg muscles and improve your aerobic fitness, as this will also help you to deal with the reduced oxygen at higher altitudes.
You should also visit your doctor to make sure they agree you don't have any medical reasons to forego the climb. For example, certain medications can cause trekkers to have more problems with altitude sickness.
In addition, your doctor can recommend what vaccinations you need to travel to East Africa. These could include yellow fever, typhoid, malaria and hepatitis.
When packing for the journey, it's important to know what to bring and what to leave behind. After all, you don't want to be unprepared, but you also don't want to be lugging too much with you up the side of the mountain.
There are a number of routes to the top of Kilimanjaro, such as the Rongai and Lemosho trails. The right one will depend on your fitness level and the length of time you want to spend getting to the summit.
Of course, the difficulty of the path isn't the only thing to think about and trekkers should be careful to spend plenty of time acclimating to the higher altitudes. A slower ascent will help you to overcome the effects of the thin air and low levels of oxygen, while medications like Diamox can also prevent altitude sickness.
Finally one of the best ways to ensure a successful trip up Kilimanjaro is to have an expert guide with you who is knowledgeable about the routes and trained to recognise the symptoms of altitude sickness.
Trekking holidays from Explore Worldwide
Here at Explore Worldwide, we work hard to ensure that our customers enjoy hassle-free and enjoyable treks up Kilimanjaro. Indeed, we take pride in our customers' 96 per cent success rate over the last few years.
Our guides have been carefully chosen for their knowledge and experience. Meanwhile a team of porters is on-hand throughout the journey to carry equipment, set up camp and cook meals – meaning you can relax and enjoy the beauty of the mountain.
To find out more, visit us at www.explore.co.uk. Or phone us on 0845 291 4541 to start planning your next adventure.
---