Trekking on Mount Kilimanjaro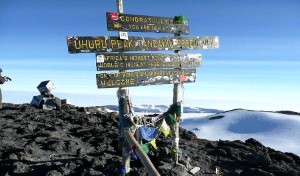 Whether you're a seasoned mountain trekker wanting to conquer the Seven Summits (the tallest peaks on each continent), or you're looking for a new, difficult and rewarding challenge, then a trip up Kilimanjaro could be the perfect choice.
As experts in organising tailor-made safaris and trekking adventures, Africa Travel Resource can help you make all your travel arrangements so that your journey is just what you want it to be.
We'll listen closely to you to understand your requests and then work with you to book the best accommodation, guides and transportation possible.
All about the mountain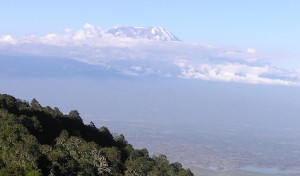 Kilimanjaro is an inactive volcano situated in the north-eastern part of Tanzania. Its highest summit – called the Uhuru Peak – is 5,895 metres above sea level, making it the highest point on the African continent.
The mountain towers above the plains that surround it. One of its most striking features when viewing it from afar is its beautiful snow-capped peak. However, this glacier has been slowly melting and scientists estimate that by 2020, the ice could be completely gone – for the first time in nearly 12,000 years.
Kilimanjaro is a popular choice for trekkers because it's the tallest point that can be reached by walking. There are seven official routes to the top and the trek generally takes between five and nine nights, depending on the chosen path and conditions.
There are several ecosystems on the mountain, featuring a variety of endemic flora and fauna. In addition, the lower slopes on the northern side of Kilimanjaro are home to large mammals like elephants and buffalo.
Preparing for the trek
While Kilimanjaro does not require any technical climbing knowledge, it does not mean that a trip to the top is easy. It's therefore essential that anyone attempting the assent is well prepared for the trek.
Here at Africa Travel Resource, we've teamed up with The African Walking Company, a group of expert guides who have a very close knowledge of the mountain.
We believe that this organisation is the best in its business and that's why we always recommend their services when helping our clients organise a trip up Kilimanjaro.
Your guide will help to get you to the top of the mountain safely and back down again. They will also be aware of the dangers of altitude sickness, helping you to pace your ascent and deal with symptoms effectively.
With so much knowledge and experience, it's no wonder that The African Walking Company has a very high success ratio and an exemplary safety record. This, coupled with the friendly staff and a palpable passion for what they do, will ensure that you have an enjoyable and memorable trip.
Plan your journey with help from Africa Travel Resource
Whether you're ready to start planning your Kilimanjaro climb, or want to arrange a fantastic safari adventure in other parts of Africa, Africa Travel Resource can help.
We can provide assistance in choosing a route and deciding the best time of year to travel. And we are the only tour operator to provide ALTOX Personal Oxygen Systems for the journey. This can help you to fight the symptoms of altitude sickness and therefore increases the chance of you reaching the summit.
To find out more, get in touch by phoning us on 01306 880 770. We'll be happy to answer any questions that you have and to provide assistance and advice on how to organise an unforgettable trip of a lifetime!

---