Bolivia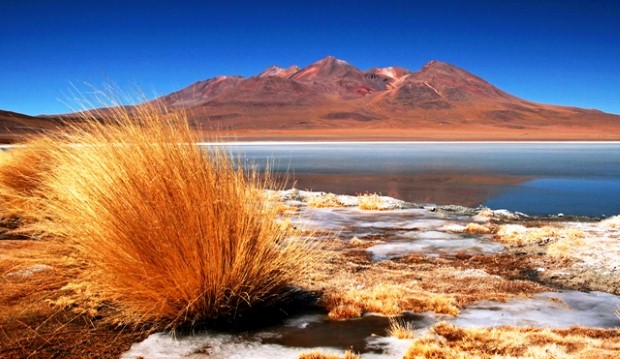 ---
Bolivia is a country of incredible geographical diversity, with tropical lowlands – including large sections of the Amazon rainforest – windswept Altiplano and the high Andes Mountains.
Bolivia is becoming more and more popular with travellers who want to venture from the tourist path. The Bolivian traditions and way of life is still very much unchanged – particularly evident in the local Bolivians' traditional dress – and is ideal for those who wish to immerse themselves in the culture away from hordes of tourists.
The bustling city of La Paz is the highest capital city in the world and is a melting pot of colourful markets, locals and adventure-seeking backpackers who are increasingly coming in droves to experience mountain-biking down the 'world's most dangerous road' – Death Road – which is becoming a 'must-do' in the area.
Bolivia shares the vast Lake Titicaca with Peru – a highlight for any holidaymaker – and also contains the world's largest salt flat – the Salar de Uyuni. A vast expanse of white salt, extending as far as the eye can see, the salt flat is ideal for experimental photography, where you can play around with perspective. In the middle of the desert lies the bizarre Isla Pescadores (Fish Island): a rocky mound of petrified coral, covered with giant cacti.
Surrounding the salt flat are countless lagoons, dotted with flamingoes, including the 'Laguna Colorada' – a vibrant red-coloured lagoon within the Eduardo Avaroa Andean Fauna National Reserve. The region also boasts the bizarre rock formations of the Salvador Dali desert (named after the artist who gained inspiration from images of the unique desert landscape), the Mountain of Seven Colours – which stands at 5000m above sea level – and the hot springs and geysers of Sol de Mañana.
Many travellers also come to Bolivia to experience the many cultural festivals and ceremonies, particularly the ancient rituals of Inti Raymi – the festival of the sun. There are many Inca and pre-Inca sites and museums all over the country, notably the UNESCO world heritage site – El Fuerte: an intricately- carved outcrop of rock, located near Samaipata in the eastern foothills of the Bolivian Andes. It is believed that work began carving the rock as early as 330 AD by people belonging to the Mojocoyas culture. It was then taken over by the Incas in the 14th century. Its meaning is still ambiguous.

Bolivia Essential Information:
Capital: La Paz is the administrative capital of Bolivia while Sucre is the constitutional/judicial capital
Major cities: Sucre, Santa Cruz de la Sierra, and Cochabamba
Places of interest: Salar de Uyuni – the salt desert, Lake Titicaca, El Fuerte in Samaipata
Time Zone: GMT -4
Language: Spanish (primary), Quechua and Aymara. Learn the basics of Spanish by visiting www.bbc.co.uk
Currency: Bolivia uses the Boliviano (BOB). For up-to-date exchange rates see: www.xe.com/ucc.
International dialling code: +591
British Emabssy: visit the website for information.