A weekend in… Frankfurt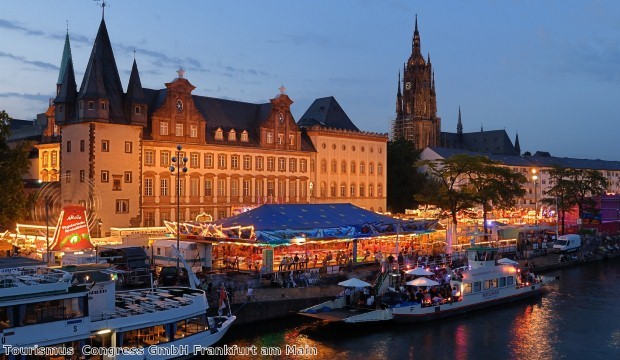 ---
The birthplace of Goethe and Anne Frank, Frankfurt is a lively German city where history and tradition rub shoulders with towering skyscrapers, as Gilly Pickup discovers…
Getting there:
A number of airlines fly direct from the UK to Frankfurt, including Lufthansa, British Airways, Flybe and Ryanair.
Getting around:
The public transport system is excellent, whether you choose to travel by bus, tram or underground train. The more adventurous might like to sightsee by Velobike, a bicycle taxi. For those who prefer to walk, Frankfurt is well laid out. If you do get lost, locals are friendly and helpful and no need to worry if you can't speak German, as almost everyone you meet will be able to converse in English.
See the sights:
Get your bearings with an overview of the city from the top of the Main Tower, Frankfurt's highest public gasp-inducing open viewing platform. The local TV station has studios here and during my visit, the weather forecast was being broadcast from the roof. Viewers watch to find out what 'Frank the weather frog' predicts (he's a toy, by the way). If he sits up, the weather is going to be good; if he lies down, don't forget your brolly!
From Main Tower, you can see for miles to the north and to the banking district with its elegant 256m-high Messeturm, which locals call the Bleistift (pencil). Towering above the skyline is one of Europe's tallest buildings, the 258m-high Commerzbank Tower designed by bold architect Sir Norman Foster. Besides its height, it is famous for being the world's first ecologically-friendly office tower due to low levels of energy consumption; even Peregrine Falcons, a protected species in Germany, have come to nest on their own on the outside of the skyscraper's upper floors!
The Römerberg, flanked by half-timbered houses and a mass of delicious gothic stepped gables, is the central square in Frankfurt's Altstadt (Old Town). In medieval times it was the scene of boozy feasts and massive trade fairs. Nowadays it is ideal for sitting outside at a café with a coffee and watching the world go by. It is not obvious that most of the buildings are reconstructions as this part of Frankfurt was badly bombed during World War II.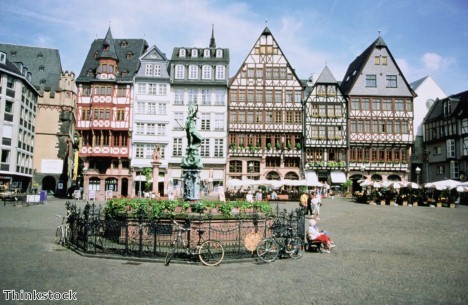 All things cultural:
A 'must visit' is the Goethe House in Frankfurt's Old Town, where the Goethe family lived until 1795. Everything inside including the furniture, utensils, artworks – most by Goethe himself – are preserved immaculately. Goethe spent most of his early years here and many artefacts in the home are connected with his lavish childhood.
As may be expected in Goethe's city, literature has a significant role to play and the Frankfurt Book Fair, the world's largest, takes centre stage every autumn. Other important trade events include consumer good and musical instrument fairs.
Culture hounds could take in a performance in the concert hall, the Tigerpalast variety theatre, which is part restaurant, part classic music hall, or the ornate Opera House (Alte Oper) which although no longer used for opera, is a popular venue for pop and classical concerts and dances.
Several museums and galleries are dotted along the south bank of the Main River making it a great place to head for a day of cultural pursuits. In fact, Frankfurt has the longest stretch of museums in the world. One of those which I visited was the Städel Art Institute and Municipal Gallery, the city's largest art gallery covering every era of art history right up to the present day. with its collection of over 3000 paintings, 600 sculptures and 100,000 drawings and lithographs, etchings and modern graphic prints.
Food glorious food:
Visitors to Frankfurt are spoiled for choice when it comes to restaurants, cafés and bars, from Michelin-starred restaurants to old world inns and everything in between. Something I had never seen anywhere before were pizza machines, where you put some euros in the slot, choose which pizza you want and it pops out in a cardboard box!
Local specialities include a starter called Handkäs mit Musik – small, aromatic cheeses marinated in oil, vinegar and caraway, served with a small dish of finely chopped onions and chunks of butter. And every visitor to Frankfurt should try the Apfelwein (apple wine), the locals' beverage of choice for over 250 years though its history dates back to the time of Charlemagne. This low-alcohol beverage said to have a positive effect on the circulation and nervous system and apparently, some local doctors even extol the benefits of the drink to their patients! Traditionally it is served in a Bembel', a blueish coloured crockery jug and drunk from a ribbed glass, theGerippte.
For more on Frankfurt visit: www.frankfurt-tourismus.de
By Gilly Pickup
---