Get up close and personal with nature in America's national parks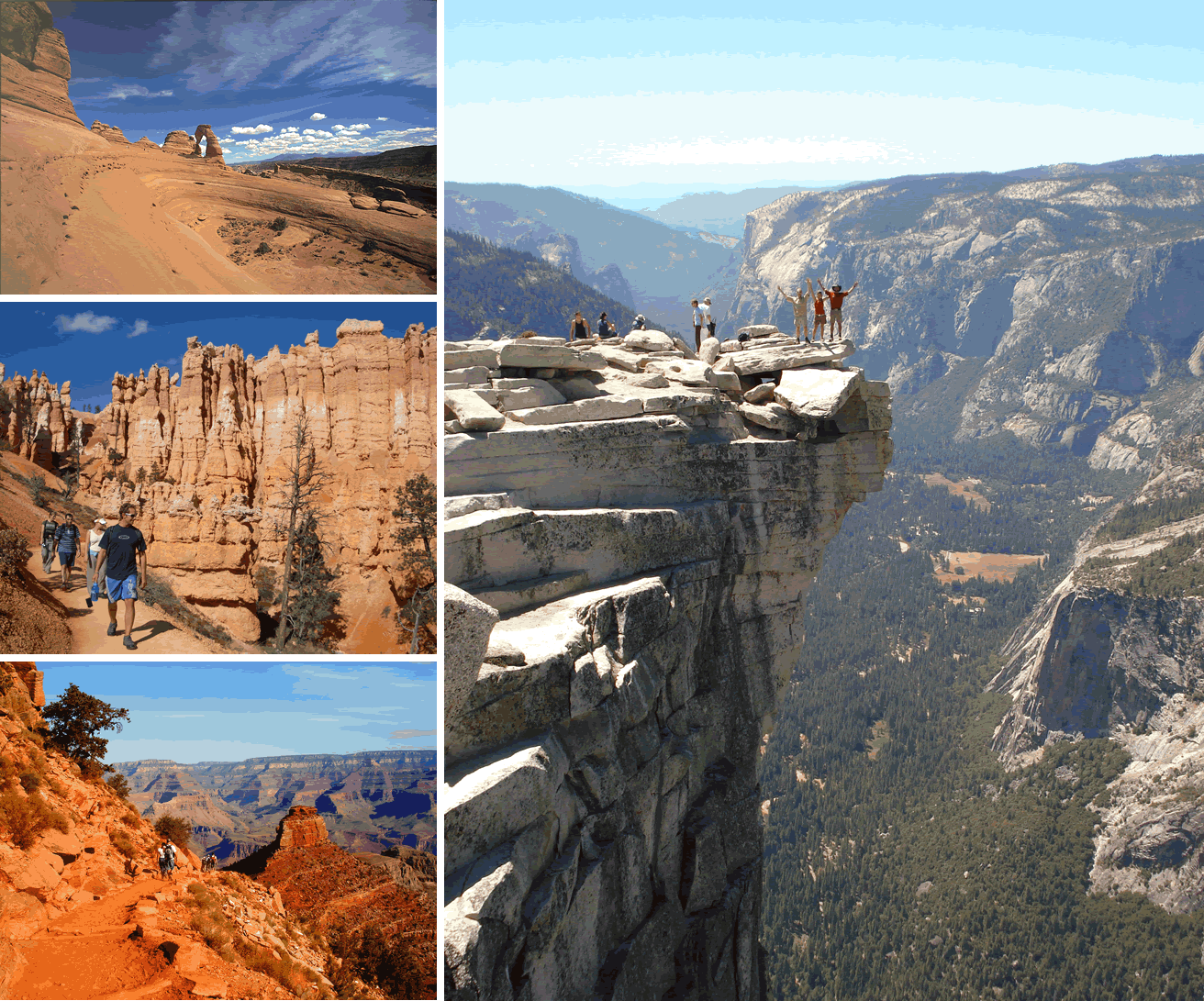 North America offers an astonishing variety of wildlife, plant life and natural scenery to take in, making it the perfect destination for lovers of flora and fauna.
One of the best ways of seeing the continent's natural wonders firsthand is by visiting one of its many national parks.
The US and Canada each have a massive system of parks designed to conserve North America's thriving ecosystem and make it accessible to members of the public.
With TrekAmerica, you can choose tours that incorporate visits to one or more of these parks alongside other activities such as city sightseeing and road trips on specialist America holidays.
US national parks
There are almost 400 sites in the US national park system, attracting in excess of 275 million visitors every year.
Some of the main national parks of America to look out for are Yellowstone – which sprawls across Wyoming, Montana and Idaho and boasts animals such as bison, elk, grizzly bears and wolves – and Yosemite, which was one of the first national parks in America and is most famous for its spectacular waterfalls.
Elsewhere, Zion in Utah is filled with awe-inspiring canyons to explore and some stunning sandstone cliffs in a variety of colours. Of course, if you're looking for the ultimate canyon to visit, then the Grand Canyon is perhaps the most famous.
At 277 river miles long, 18 miles wide and a mile deep, this massive rift is a must-see for anyone considering a trip to America. The Arches National Park in Utah offers some intriguing rock formations, while Death Valley in California and Nevada is filled with some breathtaking desert scenery that contrasts with snow-capped mountains and multicoloured rock layers.
Meanwhile, some unique red rock spires and ancient trees are the order of the day at Bryce Canyon in Utah. Elsewhere, Badlands National Park in South Dakota is an essential stop for those interested in prehistory.
The park is home to the world's richest Oligocene epoch fossil beds, which have been dated at between 28 and 37 million years old. You can also see bison, endangered black-footed ferrets, swift foxes and bighorn sheep prowling the prairies here. For an altogether different experience, why not head to the Everglades National Park in Florida?
Here you will find a subtropical wilderness containing Burmese pythons and alligators, among other fascinating animals.
Canadian national parks
Banff is perhaps the most well-known of Canada's national parks.
The first such site in the country, Banff boasts 2,564 sq miles of spectacular valleys, forests, mountains, glaciers, meadows and rivers and is a must-see for anyone with a passion for the outdoors.
Other Canadian parks you might want to check out include Gros Morne in Newfoundland, a UNESCO World Heritage site with mountains, fjords, beaches, waterfalls and much more besides.
Elsewhere, Jasper is the largest and most northerly Canadian national park situated in the Rockies and has much to see – as well as its majestic mountain scenery, visitors can take in glaciers, hot springs and thundering waterfalls. If trees are more your thing, you may be interested in a tour to the Prince Albert National Park, which was set up to conserve an area of boreal forest.
As well as the impressive forest, here you can find the only fully protected Canadian white pelican nesting colony and a herd of plains bison.
Meanwhile, polar bear fans might want to take in Wapusk, one of the world's biggest known areas for polar bear maternity denning.
The park is located between areas of boreal forest and Arctic tundra, meaning that the views can be stunning. If you're easily impressed by size, you should perhaps check out Wood Buffalo National Park – the largest in Canada.
It was founded to protect the last of the bison herds that can be found in the northern part of the country and includes a spectacular part of the northern boreal plains.
See national parks with TrekAmerica
If you've been persuaded by the wide array of things to see in North America's national parks, you might want to take the next step of looking into USA holidays as a way of seeing the best of these sites.
The company has a wide range of tours taking in a variety of parks, with these trips also including exciting outdoors activities and stop-offs at other interesting destinations across the US and Canada.
All you have to do is take a look at the tours listed on TrekAmerica's website and get in touch if you want to discuss your options further. There's no doubting the potentially amazing experience that a trip to the national parks of North America could offer.
---