Beyond the beach: Winter sun destinations with variety
Monday, 6 January 2014 12:04 PM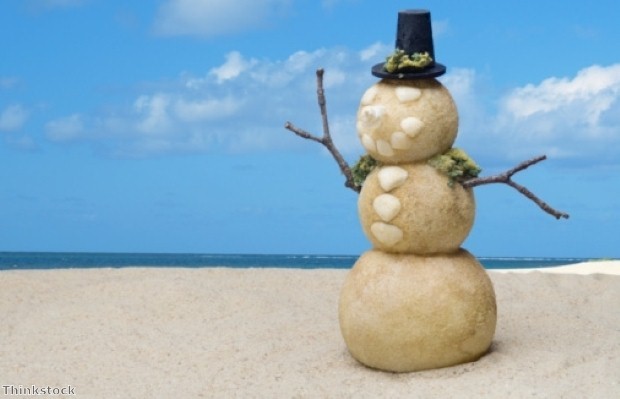 By Sarah Gibbons Follow @SarahGibbons_
As the days get colder and the nights get darker, thoughts are turning to where we can get a strong dose of winter sun. But where to go? If you're looking for a beach break, but with more than sun, sea and sand to keep you entertained, take a look at our pick of winter sun destinations that have something for everyone:
Zanzibar is famous for its traditiona dhow fishing boats
Zanzibar
There can't be many more places that conjure up an image of the exotic quite like Zanzibar – located off the mainland of Tanzania. Most holidaymakers head straight for the idyllic beaches of Nungwi in the north of Zanzibar for great snorkelling and pristine beaches. However, the maze-like Stone Town is the beating heart of the island and a few days spent there should be on the top of any holidaymaker's list. A melting pot of African, Arab and Indian influences, walking around this old trading town is like stepping back in time.
Dubai boasts great beaches
Dubai
With temperatures hovering around the 25°C mark in December and January, Dubai is a good winter sun bet. Dubai may be known for its soaring skyscrapers and high-end beachfront hotels but if you look beyond the glitz and glamour, you'll find much more, including miles of sand dunes – ideal for dune bashing. If holidaymakers get too hot they can opt for a spot of skiing at Ski Dubai, the Middle East's first indoor ski resort, wander the city's plethora of air-conditioned malls or splash around in the 42 acres of waterslides at Aquaventure water park in Atlantis, the Palm.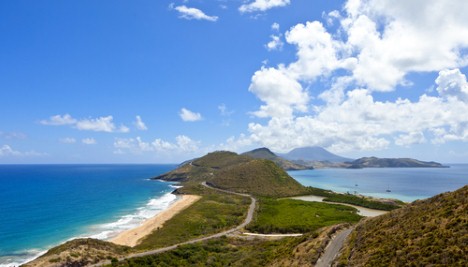 Nevis is a short ferry ride away from St. Kitts
St. Kitts and Nevis
The twin island nation of St Kitts and Nevis in the eastern Caribbean enjoy daily temperatures averaging around 27°C all year round and an average of 12 hours of sunshine a day. What's more, St. Kitts and Nevis receive a constant cool breeze from the Northeast Tradewinds, ensuring a comfortable climate for winter sun-worshippers. Along with great weather and picturesque beaches, holidaymakers can also enjoy hiking up volcanic peaks, exploring historic sugar plantations and spotting vervet monkeys in the national parks that grace both islands. And, both St Kitts and Nevis (located a 45-minute ferry ride away) boast a distinctive culture, unique to their own island; even their local rum punch is made differently! If you're visiting St Kitts between mid December and January, you'll even be able to join in the 'Sugar Mas' carnival festivities.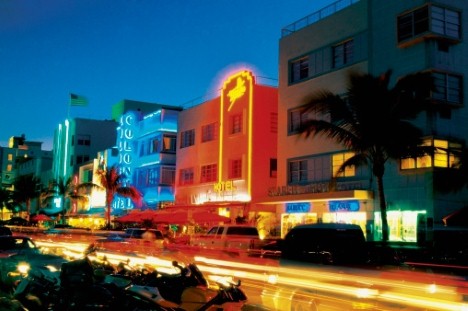 Miami comes alive at night
Florida
Florida isn't called the 'Sunshine State' for nothing. The south-eastern US State enjoys balmy temperatures in the low 20s in winter. Miami is a good base for those looking for beaches by day (of which Miami Beach and South Beach are the best) and parties by night. Winter is actually the peak season here, as the summer months can prove to be too swelteringly hot for most. Clearwater also enjoys a seemingly endless year-round supply of sun and also boasts the no. 1 beach in Florida –St. Pete's Beach – according to the Tripadvisor Traveller's Choice Awards. The nearby St. Petersburg is also worth a visit, especially if you're a fan of art as its home to the Salvador Dali Museum. Orlando, however, is the place to go with the family – the home of Walt Disney World Resort and the magical Wizarding World of Harry Potter at Universal Orlando Resort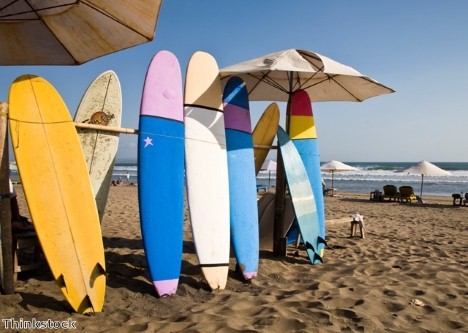 Sal is known for its sun, sea and surfing
Cape Verde
Sal – once a centre for salt mining (hence its name 'Sal') – is known as the sunniest island in the Cape Verde archipelago, which rarely gets any rain due to its flat landscape. The island is made up of deserts, beautiful beaches and lively resorts including Santa Maria. The island has also become quite a hotspot for surfers, who head here in the winter months, when the strong winds create fantastic waves. In contrast, Santiago is known as the fertile island, with its acres of lush forests, volcanic peaks and exotic beaches. The island's not short on historic attractions either; culture-vultures should head to Cidade da Ribeira Grande de Santiago – the former capital of Santiago – a UNESCO world heritage site with an impressive fortress, Fortaleza Real de São Felipe, serving as a reminder of the Portuguese colonial rulers. For those that want to really get away from it all, Boa Vista is the place to go. The island definitely lives up to its name – 'beautiful view' – and is known as the sleepy island; still relatively untouched by tourism.
Follow us @travelbite