Why temple festivals are a vital part of Kerala holidays
Sunday, 27 May 2012 2:05 PM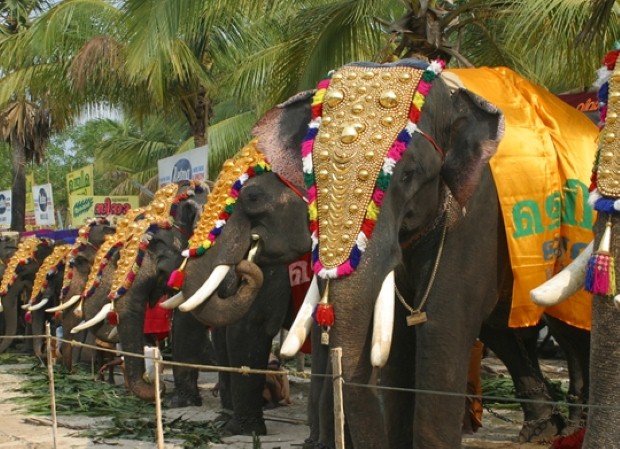 ---
If you're planning a holiday to Kerala, there's no better way to experience this fascinating state's culture than by attending some of its temple festivals. To find out what makes them such as unmissable attraction, read our guide.
The role of temple festivals in Kerala culture
One of the most interesting things about Kerala is its rich culture. Locals fiercely protect traditional ways of life and arts forms, and highly value religion. It is therefore perhaps unsurprising that its temple festivals – or utsavam – are such an important part of the local calendar – and why they are an essential element to include when touring the region.
How you'll learn about Kerala through its festivals
Temple festivals incorporate different elements of Kerala culture, which makes them even more exciting for holidaymakers to attend. For example, most temple festivals will include ritual art forms, such as Mohinattyam dance and Kathakali theatre.
The former is a wonderful traditional dance native to the region – and one that is known for being particularly graceful. Kathakali theatre, on the other hand, involves striking costumes, which actors don to perform scenes of epics that often last all night.
As well as seeing ritual art, you can also expect most festivals to have a few other features in common. Drum orchestras, firework displays and processions of elephants are all typical sights at these events – so you can look forward to some really colourful, exciting displays.
Where the festivals tend to differ is in size and how long they last far. All Kerala temples will put on at least one festival per year – often competing to be the most extravagant – with some lasting a single day and others spanning a week.
Top temple festivals to see
While the festivals tend to feature the same key element, this does not mean there is no variation at all. For example, the Chinakkathoor Pooram is often referred to as the elephant pageant, as it famously features a procession of more than 30 elephants. It is held at Sree Chinakkathoor Bhagavathy Temple in Palakkad and is, unsurprisingly, the top festival to attend if you're particularly excited about seeing elephants up close.
Staged at Pazahanchira Devi Temple in Kovalam, the Pazhanchira Utsavam lasts for a whole week and is a great place to see tribal communities. Indeed, here you can watch the North Kerala Pulluvan tribe perform the Naga puja, which is thought to help cure eye and skin problems.
Should you been keen to see the most colourful festival in Kerala, head to Thrissur Pooram, which is held at Vadakkunathan temple at Thrissur. This is widely acknowledged to be the most exciting of all Kerala's utsavam and it draws in countless tourists and locals alike. While you're here, you can see ornamental parasol displays, music concerts and an elephant procession, as well as watch fireworks going off all through the night.
So, it's not hard to see why temple festivals are such an important thing to experience during your time in Kerala. Other popular attractions in the state include its impressive beaches and its wonderful wildlife, in addition to the stunning Kuttanad backwater region, which you can tour by rice barge. Whatever else you're keen to experience, make sure you speak to your tour operator about adding utsavam to your itinerary – or making them the focus of your getaway.