Untamed Tenerife: The Anaga Mountains
Friday, 15 March 2013 12:50 PM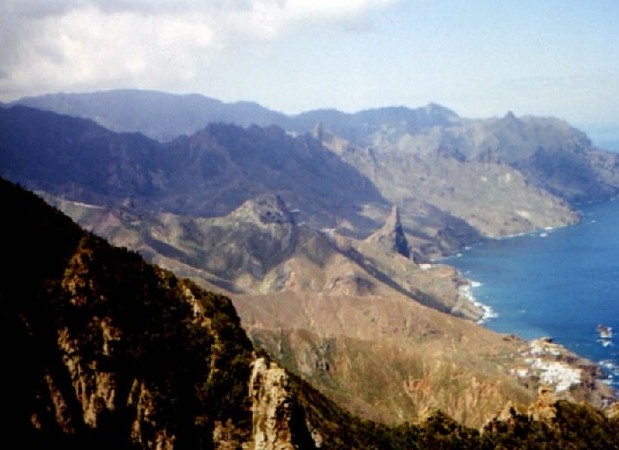 ---
When most people think of family holidays to Tenerife, they conjure up images of sun-kissed beaches, bustling resorts and bathers lazing about on poolside sun loungers.
But this vision of the Canary Islands ignores the other, wilder side of Tenerife; one that can provide an incredible outdoor experience for adventurous families who tire quickly of sunbathing.
Located on the north-easternmost tip of the island, hidden away from the packed resorts of Santa Cruz and the other urban centres, lies the Macizo de Anaga mountain range.
Here you'll find spectacular peaks up to 1,000m high covered in lush forests and precipitous cliffs that fall away sharply into the Atlantic Ocean below.
It's a world away from the holiday hotspots elsewhere on the island – despite its proximity to the capital – with hotel blocks replaced by mountain villages and gaggles of goats standing in for tourist hordes.
As Real Tenerife says, "if you dropped someone who has never been to Tenerife … into this remote wilderness without telling them where they were, you could let them have a hundred guesses and they'd never get it right".
This has in large part to do with the fact that the far tip of the island is accessible only via a twisting interior road, which means that the 36km journey from Santa Cruz is an hour or more's challenging drive. Other parts of the peninsula are even more remote and can only be reached by boat.
But if you want to have the ultimate natural Tenerife experience, visiting the Anaga Mountains is well worth the effort.
The main activity in this remote island paradise, of course, is hiking. Numerous trails wind their way over the hillsides, passing through idyllic hamlets and dense forests.
You will certainly need a sturdy pair of walking shoes to tackle the steeper slopes and rough tracks, as well as a detailed map, compass, plenty of water and food, and some sun block, mosquito repellent and a hat. A rain jacket might also be needed, and this can also be used out the wind on some of the more exposed sections of pathway.
For those interested in peak bagging, a particular highlight of the Anaga Mountain range is Roque de Taborno – the so-called 'Matterhorn of Tenerife'. Although it looks similar to the iconic Swiss peak, it is somewhat easier to climb, at just over 700m.
However, the rock is very exposed and is not really suitable for young children to ascend. You should also be aware that low cloud can encircle the ridge, making navigation treacherous.
Upon reaching the summit, you will enjoy spectacular views across the ocean and really feel on top of the world.
Of course, there's no need to slog along walking trails for your entire holiday, and to do so would mean that you miss out on the wonderful beaches and excellent cuisine on offer on the island.
Indeed, getting a good mix of mountain adventure and beachside relaxation will give you the sense that you've had a proper holiday. There's nothing quite like spending the day in the solitude of the mountains before heading to a restaurant for a hearty family meal in the evening.
For an authentic taste of the Canary Islands, tuck into a plate of papas arrugadas (wrinkly potatoes) served with mojo sauce.
For more information on holidays to Tenerife with Monarch, click here.