A route through the Peruvian Andes that has been traversed for centuries, the Inca Trail is a popular destination for intrepid travellers with a spirit of adventure and the desire to explore the world in their own way.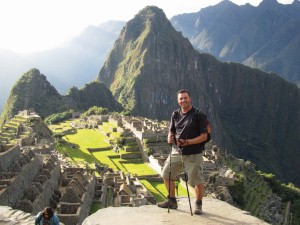 This stunning path, which is famous for its breathtaking views and unspoilt natural beauty, passes through cloud forests and along craggy summits before arriving in Machu Picchu – the mysterious mountain-top ruins often referred to as the Lost City of the Incas.
Depending on the route you select, the journey can take between four and ten days. Although there are a few steep climbs, most of the path is not difficult and travellers who are reasonably fit should be able to complete it without problems.
If you're ready to trek the Inca Trail, Explore Worldwide can help you organise this trip of a lifetime.
Our escorted tours are led by experienced guides and you'll enjoy a porter service as well, so you won't need to worry about carrying large amounts of gear, setting up camp or cooking meals. This means you can relax and enjoy your trekking holiday, without any hassle.
Exploring Machu Picchu
Situated 2,430 m above sea level, Machu Picchu is a mystifying archaeological site that was built in the early 1400s – although the site was considered a sacred place for hundreds of years before that. It's thought the city thrived for around 100 years until it was abandoned in 1572 after the Spanish Conquest.
Most experts agree that the city was constructed as the estate of the emperor Pachacuti and the location was chosen due to its spiritual significance.
After the city was deserted, it was forgotten and left untouched until Hiram Bingham re-discovered the site in 1911. What he found was an amazing set of ruins – some 150 houses, as well as a palace, bath houses and temples.
All the structures were constructed from mighty blocks of granite and it's unclear how the stone was moved and put into the right positions.
Today, Machu Picchu is a popular destination for travellers around the world. Many of the structures have been reconstructed to give visitors a better understanding of how the area would have looked 500 years ago.
Points of interest include the Intihuatana stone, which translates to 'The Hitching Post of the Sun' – it's believed to have served as an astronomic calendar.
Walking holidays from Explore Worldwide
As experts in adventure travel for over 30 years, Explore Worldwide has the experience and knowledge to help you organise an unforgettable trek along the Inca Trail.
Because the route is so popular, the Peruvian government has imposed restrictions on the number of people who can start out on the Inca Trail every day in order to reduce the impact on the natural habitat, as well as to prevent corrosion of the path. This means that it's essential to book your trip early, especially in the high season of June, July and August.
We offer a variety of walking holidays for you to choose from and they can incorporate even more destinations, either before or after you've been to Machu Picchu.
For example, you could see the intriguing Nazca Lines for yourself, take some time to explore historic Cusco or head to Puerto Maldonado for a canoe trip on the Amazon.
Whatever the perfect holiday is to you, here at Explore Worldwide, we can help you make it happen. Visit us on www.explore.co.uk to find out more or phone us on 0845 291 4541.
---