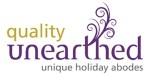 Top glamping destinations in England
Tuesday, 28 August 2012 4:42 PM
---
Many of us are looking to go on holidays that provide the opportunity to connect with nature and stay in great accommodation, but that doesn't mean you have to take a long plane journey to reach your destination. In fact, there are many wonderful places in England where you can enjoy such getaways.
Embark on a domestic glamping break and you'll find you can do away with the hassle and stress that comes with air travel. Instead, all you have to do is hop into a car or on a train and you should arrive at your accommodation within a couple of hours, without having to worry about bringing your passport or exchanging money into a foreign currency.
Whether you want to enjoy a week-long stay in a tipi or are planning a weekend break in a treehouse, a glamping break in England means your holiday can begin much more quickly. To find out more about some of the best places for a glamping getaway in the country, read on.
Isle of Wight
Commonly regarded as one of the most popular holiday destinations in the whole of the UK, you can be confident that a break that in the Isle of Wight will present a wonderful opportunity for you to relax and take things easy.
This will certainly be the case if you choosing to go camping in the Isle of Wight. Rather than stay at a run-of-the-mill campsite though, it's worth booking a luxury safari tent on a working farm, accommodation that can be found on the island's west shore just outside the pretty town of Freshwater.
Come here and you can make use of comfortable amenities, such as a fully-equipped kitchen and a hot shower, while still being close to nature. Indeed, by coming here, you can look out over the island's sweeping landscape and see farmyard animals such as cows and chickens.
Head out from your campsite to the nearby Totland Bay Beach and you'll have the opportunity to relax on a golden sandy stretch, as well as try exciting water sports such as kayaking and surfing. Alternatively, you could visit the Freshwater Bay Golf Club, which is home to an amazing 5,725-yard course that will offer the chance to take in wonderful sea views as you play.
Shropshire
Shropshire is also a wonderful destination for a glamping getaway and, as it can be easily reached by those from Manchester, Liverpool and the West Midlands, it's the perfect place for a short break.
Choose to make this naturally-beautiful county the destination for your glamping holiday and you'll have the opportunity to stay in converted caravans that offer wonderful panoramic views of the English countryside.
With such accommodation typically including amenities like a wood-burning stove and barbecue, you'll have everything you need to stay comfortable while enjoying the peace and quiet that the Marches area of the county has to offer.
If you're hoping to be a bit more active, head out from your caravan to the lakes around Ellsemere. A remainder of the last ice age – the bodies of water were created by melting pieces of glacier – these lakes are fantastic places to go sailing or enjoy a spot of coarse fishing. Cycling lovers, meanwhile, can follow the 72-mile Jack Mytton Way, a stunning off-road route that will take you through Wenlock Edge and along the Welsh border.