Enjoy sailing holidays in Italy with Sunsail
If you're searching for the perfect sailing holiday, you need look no further than the captivating coastline of Italy.
The Mediterranean location is a fantastic choice for a yacht charter holiday, with its temperate climate, friendly natives and stunning scenery.
Italy has long been a popular destination for yachtsmen looking to indulge their passion – in fact, the first sailors to take to the water here for pleasure are thought to be the Romans.
Sailing in Italy can be an exhilarating and memorable experience – but don't just take our word for it. If you book a sailing holiday in Italy, you'll discover the unbelievably beautiful Amalfi Coast is a sight to behold, while the volcanic islands of the Aeolians are just crying out to be explored.
And when on dry land, there's plenty more to see and do. Italy is a veritable foodie's paradise, so spend some time sampling the local delicacies. The country is also renowned the world over for its art, and you won't be disappointed when you visit the galleries and museums here – or even catch sight of some of the awe-inspiring architecture.
Yacht charter holidays in Italy
Whether you're a novice in the field of sailing or an experienced seafarer, you'll find that with Sunsail, there are sailing breaks to cater for all needs.
You'll have all the freedom you like to sail at your leisure on a break with us, but the reassurance that we're always here to help. Sailors can choose between three bases in Italy – Procida, Palermo and Tropea – which offer anchorage points and much more besides.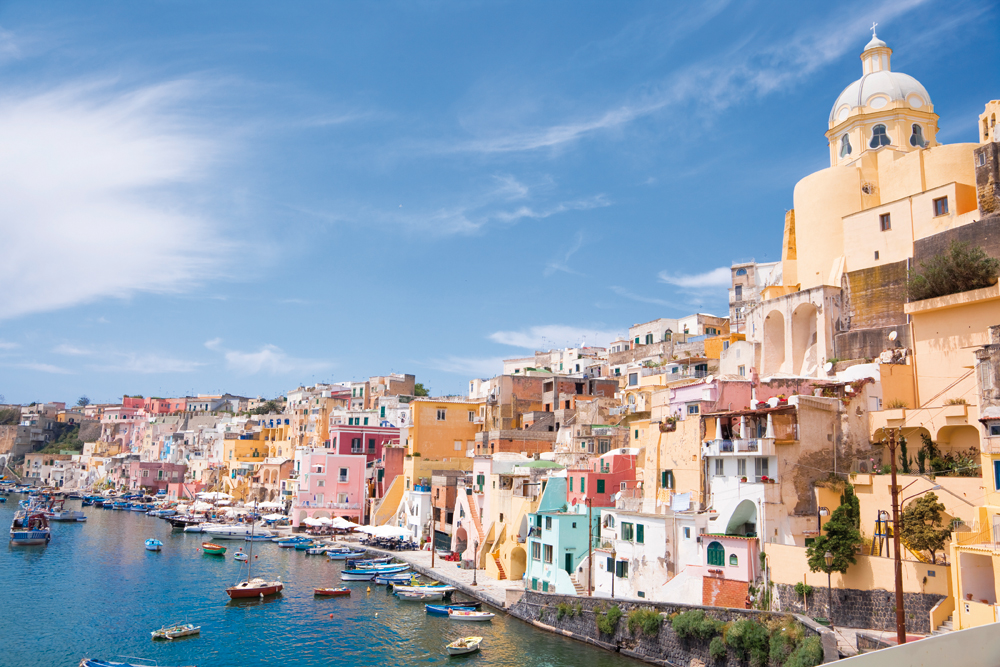 Whether you're a fan of white sands, quaint fishing villages or chic resorts, you can find it all on a yacht charter holiday in Italy.
If you decide on Palermo as your base, you'll find the Sicilian region home to some stunning scenery, unrivalled cuisine and Greek, Roman and Arab influenced architecture.
From here, you can sail to the Egadi Islands and Ustica, or even opt for longer cruises to Malta and Tunisia if you're confident in your sailing abilities.
Meanwhile, Procida, which is nestled in the Bay of Naples, is perfectly placed for exploring the Capri and Ischia islands.
The isle is also close to picturesque fishing villages – a great way to experience authentic Italy. A yacht charter from Procida is a relaxing affair and you'll benefit from warm sea breezes in this sheltered passage.
If you choose a Tropea yacht charter, you'll find yourself greeted by truly dramatic scenery along the coastlines of the Aeolian Islands.
Discover the interesting volcanic past of the region as you explore aboard your vessel and on dry land.
Located on the South Tyrrhenian coast, Tropea is a historic location with plenty of attractions, such as a 12th century Norman cathedral, a Franciscan monastery and the remains of Tropea Castle, which was destroyed in 1876. If you're a history buff, this is the location for you.
Why choose Sunsail when booking sailing holidays in Italy?
Here at Sunsail, we pride ourselves on the standard of our bareboat charter fleet.
All of our vessels have been designed with you in mind, so you'll find them to be comfortable and practical. We like to cater for everyone, so our choice of design and size when it comes to selecting your boat is exhaustive.
Whether you're travelling alone or with family and friends, we're sure to have the right kind of yacht for you.
Our fleet is constantly being improved – we maintain, customise and upgrade our vessels to make sure we only offer the best. This is just one of the reasons our customers return for holidays year after year. Another reason is our commitment to customer service.
With Sunsail, you benefit from the highest level of choice, representatives with a wealth of in-depth knowledge and an unrivalled professional attitude.
We want you to enjoy your holiday just as much as we enjoy organising it for you.
Our level of experience when it comes to arranging breaks is vast – we've been in the business for more than 30 years, so you can rest assured you're in good hands.
We can make sure all the essentials are covered, so you'll find fresh bed linen and towels on board your vessel, along with other necessities like a dinghy tender and cooking gas.
And if you're not that experienced a sailor never fear – we can organise lessons for you to ensure you feel safe and confident when you embark on your trip.
---