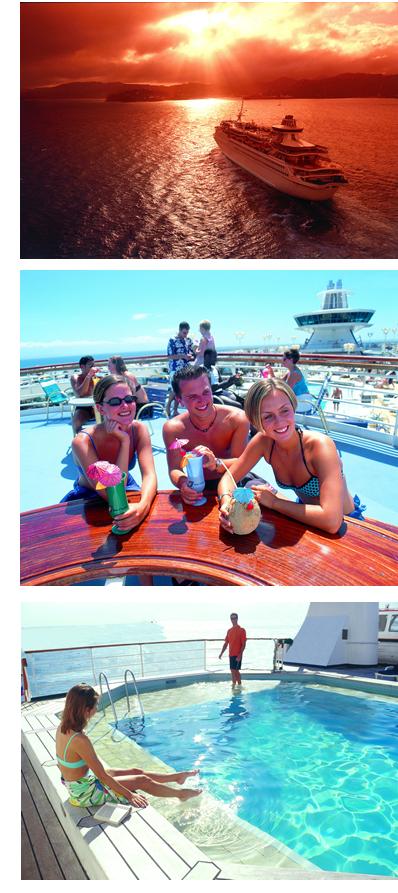 Thomson is the UK's largest travel agency and tour operator, and founded in 1965 one of the most recognised travel industry brands in the country with its own travel agencies and airlines.
The cruise division, Thomson Cruises has secured a unique place in the British market since it's conception in 1973 although it wasn't until 1995, upon chartering a small ship, The Sapphire that they began to see a success in attracting cruisers to their brand. In the last fifteen years Thomson Cruises have gone on to charter a variety of other ships, and now owns their own fleet of vessels.
From their beginnings as a budget cruise operator in the 1990's, Thomson has progressively improved their product, becoming more main stream in the cruise industry by improving their ships, amenities and service while also branching out to a wider range of itineraries.
Thomson's onboard experience sits somewhere between traditional and casual.
The fleet offer a variety of restaurants offering several dining options from relaxed and flexible to a more formal multiple course dinner. You can eat al fresco at the self service buffet in the Lido Restaurant which is always open and twice a week you can enjoy an international themed evening. Buffet style dining offers quick service with lunchtime barbecues, pizzas and salads and the main dining room serves breakfast, lunch and a 6-course dinner. If you are looking for more a formal dining experience be sure to check out speciality dining options where , for an additional charge you can enjoy a more intimate dining experience. Guests will also be invited to Gala Night when the Captain throws a cocktail party and gala dinner. For evenings when travellers are looking for the ultimate level of flexibility, room service is available 24-hours a day.
Guests will find an array of activities and can relax in the spa, workout in the gym, or receive a menu of services in the beauty salon. Other facilities include a basketball court, Sports Deck and a Card and Reading Room where passengers can enjoy a quiet space to relax. With a wide selection of bars, lounges, and nightclub and casino onboard every ship, there is something for all passengers to enjoy when the sun goes down including professionally-produced shows in the Broadway Show Lounge.
The Thomson Cruise fleet offer several stateroom options to choose from including a selection of suites, deluxe rooms, and interior and exterior cabins. The accommodations offer modern, contemporary living spaces and all staterooms are air conditioned and come equipped with television, safety deposit box and hairdryer.
For customers planning a family cruise, Thomson offer a comprehensive activity programme, Kidzone for children ages 3 to 12 years old. Split according to age groups, the Kidzone offers daytime and evening activities lead by qualified childcare staff.
Thomson Cruises itineraries include holidays to Northern and Western Europe with a variety of options in the Western Mediterranean, Eastern Mediterranean and Black Sea.
They also sail throughout the Canary Islands and the Caribbean with a selection of cruise durations available, varied repositioning cruises in the spring and autumn, flights from up to 24 UK airports on their own airline as well as popular pre- and post-cruise land packages for fly-cruises.
---