Cycling holidays in Italy with Headwater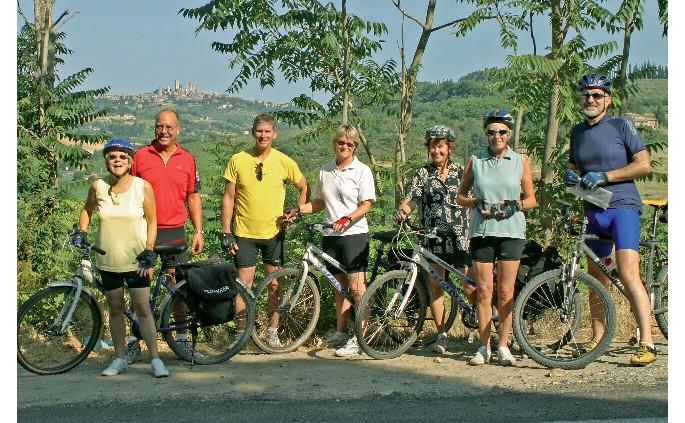 Italy is a fascinating country full of beautiful landscapes and vibrant cities, as well as traditional towns and villages where you can really get to experience Italian life.
If you want to see a side to this exciting nation that many holidaymakers will miss, you may want to consider taking activity holidays in Italy, as this will enable you to visit and experience places that are not frequented by tourists.
One of the best ways to get out and about in Italy is to take to two wheels, as you will have the opportunity to cover more ground than if you were walking, while still being able to stop off as and when you please.
What can I expect from cycling holidays in Italy?
When you come to Headwater for your cycling holidays in Italy, you will find that all the important details are taken care of.
Our routes see you usually move on to different hotels every two days, providing you with ample time to get out and explore the areas in which you stay, as well as allowing you to cross some of the stunning Italian countryside at your own pace.
All your bags will be transported between your hotels for you, so you needn't worry about carrying heavy packs around while you are trying to enjoy the scenery!
The in-between days are the perfect chance for you to enjoy relaxing rides, with no time pressure or particular destination that you have to reach. You may even want to use some of these days to rest your legs before you hit the road again and head on to your next stop.
We also offer cycling routes that are suitable for those of varying abilities, so you can choose from itineraries in relatively flat regions, or those that are a little more challenging and include some steep uphill climbs.
Where can I go on cycling holidays in Italy?
At Headwater, we offer cycling tours of Italy in various locations around the country. You will be provided with all the information you need to follow the trails at your own pace and enjoy the sights and sounds as you ride along.
If you have a love of good food and fine wines then you may be tempted by a trip to Chianti. The region is famous the world over for its wines and with good reason – but there's more to this particular stretch of Italian countryside than its vineyards.
You will discover medieval hamlets nestled among the hills here – and are likely to pass through many picture-perfect areas of sunflower fields and vineyards as you travel around. There is a rich history in the area dating back to the Romans and Etruscans and you are likely to see evidence of both during your trip.
Another popular destination for cycling breaks is Venetia, where you can not only experience the fascinating city of Venice, but also get out and about to explore some of the natural wonders surrounding it, including Lake Garda and the Dolomites.
Book cycling holidays in Italy with Headwater
Here at Headwater, we plan all of our cycling holidays with the intention of taking you off the beaten tourist trail and introducing you to a side of the country that visitors often miss out on.
If you want to discover some of the hidden villages and little-known sights then booking one of our cycling tours is perfect.
You will be able to take the break at your own pace and if you have any particular requirements – or there are any sights you would especially like to see – we can help you plan a bespoke cycling holiday.
---