India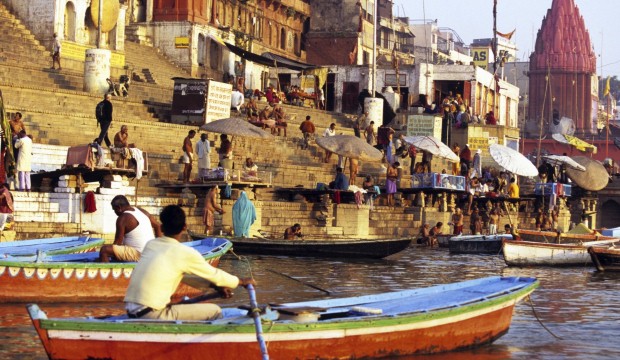 ---
India boasts virtually every landscape imaginable, from the humid, tropical jungles of west India to the fertile plains of Punjab in north India, leading up to the foothills of the sweeping, snow-capped Himalayas.
As a result, India encompasses countless traditions and cultures, unique to each region. Cuisine and clothing all differ, in accordance to place of origin.
India positively bursts at the seams with vibrancy, energy and vivacity. Its cities are throbbing with activity; a melange of street stalls, jostling traffic, hubbub and commotion.
One of the most recognisable man-made structures in the world, Agra's iconic Taj Mahal needs no introduction; it is undoubtedly one of the reasons holidaymakers flock to India. The ornate, domed building has quite a love story, leading Sir Edwin Arnold – and English poet – to describe it as "not a piece of architecture, as other buildings are, but the proud passion of an emperor's love wrought in living stones." Find out more about the story here.
Away from the hustle and bustle, India is also a place of great peace, spirituality and tranquillity. Varanasi is one of the most spiritual locations in India – the centre of the Hindu faith – where Hindus come to wash away their sins in the Ganges River. The river is seen as the crossing place between live and death; the point where the physical life ends and the spiritual one begins.
Another draw is the plethora of exotic beaches, lagoons and bays scattered along India's shores. The west and east coasts are both popular with holidaymakers. Some of the world's finest beaches can be found in the resort of Kovalam and the laid-back paradise of Goa – one of the most popular destinations in India. Stunningly beautiful, Goa is teeming with Portuguese colonial architecture, exotic beaches and both high-end hotels and fun and friendly hostels.
If beaches and partying aren't what you're after, head to the serene tea plantations of Darjeeling, where you can explore Hindu and Buddhist temples and botanical gardens – all with the backdrop of the arresting snow-clad Himalayas.
Whatever your route and destination, India will leave you with memories that will last a lifetime.
India Essential Information:
Capital: New Delhi
Major cities: Mumbai (Bombay), Varanasi, Calcutta
Major resorts: Goa, Kovalam
Time Zone: GMT +5.5
Language: Hindi (primary), English, plus 17 other official languages including Bengali and Urdu. To learn the basics of Hindi visit www.ukindia.com
Currency: India uses the Indian rupee (INR). For up-to-date exchange rates see: www.xe.com/ucc.
International dialling code: +91
British Embassy: visit the website for more information