Learn to sail in Greece with Sunsail
A holiday near the water offers the perfect opportunity to take a sailing course – and with Sunsail's sailing school in Greece, you can do exactly that!
The Mediterranean provides the perfect environment for you to learn to sail and soak up some sunshine at the same time! Sunsail's excellent Club Vounaki facility in the heart of the Ionian is the ideal place for you to take to the seas for the first time – and offers you the chance to combine your sailing instruction with a holiday and all the benefits of a resort break.
Located in a sheltered bay at the foot of the Arkanika Mountains, you'll find Vounaki offers everything you could ask for in a holiday destination, including fun activities for all members of your group – whether they plan to sail or not – brilliant weather and top-class service.
What can I learn at Club Vounaki?
Sunsail's facility at Vounaki offers a range of sailing instruction for all levels – whether you're brand new to sailing or are simply looking to brush up on a specific set of skills, you're sure to find the perfect course for your needs.
Many of our courses are certified by the Royal Yachting Association (RYA), so you can be sure you are getting a high-quality level of instruction from an internationally-recognised organisation.
The courses on offer include RYA Competent Crew, the RYA Day Skipper Course, International Certification of Competence (ICC), a one-day Rusty Skipper course and a special five-day Vounaki ICC programme.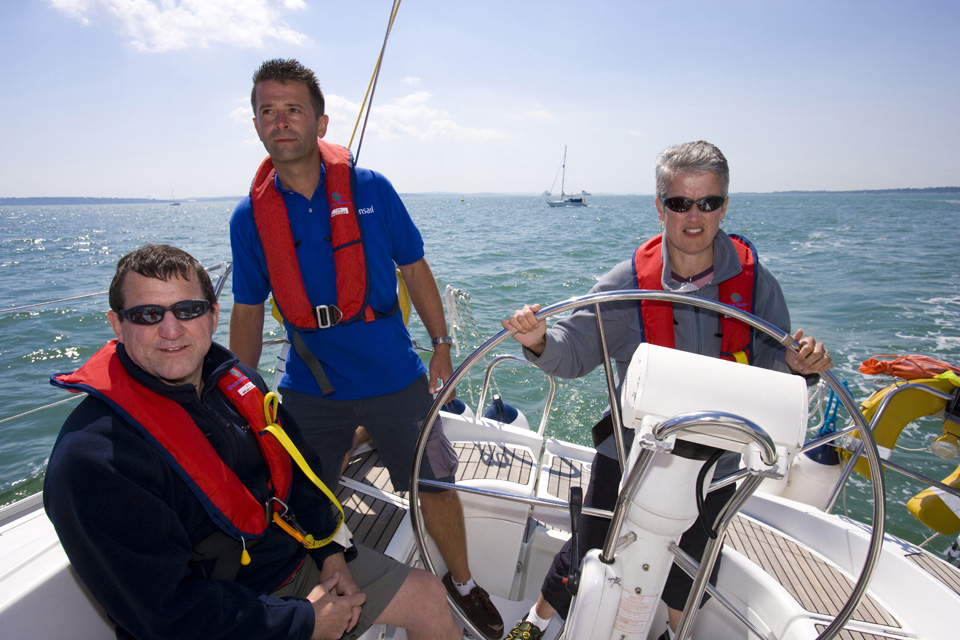 When you study at Vounaki, you'll have access to modern, well-maintained equipment and English-speaking RYA-qualified instruction – it's just like learning how to sail at home, but warmer!
And in your downtime, you'll find the on-site beach club is the perfect place to relax and unwind. Whether your idea of a dream holiday is sitting poolside with a refreshing cocktail or hiking, waterskiing and windsurfing your way through an exhilarating adrenalin-filled week, you're sure to find it at Club Vounaki.
When you're finished with your week of study, you can test your newfound skills on the water by spending a further seven days on the Ionian.
Take your pick from the Kalamos or Vounaki flotillas and explore the hidden gems of this part of the Mediterranean.
With great conditions for sailing and beautiful coastlines, you're sure to have a break on the water in Greece to remember forever!
Plan your sailing break in Greece with Sunsail
If you're thinking about taking a sailing break in Greece, the Sunsail website should be your first port of call.
Here, you'll be able to read up on the different courses available for you to take during your stay at Vounaki, as well as the other activities you can participate in at the beach club and resort.
It may be worthwhile to take a look at our Sailing CV and fill in the short form – this will help to assess your current level of ability and point you in the direction of the best courses for you.
You'll also be able to have a detailed look at your flotilla options and learn more about the RYA certification programme. We often have special deals and offers available for certain times of the year – including the summer holidays and half-term breaks – so keep checking back often for the best prices.
If you'd like more information before you make a booking, you can request a brochure or give us a call on 0844 463 6817 – our team is more than happy to help with any questions you might have.
Normally, you can book stays of seven or 14 nights at Club Vounaki, adding on an additional week if you plan to enjoy our Club Flotilla option.
Our packages depart from either London Gatwick or Manchester airports – usually on a Sunday – so you'll be able to choose based on the location that is more convenient for you.
If you'd like to book your sailing lessons online, you'll need to provide us with information including your name, address, telephone number and email details, as well as the dates you'd like to travel.
We'll then give you a quote and if everything is satisfactory, you can pay using Visa, Mastercard or American Express. Before you know it, you'll be learning to sail in sunny Greece and having the adventure of a lifetime!
---