Learn-to-sail holidays with Sunsail
If you've always wanted to learn to sail, Sunsail can offer you all the help you need.
Our sailing schools in the UK and abroad are the perfect places to get properly qualified – you'll be able to have plenty of fun while you complete your course.
Whether you choose to learn to sail at home on a shore-based course or take to the sea in Greece, Australia, Thailand or the British Virgin Islands, you're sure to have a brilliant time as you gain your certification.
No matter where you opt to study, you'll find all of our instructors are certified by the Royal Yachting Association (RYA) and you'll be able to find a course to suit you regardless of your ability – from beginners to very experienced sailors.
Why learn to sail with Sunsail?
In many countries, the skipper and first mate on any sailing ship are required to have specific qualifications, so there has never been a better time to get certified.
With Sunsail, you can even combine your course with a break away – we have plenty of learn-to-sail holidays to choose from. You can obtain your qualifications at our sailing schools all over the world – we have facilities in Thailand, the British Virgin Islands, Australia, Greece and in the UK.
If you're not sure which school is right for you, head to the Sunsail website and complete our Sailing CV. This will help you assess your current level of ability and give you some great ideas about the right courses to suit you – and holiday destinations to consider.
Learning how to sail abroad is a brilliant way for you to gain some new skills in a relaxed holiday atmosphere. On our learn-to-sail holidays in Greece, you'll enjoy the inviting Mediterranean climate – which also provides the perfect conditions on the water.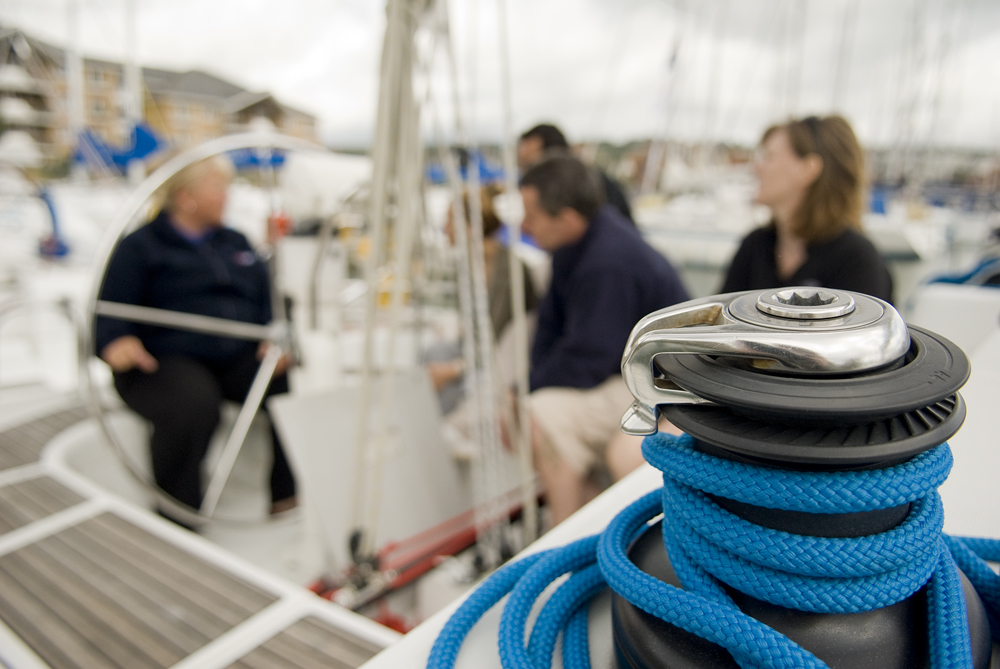 You can even combine your sailing instruction with a week at Club Vounaki on Paleros Bay, where you can also enjoy plenty of other watersports and outdoor activities during your holiday. Or if you prefer to stay at home, you'll find our shore-based courses at Portsmouth Harbour are ideal for learn-to-sail holidays in the UK.
Here, you'll be able to get instruction in RYA Small Craft First aid, as well as Basic Navigation and Safety. With Sunsail, you can even create your own course – our experts can work with you to tailor the lessons to suit the requirements of your group.
Alternatively, you could opt for one of our speciality courses, including instruction specifically aimed at families, teenagers or women.
Best of all, on a Sunsail course you'll be safe in the knowledge that you'll have access to well-maintained, high-quality modern yachts so you can learn in the best environment possible.
Book sailing lessons with Sunsail
If you're keen to boost your sailing expertise, head to Sunsail.co.uk. You'll be able to read up on all our courses and complete the Sailing CV – and for even more information, you can request a brochure.
We sometimes even have special offers – keep an eye on our website for the latest deals. You'll find plenty of RYA-certified courses to choose from – whether you have no experience or are at an advanced level.
You can also opt to take a shore-based course or a speciality programme if you are keen to brush up on a specific skill. Once you're ready to make your booking, you can pay online using our secure server or give the Sunsail team a call on 0844 463 6821 to complete your transaction.
If you have more questions, you can also email us – send a message to sailingschools@sunsail.com and one of our friendly experts will be happy to address your queries. Before you know it, you'll be gaining new skills and knowledge – and having a brilliant time while you learn.
With Sunsail's combination of great expertise, friendly RYA-certified staff, fabulous locations to choose from and well-maintained boats to learn on, you'll improve your confidence on the water in no time.
Get in touch with Sunsail today and start planning your perfect learn-to-sail holiday – at home or abroad.
---