Hot spot: Excelsior Hotel Ernst, Cologne
Wednesday, 13 July 2011 12:00 AM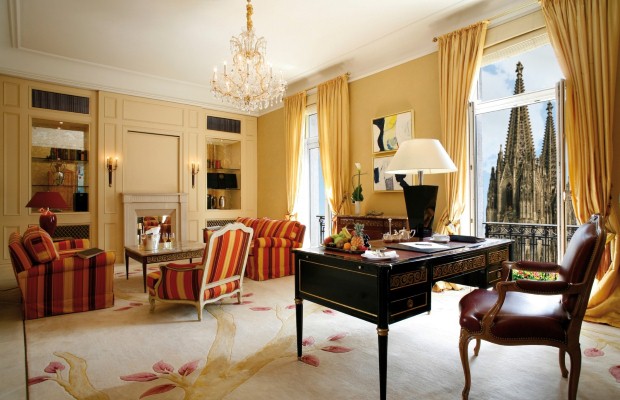 By Sarah Gibbons Follow @SarahGibbons_
The jewel of Cologne is undoubtedly the ornate Cologne Cathedral – a tour de force of gothic architecture which towers over the city. A stone's throw away is where I found the Excelsior Hotel Ernst, overlooking the bustling square at the foot of the Cathedral.
So centrally located, the Excelsior Hotel Ernst is also only a hop, skip and a jump away from the copious amount of chic designer boutiques, high street shops and the abundance of culture that Cologne offers (including more museums than you could possibly hope to visit!).

Excelsior Hotel Ernst at dusk (photo: Excelsior Hotel Ernst)
On entering the hotel, I was met with an expanse of glistening marble, framed by gilded staircases and plush furniture. This is the timeless elegance and traditional furnishings that the Excelsior Hotel Ernst characterises; 'excelsior' is the Latin for excellent after all…
Built in 1863 by Carl Ernst, the hotel has witnessed a variety of historical eras. A luxurious getaway, the hotel hosted the likes of the German Emperor William I and the high society of Cologne.
At the end of the First World War, the hotel became the headquarters for the British and after they left in 1926, the hotel enjoyed another period of business before closing again during the Second World War. From this period on, the hotel evolved and transformed into the five-star haven it is today, winning the 'Hotel of the Year' in 2010.
My spacious room was elegantly furnished; the bed was a generous size, complete with a selection of marshmallow-soft pillows and the room was certainly not lacking in storage space. The bathroom was almost a room in itself, stylishly designed with 'his and hers' sinks and a series of sliding glass doors (which should perhaps have been frosted. Being so sparklingly clean, it is very easy to forget they are closed and I for one suffered the consequences!).
The highlight of Excelsior Hotel Ernst, for me, was its restaurants. The first night, we dined in the hotel's gourmet restaurant – Hanse Stube – which serves French cuisine, infused with local specialities. It is not hard to see why the restaurant is award-winning, I devoured my starter of scallops and king prawns with a wild herb salad and main course of veal with fresh asparagus. Dessert was a crème brulée followed by coffee and petit fours – including an array of tempting truffles to choose from, the flavours varying from mint to pineapple. All washed down with fine German Riesling wine – of course.
In contrast, Excelsior Hotel Ernst's other restaurant – taku – offers authentic East Asian delights but is equally as impressive. Brighter décor and a more informal atmosphere, taku is like walking into a luxury spa. Walkways are lined with fish (literally under your feet!) and the music is wonderfully soothing.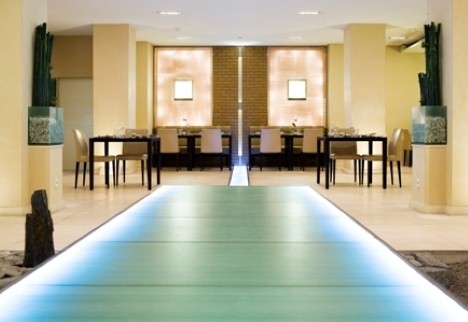 taku (photo: Excelsior Hotel Ernst)
The meal began with dainty bread rolls in a range of flavours: coriander, chilli and cumin with equally tasty butters to go with them. I enjoyed a main course of fragrant red curry with lobster, scallops, prawns and mussels. Absolutely scrumptious! I finished my Asian extravaganza with green tea and another selection of tantalising truffles. This time the flavours were Jasmine tea, lychee and mango.
One of Excelsior Hotel Ernst's other delights is their High Tea, a recent venture which is proving to be very popular. I was given a tea menu to peruse, offering 35 different teas from Assam to Darjeeling. Our pots of tea were accompanied by a display of High Tea treats, which cannot by described as anything other than culinary art. Exquisitely colourful macaroons, berries, miniature tarts, freshly baked scones with trout mousse and dinky smoked salmon and cream cheese bagels were some of the gastronomic delights on offer – delicately piled up in tiers on a stand. I could have enjoyed it for hours. (There certainly was enough to be able to!).
By the time I left Excelsior Hotel Ernst, I was suitably indulged, both in terms of the delicious cuisine and the plush surroundings I experienced. It truly was a five-star experience and the ideal base in which to discover the cultural wonders of Cologne.
By Sarah Gibbons
Fact Box
Visit the Excelsior Hotel Ernst's website
A standard double room costs from E265
For more information on Cologne visit: www.cologne-tourism.com
Follow us @travelbite