A weekend in…Auckland
---
In Auckland you really can have it all; two magnificent harbours frame a narrow isthmus punctuated by volcanic cones and sprinkled with sandy bays. Yet a hop, skip and a jump and you're back in the arms of a vibrant city. With this is mind you can begin to imagine why Auckland was voted the tenth most livable city in the world.
A day in Auckland will have you spoilt for choice. In one day you can spend the morning snapping up designer originals at the boutiques or sampling local brunch at a neighborhood café and by an afternoon exploring beautiful beaches, hiking trails and idyllic islands.
Vineyards are one of New Zealand's biggest draw cards, so if you really are spoilt for choice, the city of sails provides the perfect backdrop to take stock over a glass or two of world renowned sauvignon blanc. It has to be said, in Auckland, you really can have your cake and eat it too.
Arrival and Transport
If adventure points are proportional to air miles, New Zealand certainly tops the charts. This unfortunately means long haul flights but choose wisely and you may manage to schedule a stopover somewhere interesting for a mini adventure en route.
Auckland houses New Zealand's primary international airport; many of the larger airlines fly there. Choose Emirates for a stopover in Dubai, Qantas stops in Singapore and Air New Zealand fly backwards – (not literally!) – via Los Angeles.
Buses are the primary mode of public transport in Auckland. The airport shuttle runs every 15 minutes. Once in town head to Britomart Transport Centre, the primary bus station. The Link bus is $1.80 (£1.10) to anywhere and circles the main suburbs.
Don't miss
As you approach Auckland City you can't miss the iconic Skytower. A trip to the top is best incorporated with a meal at Orbit, the revolving restaurant situated one floor above the viewing platform. Your meal includes free entry to the tower. If you're feeling more courageous you can also base jump from the top or take a daredevil stroll round the exterior pergola.
Be sure to take a trip over the harbour bridge to catch a view of the Auckland skyline itself. Again, being New Zealand, there is also an adrenaline-fueled alternative in the form of a bungy jump from the top.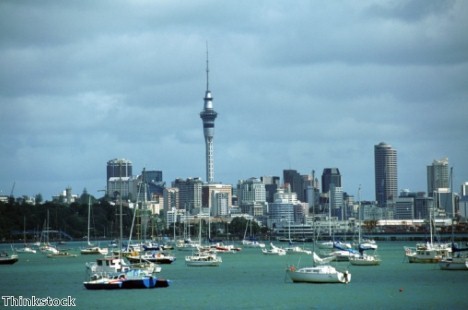 Auckland's skyline (photo: Thinkstock)
A cheaper alternative to view the city from above is climbing one of Auckland's many volcanoes for free. Mount Eden is a short bus ride from the centre of town and an easy 30-minute walk to the summit.
For a relaxed weekend morning head to La Cigale in Parnell. Every Saturday and Sunday morning they house a French market with a grand selection of fine cheeses, meats, bread and plenty of free samples. There is also a large organic vegetable stall; get there early for the pick of the crop.
Another good option for a day out is to catch the ferry from the centre of town to Devonport. Spend the day ambling round Edwardian and Victorian buildings picking up locally produced arts and crafts.
Spend, spend, spend
Auckland has a varied shopping scene catering to most tastes. Queen Street is mainly lower budget high street chain stores with Gucci thrown in for good measure. If you're in the market for a more unique piece head to the smaller boutiques in Ponsonby, Parnell or New Market, most are owned and run by local design talent. For a quirky bargain try the charity shops, or op shops as the locals call them, on Karangahape Rd. While you're there check out St Kevin's arcade for some interesting antique and vintage stores.
Fun for all the family
For a true kiwi day out for all the family top of the list has to be the Auckland Museum. Head to the domain for a picnic first then spend the afternoon immersing yourself in New Zealand's history, culminating in a traditional Maori Cultural Performance.
Beaches are Auckland's number one draw card. Experience both extremes with a morning of exploration on the black sands of the west coast followed by an afternoon of relaxation on the sheltered east coast bays of the north shore. And remember, if you're on a beach you're guaranteed a fish and chip shop is close by.
Get out
Auckland harbour is home to a bounty of island getaways. The largest are accessible by passenger ferry from the bottom of Queen Street. A short 35-minute ride will take you to Waiheke Island. Hire a car and explore the Island for yourself or surrender to the capable hands of a local tour and see how many of the 17 wineries you can get round in one day.

Waiheke Island (photo: Emma Parnell)
For a longer getaway try Great Barrier Island. Three hours by ferry or a 30-minute flight will take you back in time to Island tranquility. There are no banks, no traffic lights and just a few shops. The island has a diverse landscape with many accessible walking tracks through the native bush. Mountain biking and kayaking are also great ways to explore the island.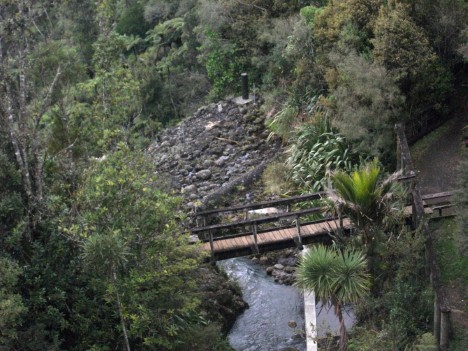 Bush walking (photo: Emma Parnell)
Hungry
Fresh local produce and attention to detail feature highly in Auckland's culinary scene. For a kiwi favourite be sure to head for brunch in one of Auckland's suburb cafés and sample real New Zealand eggs benedict. Thursday is the day to head to the fish market; with weekly specials on the catch of the day it's the perfect place to sample the local fare.
Auckland is rapidly establishing itself as a multicultural city, and with this comes an array of more exotic dining options. Try the food court on Ponsonby road for a cheap delicious dinner or for a more upmarket evening head to Café Hanoi. Superb Vietnamese is delivered in style through an informal sharing menu, try the 'shaking beef'.
Thirsty
The Britomart area of Auckland is fast establishing itself as the place to be in town with a new bar springing up every month.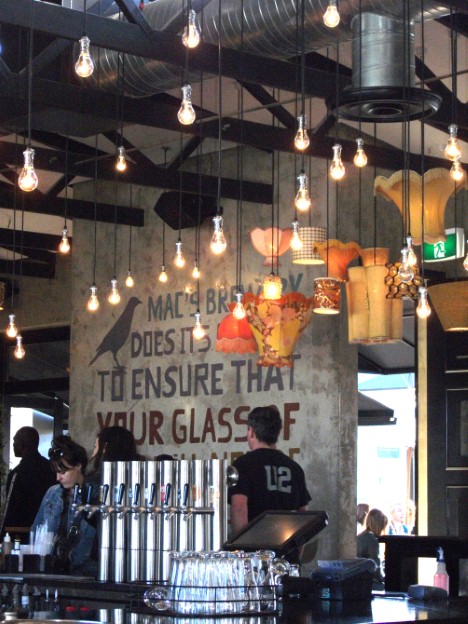 Macs bar (photo: Emma Parnell)
Macs bar is a solid choice or try The Country Club or Smith Bar for something a little different. Karangahape Rd again provides the alternative choice. Head to Wine Cellar downstairs in St Kevins arcade to sample organic feijoa cider, a native New Zealand fruit, while watching a local gig.
Auckland is short on good night clubs but you will find the majority of bars will stay open till three or four am over the weekend. And if you make it through the night, New Zealand offers some of the finest coffee in the world.
by Emma Parnell
Follow us @travelbite
---