Top 5 glamping spots in New Zealand
Thursday, 13 February 2014 12:09 PM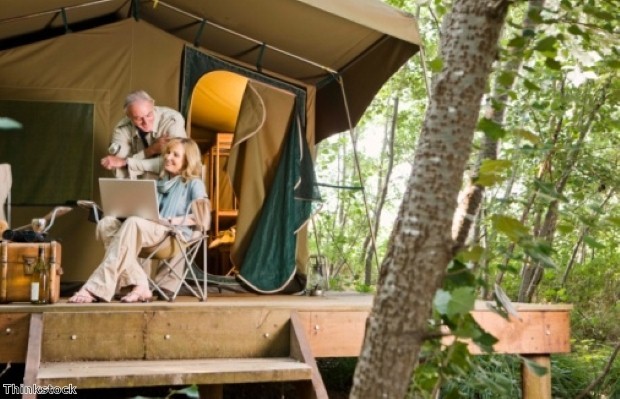 The art of luxurious camping is taking up residence in New Zealand. Travellers can now say goodbye to packing the car and putting up a tent and hello to sleeping beneath a starry night-sky and waking to the dawn chorus of native bird song without having to lift a finger.
From hot-tubbing beneath the stars to boatsheds and gypsy-style caravans, here are Tourism New Zealand's top glamping hot spots:
Heli in and hot tub under the stars at Minaret Station, Lake Wanaka
Minaret Station, the first luxury tented lodge in New Zealand, has one of the most opulent camping experiences on offer. Nestled at the head of a glacial valley in the heart of the majestic Southern Alps – and only accessible by helicopter – Minaret Station offers an unrivalled experience in a remote alpine environment. The mountain landscape surrounding Minaret Station may be rugged, but the accommodation is anything but. At the Minaret campsite, guests are housed under comfortable heated canvas tents complete with wall-to-wall sheepskin carpet and an en-suite bathroom. There's even a hot-tub on the private deck for an evening's relaxation beneath the clear twinkling southern sky.
A luxury tented suite starts from £1055 per night based on two guests sharing. Visit www.minaretstation.com.
Minaret Station
Boatshed, steamboat or gypsy caravans – Pagoda Lodge Kerikeri, Bay of Islands
Luxury meets romance meets nature at Pagoda Lodge, in the historic town of Kerikeri in northern New Zealand's beautiful Bay of Islands. The Chinese-inspired architecture of the lodge surrounded by lush gardens is credited with inspiring many writers and artists. Guests at Pagoda can choose to stay in either the main lodge or one of several independent accommodation options, including a converted boatshed, steamboat cabin or a gypsy caravan. For those looking for a romantic getway, try glamping in a safari tent mounted on a deck with garden and river views. For families, a larger safari tent is available, comprised of three rooms plus a deck patio, provides space for friends and families travelling together.
The Boatshed starts from £66 per night based on two people sharing. The Gypsy Caravans costs from £48 per night based on two people sharing. Visit www.pagoda.co.nz.
Surf and sustainability – Tipi living at Solscape – Raglan, Waikato
Located in the hills above the surfing mecca of Raglan in the Waikato region, Solscape offers a more down-to-earth version of glamping to inspire visitors to lead a more ecologically conscious, sustainable life. Each of Solscapes four tipis are set in native bush with optimum privacy. Floors consist of poured earth or natural timber and have traditional smoke flaps that open for a night time view of the stars. In addition to a relaxing and rejuvenating holiday experience, Solscape offers surf lessons on Raglan's famed beaches and encompasses a Progressive Learning Centre for locals and travellers who want to learn more about sustainability, holistic well-being and permaculture.
A Tipi Double starts from £38 per night based on two sharing. A Family Tipi starts from £19 per night per person based on four sharing. Visit www.solscape.co.nz.
Waikato
Gypsy River Camping, Wairarapa
For exclusive glamping with a twist, visit the new quaint and quirky Gypsy River Camping, which is located on the outskirts of Masterton beside the Ruamahanga River. Here visitors can sleep in authentic gypsy-style caravans, cook gourmet meals in a cookhouse, or get back to basics with a barbecue or campfire. The Gypsy River campsite sits within the grounds of Mas des Saules (meaning house of the willows) where guests can enjoy a unique New Zealand glamping experience that's ideally located for exploring a region renowned for food and wine, art, culture, and nature.
The GypsyRiver Camping starts from £155 per night in high season (December to February) and from £118 per night in low season (March – November). Visit www.mas-des-saules.co.nz.
Safari New Zealand style – Poronui Safari Camp, Taupo
Over the years Poronui Station, nestled in Taharua valley near Taupo in the central North Island, has transformed from a simple fishing camp favoured by locals to one of the world's premier wilderness lodges. Poronui Safari Camp is a nature haven as it sits on the banks of the Mohaka River, accessed by 4WD or on horseback. By day, hunting, hiking, horse treks and fishing are just some of the activities available and at night, guests sleeping in the rustic timber and canvas campsites are serenaded by the rhythm of the Mohaka River.Visit www.poronui.com.