A weekend in…Penang
---
Penang – located on the northwest coast of Peninsula Malaysia – is a cultural and culinary melting pot where Malays, Indians, Chinese and Europeans have integrated comfortably over time, creating the unique culture and history, as well as the vast array of cuisine, for which the island is famous. You name it, it's possible to do it – and probably eat it!
Cuisine
The choice of cuisine is incredible and it's no wonder that Penang is regarded as the food capital of Malaysia. As well as the restaurants, indoor food courts and cafés, there are four key hawker areas – Gurney Drive, Tanjung Bungah, Red Garden in Georgetown and Long Island in Batu Ferrenghi.
In these areas you can get anything from Malaysian specialties, such as Nasi Lemak, Satay, Rojak, Indian Roti Canai with curry and of course Penang Char Kuey Teow, to frog porridge and a good old pizza or burger.
The price (and the exchange rate) is in your favour – one of our friends participated in a food challenge, in which he tried to eat £5 (approx 25RM) worth of food…in the words of Man V Food's Adam Richman: "tonight…food won!"
Activities
Activity-wise, there's plenty to do. You can rock-climb, jet ski, paraglide, sing karaoke in your own private KTV lounge or shop in the malls and night markets. To relax, you can enjoy a massage on the beach or in one of the many reflexology stations along Batu Ferrenghi or even try out the Fish Spa – where you can experience the weird and wonderful fish pedicure (the fish are like a pumice stone).
The Fish Spa was an interesting experience – intensely tickly is perhaps the closest description. It's not particularly soothing though at first; it feels a bit like a lot of dogs with small rough tongues licking furiously at your feet!
Sights and attractions
Classic Penang sights include the temples, especially the Chinese Kei Lok Si Temple – built into the mountain, featuring a huge statue of Guan Yin (the Goddess of Mercy). The Thai and Burmese temples that face each other on Lorong Burma, Penang Hill, are some of the other notable sites and you can even visit a Hindu temple at the top (although the funicular railway is undergoing development at the moment).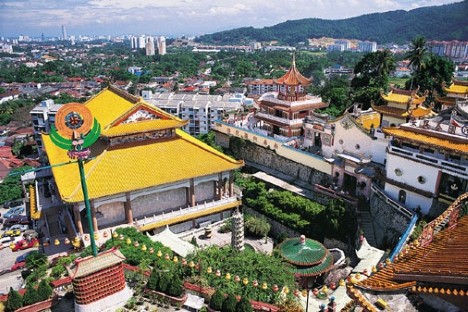 Kei Lok Si Temple (photo: Jupiter)
The British Colonial city – Georgetown – has been named a UNESCO world heritage site. In the evening we got dressed up and took in the extensive European buffet at the Eastern & Oriental Hotel. The E&O retains its colonial style and the staff just need a khaki safari hat to complete the look. The buffet, including a carvery, fish of all descriptions, sushi, two chocolate fountains and an 'ice kachang' (Malaysian dessert) station is served in what looks like the original kitchens.
Near to the E&O is Fort Cornwallis, where Sir Francis Light – the founder of Penang – first docked. The Penang National Museum charts this interesting history and development of the island. However, what interested me most, perhaps being of Chinese descent, was the Cheong Fatt Tze Mansion, otherwise known as 'the big blue house'.
It is significant because it is blue – a colour the Chinese traditionally don't like – but, apparently, as Cheong Fatt Tze wasn't in China, and everyone else liked it, he saw no reason not to stick with it. The house is cleverly situated according to Feng Shui, built with the backdrop of Penang Hill – the highest point in the city – so it sits, symbolically, 'on the back of a dragon'. Much of its elaborate décor, including flowers and animals on the walls, has also been shaped out of old crockery – acting as an old system of recycling.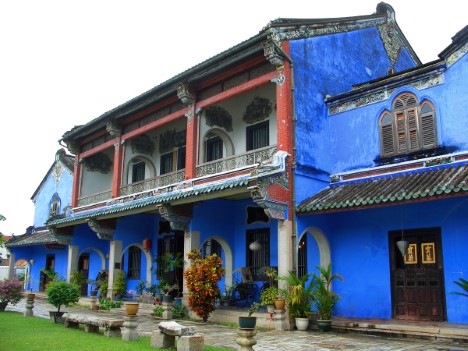 Cheong Fatt Tze Mansion (photo: Thinkstock)
The story that moved me most, and perhaps is one of the best examples of the acceptance of the diversity of culture on this island, was when Cheong Fatt Tze, two other Chinese friends and a European friend wanted to sail to New York. Only the European was allowed to sail first-class.
Cheong Fatt Tze took a full page ad, in every newspaper in the country, claiming that he himself was to launch a fleet of ships that would not only sail all races first-class, but would do so for half the price of the European liners.
He received four first-class tickets to New York. The tale doesn't end there, however. Cheong Fatt Tze wrote to the liner saying he would only sail if all the ship's facilities were opened to all races, no matter which class they sailed. He was so respected, that when he passed away in 1916, the Dutch and British authorities ordered that all their flags be flown at half mast.
Perhaps because of its cosmopolitan nature, and certainly because of its food, Penang is becoming more and more popular as a tourist destination. Developing all the time, the skyline is now a musical stave of condominiums.
Apparently, the government want to make it more like Singapore. I hope they don't go too far, as the nice thing about Penang is that you can actually relax here, soak up the traditional culture, sights and history whilst still enjoying modern comforts.
by Audrey Tang
Follow us @travelbite
---