Find the perfect Turkey getaway with Jewel in the Crown Holidays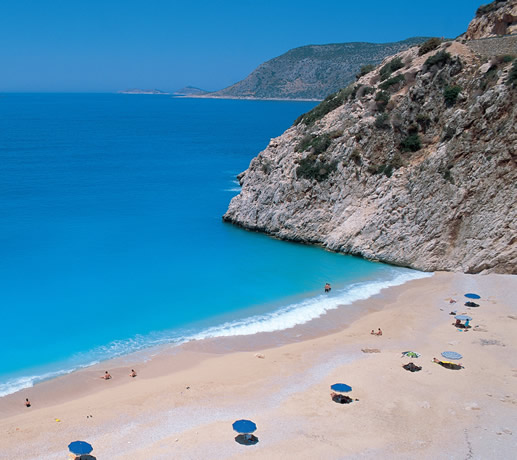 Turkey is the perfect destination for a relaxing holiday amid beautiful surroundings – its scenic coast features many gorgeous beaches and the country's cultural and historical attractions are truly fascinating.
There are plenty of resorts to choose from for holidays to Turkey, whether you want to escape to a tranquil location or soak up the sights and sounds of a more bustling area. Jewel in the Crown Holidays offers a wide range of Turkey holiday packages, which include flights and accommodation along with expert advice on the best places to visit and activities to indulge in.
What to see and do on Turkey holidays
Turkey's extensive coastline provides so many different sights and pursuits you might have to make another trip to the country just to fit in everything on your wish list!
If you're something of a nature lover, you might want to consider heading to the village of Dalyan.
This picturesque conservation area on Turkey's south-west coast is wonderfully unspoilt and offers the chance to see the rare Caretta Caretta loggerhead turtle, as well as many different kinds of birds. For a rural getaway, why not visit Ovacik?
This is the place to stay if you want to truly get away from it all – imagine spending your days against the backdrop of spectacular mountains covered in pine trees while being a short trip away from the beach and village centre.
If you're considering Turkey holidays for the whole family, Icmeler is particularly child-friendly. The resort offers plenty of access for pushchairs and wheelchairs and its stunning beach provides the opportunity to undertake a range of land and water-based pursuits.
However, Turkey holidays are not just for families and those seeking some peace and quiet, as there are several resorts that cater for travellers looking for a lively, social experience. Marmaris is one of the most well-known thanks to its host of bars, restaurants, shops and entertainment venues.
You can make an excursion to and from the Greek island of Rhodes in a day, so it might be worth adding this to your itinerary.
Elsewhere, Hisaronu on the Turquoise coast is a village filled with busy bars – perfect for those seeking an action-packed holiday.
If there are moments when you want to escape the crowds, the abandoned Greek village of Kayakoy is nearby and makes a great destination for a daytrip.
These are just a few of the resorts and destinations you could stay in on holidays to Turkey – others include the harbour town of Fethiye, the fishing villages of Selimiye and Turunc, and the pretty town of Kas.
Book the perfect Turkey getaway with Jewel in the Crown Holidays
With so many potential locations for an unforgettable Turkey holiday, it might be a good idea to consult the experts in getaways to this beautiful country.
Jewel in the Crown Holidays has been operating for around two decades and puts together packages that include accommodation and flights to Turkey designed to appeal to a range of travellers.
We regularly inspect the resorts we sell holidays to and stay in close contact with the local tourist office and hoteliers to ensure you have the best possible break in Turkey.
Our staff are also equipped with the knowledge to advise you on things to see and do once you've reached your destination.
With a host of packages at great prices, you're sure to find your ideal Turkish getaway with Jewel in the Crown Holidays – just visit our website or get in touch with us to find out what we can do for you.
---