Boating holidays in England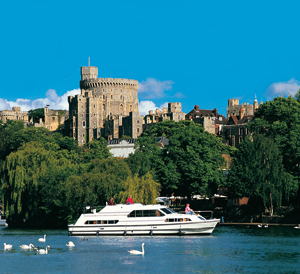 Have you ever thought that you should explore Britain a bit more before jetting off overseas?
If so, then booking boat holidays in the UK could be an ideal way to rediscover the country. Le Boat provides a range of different options for those keen to explore all that Britain's waterways have to offer and with our expert instruction, you'll be on your way in no time.
Booking boating holidays in the UK couldn't be easier when you come to Le Boat.
We'll give you a range of vessels to choose from – with boats sleeping between two and eight people – and if you've never sailed before then our team will show you the ropes before you set off.
The only thing you'll need to decide is where to go on your British boat holidays.
Rediscover England with Thames boating holidays
Although many people will associate the River Thames with London, you will soon discover much more of the country than just its capital on Thames boating holidays.
Winding its way through green fields, past quintessentially English villages and historical sights, you will find plenty to enjoy during a trip down the Thames.
You could start your boating trip in Oxfordshire, where you'll be greeted by rolling green fields and some delightful country villages. Stop off in the historic city along the way and pay a visit to the university's buildings or spend an afternoon wandering around one of the art galleries, such as the recently refurbished Ashmolean Museum, which offers world-class exhibitions.
You could also moor up your boat and spend a sunny afternoon punting down the river, before setting foot on dry land to find one of the many country pubs serving good food and real ale for some refreshment.
The route towards England's capital city will take you through some truly beautiful villages – among them are Marlow, Cookham and Datchet.
As you get closer to London, you will be able to visit some of the country's best-known tourist attractions. Spend an afternoon wandering around the grounds of Hampton Court Palace, former home to Henry VIII.
If you think you're good at directions then you might want to try your hand at navigating the palace's famous maze.
Alternatively, you can venture inside the building itself. Make sure that you don't miss Henry VIII's Great Hall, which is also one of the oldest theatres in Britain. Shakespeare's theatre company even trod the boards here back in 1603-04.
Other places of interest along the way include Windsor and its castle, Eton and – for sports fans – Twickenham, the home of English rugby.
Visit a wildlife haven on Norfolk Broads boating holidays
If you want to get back to nature on a UK boating trip then the Norfolk Broads should provide the perfect break. You are guaranteed to see a whole host of different animals in their natural habitats while on Norfolk Broads boating holidays.
The national park is made up of almost 30 lakes or meres, each interlinked by a series of rivers and dykes. Booking a boating holiday in this part of the country is guaranteed to be a relaxing experience, taking you away from the hustle and bustle of modern life.
As the largest protected wetland in the UK, you will find many rare birds and other creatures among its inhabitants. Keep your eyes peeled for bearded tits, which are largely restricted to East Anglian reed beds, as well as birds such as snipe, grebes and bitterns.
If you are on a boating holiday in the Norfolk Broads during the summer months then you may spot one of Britain's largest and rarest butterflies – the swallowtail – which can only be found in this nature reserve.
For complete beginners to boating holidays, the Norfolk Broads is a good choice. Boasting shallow lakes and rivers as well as being completely free of locks, it is a great place to learn the art of river cruising.
If you want to break up your holiday with a bit of action as well as relaxation, then you can try your hand at some other water-based activities. Jet skiing, waterskiing and sailing are all among the water sports that you can try during your Norfolk Broads boating holidays.
Getting started with Le Boat
Whether you are an experienced boat handler or have never taken to the water before, Le Boat can cater to your needs with one of our boat holidays.
Once you've chosen your cruising vessel from the wide range of modern boats in our fleet, we'll show you how to use it safely in your chosen destination.
With an in-depth safety briefing given to you on arrival at the base where you collect your boat, you'll be out on the waters in no time enjoying all that UK boating holidays have to offer.
---