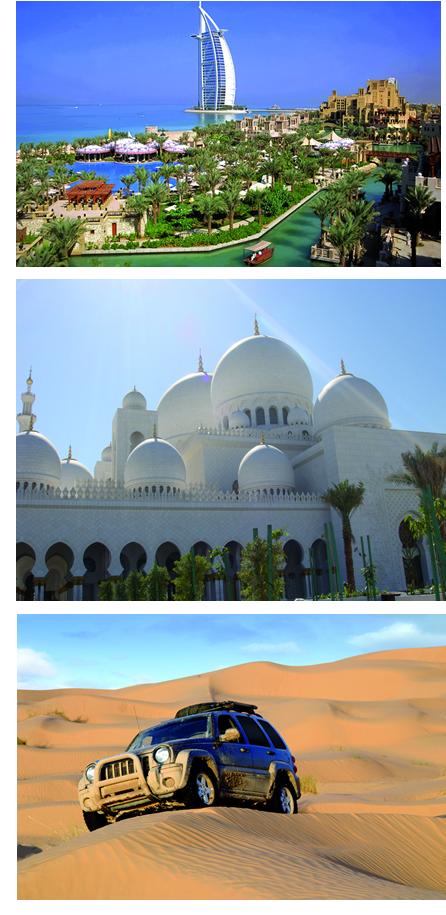 Dubai Cruises are growing in popularity with many of the leading cruise lines now offering itineraries in this region, and a selection of cruise and stay packages available.
Less than thirty years ago the city of Dubai was relatively unknown and little more than a scruffy port on the Gulf but is now one of the most popular destinations in the United Arab Emirates and is firmly established as a city of the future and a popular tourist destination.
With a shorter flight time and less time difference than a cruise in the Caribbean, but year round sunshine and an amazing climate, cruisers looking for hot weather and fascinating excursions should consider a Dubai cruise.
Sail into port and Dubai's grand vision is immediately apparent as a gleaming set of designer towers, including the world's tallest, and a string of offshore man-made islands (the three Palms and the World) signal the coast of this extraordinary patch of desert.
Dubai Creek is the city's main attraction with good views of Dubai from many points along the water's edge. Gleaming skyscrapers dot the skyline, while the old trading dhow boats plough up and down the creek as they did a century ago, some taking visitors on pleasure trips along the busy waterway. And at the inland end of the creek is a large, shallow lagoon, preserved as a wildlife sanctuary.
Highlights of Dubai include the World Trade Centre which rises 39 floors to the observation deck for an aerial view of this ever-growing metropolis and the Burj al-Arab Hotel where tourists can watch the lights change on the exterior of this magnificent building.
No visit to the region would be complete with a trip to the Gold Souk to haggle for 22kt gold bangles in one of Dubai's oldest markets or a visit to the Arabian Gulf to speed over the waters of the oil-rich Gulf on jet skis.
The region is famous for gold, spices and carpets and most cruisers will return home laden with purchases from Dubai's old souks in Deira and Bur Dubai shops. Increasingly, Dubai is also a modern shopper's paradise with electrical goods and designer labels taking centre stage in glossy new shopping malls around Beniyas Square, Al-Rigga and Al-Hiyafa Road. From late March there is a month of bargains available during the Dubai Shopping Festival.
Dubai enjoys an arid subtropical climate, with blue skies and sunshine all year round but it is recommended to avoid the hottest months, between June and September, when temperatures can soar to 45°C (113°F) and more during the day and humidity levels are very high.
Exploring the Middle East with a cruise starting and ending with the amazing city of Dubai brings a whole host of additional fascinating ports of call including Muscat in Oman, Fujayrah and Abu Dhabi in the United Arab Emirates and Bahrain.
Oman, with its capital, Muscat, brings a contrasting landscape to Dubai, surrounded by ancient city walls, and from Fujairah you can discover the desert with its mysterious landscapes of red dunes and rock.
The capital of the Emirates, Abu Dhabi, is a modern city with ancient traditions. Its magnificent Corniche and the stunning Emirates Palace hotel have a backdrop of multinational skyscrapers, and the island of Bahrain brings guests unforgettable contrasts of ancient and modern.
Many cruise and stay packages are available and with so much to see and do in Dubai, it is the perfect choice to explore this fascinating region.
---