Book the perfect south Goa getaway with Jewel in the Crown Holidays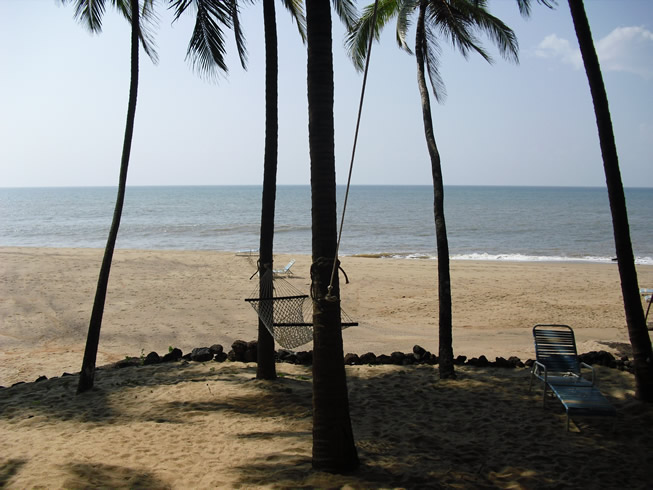 If you're looking for a holiday packed with warm sunshine, gorgeous beaches and interesting sights and attractions, south Goa may be the perfect destination for you.
This part of the Indian state is famous for its exotic scenery and laidback way of life – making for some truly wonderful holidays to Goa.
Jewel in the Crown Holidays offers a range of packages to south Goa perfect for those seeking an ultra-relaxing sunshine getaway. Our expert staff have made sure the accommodation and activities available make for a dream holiday, so you can be confident of having an unforgettable break.
All about holidays to south Goa
South Goa is very much a dream destination for holidaymakers whose main aim is to relax and unwind.
Many of the various south Goa holiday resorts occupy beachside locations that enable visitors to indulge in water sports and other activities in tranquil surroundings.
Some of the beautiful stretches of sand you can enjoy yourself on include Arossim, Majorda, Colva, Cavelossim, Uttorda, Betalbatim, Sernabatim and Mobor Beach.
Each of these locations offer a slightly different holiday experience, depending on what you're looking for.
For example, if you want to truly get away from it all, Arossim and Uttorda are perfect for a peaceful break uninterrupted by crowds of tourists. If you prefer a more social experience, bustling Colva is likely to be ideal – although you can still escape to tranquillity by making the short walk to nearby Betalbatim when you want to be alone with your thoughts.
Meanwhile, Benaulim is perhaps the best destination if you're looking to engage in a wide range of water-based pursuits. So what other reasons are there for considering staying in hotels in south Goa?
Food lovers will be in their element on holidays to the state. The local cuisine is well-known for its reliance on fresh seafood and exotic spices, with a further twist added by the various culinary traditions brought about by Portuguese rule and the prevalence of different religions in the area. The sizeable Hindu population means vegetarian food is easily found, while carnivores can enjoy chicken, beef and pork dishes depending on where they dine. Some of Goa's more famous edible concoctions include sorpotel – Portuguese spicy pork – and prawn balchao, where the seafood is pickled in a unique blend of ingredients guaranteed to deliver a mighty kick.
Another reason to book holidays to south Goa is the wide range of excursions and tours that you can take in. You can book safaris, cruises and even a mock Hindu wedding ceremony for an unforgettable holiday experience.
Find the perfect south Goa getaway with Jewel in the Crown Holidays
If south Goa sounds like your ideal destination, get in touch with Jewel in the Crown Holidays to see how we can make your dream become a reality.
We have around two decades of experience in putting together ATOL-protected packages to locations across Goa and beyond – our staff regularly inspect the areas we sell holidays to in order to ensure our customers have the best possible experience.
Furthermore, we stay in constant communication with local hoteliers and tourist offices to create a memorable holiday for visitors to Goa.
Our packages include flights and accommodation in one of the many quality resorts that can be found across south Goa, all at competitive prices.
To put together your dream south Goa holiday, contact us today and see what we can do for you.
---