Travel blog: Manchesters – Vermont, Connecticut and New York
Monday, 22 August 2011 11:27 AM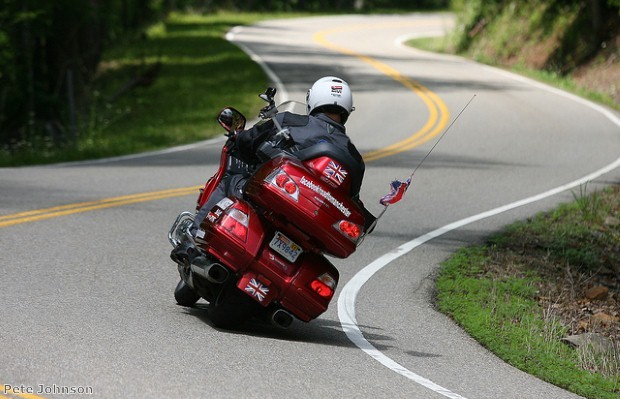 Manchester born and bred biker Pete Johnson is completing their dream trip of visiting all 33 Manchesters in the United States and Canada, courtesy of the Bennetts Biking Dream 80th anniversary campaign. We'll be bringing you regular updates from his trip…
Manchester, Vermont
On the road by 7am today! Today's weather report: rain, again.
The original plan was to ride over to Vermont over the top of Mt Washington but unfortunately, when I stopped for breakfast, I discovered a few million gallons of rain, which meant the road was closed.
After a chat with a Man United fan (I really can't go anywhere without footy being mentioned!) I was on the road. I covered 300 damp and slightly tiring miles before arriving at the Manchester Bar & Grill, Manchester, Vermont. I enjoyed some jerk chicken, a few beers and was given an excellent Manchester Bar & Grill hoody (which will be handy given the inclement weather!).
Bed by 10pm, because I've got another 107 miles to cover to Connecticut tomorrow!
On to Manchester, Connecticut…
One of the earliest wake-up calls so far today – 5.45am. I'd received a message from the Vermont-based Manchester Journal newspaper, which was keen to do an interview and photos.
So, I stocked up on a great breakfast of fry-up, coffee and pancakes at a local café before heading over to the paper's offices. Once again, I was travelling in the rain. I was also wary of potholes, humps and bumps in the road, which are caused by the rough winters and hard frosts they get out here.
I completed my journey to Connecticut by around 2pm – rain and wind really slowed me down, although it's all part of the experience! Once I arrived here I got to meet the Town Clerk and staff as well as the local Fire Chief. The people here are just great and during the meeting we exchanged photos and gifts – what a nice Manchester!
Once we were done, I decided to cover some of the distance to my next port of call – Manchester, New York! It was a 305-mile journey but – lo and behold – the rain stopped, the sun came out, I removed a few layers and got in a thoroughly enjoyable ride.
I arrived in Albany, NY, at around 7pm – a pretty big day mileage-wise, with a total of around 300 completed. It's put into perspective some of the days which are still to come, where I'll need to 400 and up!
It's now 8.45pm, so I'm going to eat, then sleep. I'm only 200 miles from Manchester, NY, now, and the plan is to be there for breakfast…
Arrived in Manchester, New York!
Another warm day! Well…at least to start off with. I had a bit of a late getaway, got to ride gloveless, no jacket liner, visor open… it was good stuff!
I stopped to refuel and discovered the guy in the petrol station had been born in Manchester UK! We had the universal discussion of City or United and I got on my way.
Back on the road, I tried out cruise control – it was pretty cool having my hands free for a change. However, 40 minutes later I hit the freeway and the rain returned with a vengeance. I couldn't stop and it was 40-miles to the next service station, where I finally got to zip up the vents in my pants and jacket. After ten minutes back on the road, it was 80 degrees inside my gear.
I reached Manchester NY safely – it's a lovely town and I got a nice reception at the town hall, where they gave me a t-shirt and stocked me up with some provisions from the local supermarket.
Back on the road, the big one hit. Usually, when you say 'zero visibility' it means heavy rain and spray. Well, this was genuine zero-vis and I have never experienced anything like it. I couldn't even see the screen on the bike and that was barely two feet away. It was a terrifying and very wet 12 miles before I was able to stop. Definitely the scariest miles I have ever ridden.
I'm now 40 minutes outside Niagara Falls, in the town of Batavia, NY. Tomorrow, I meet Manchester number seven…