Unforgettable adventure tours in Alaska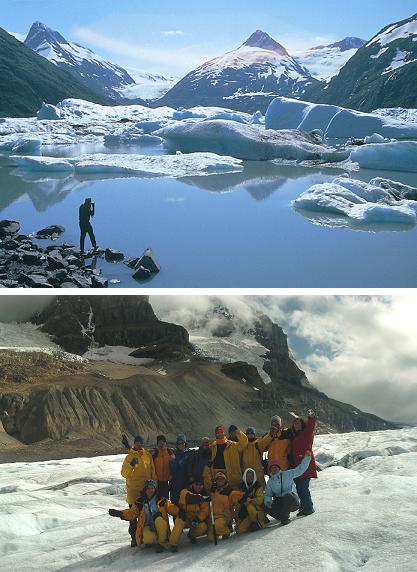 Alaska is a unique destination that is sure to offer some memorable holiday experiences, thanks to its awe-inspiring icy scenery, wide array of wildlife and bustling towns and cities.
The US state is packed with a variety of things to see and do – and one of the best ways to take in the breadth of Alaska's offerings is to take a tour of its most interesting destinations.
TrekAmerica has a number of different Alaskan adventure holidays to suit all tastes, whether you're an animal lover hoping to spot the polar bears, blue and humpbacked whales, bald eagles and other creatures that can be found in the state, or someone who wants to indulge in activities such as kayaking and rafting against the rugged backdrop of hills and mountains.
Denali National Park
Denali National Park is one of the main highlights of a trip to Alaska – and for good reason. The park is home to Mount McKinley, the tallest mountain in North America with an altitude of 20,320 feet. Covering an area of over six million acres, Denali National Park harbours a thriving ecosystem consisting of 750 types of flowering plants, 39 species of mammal, 165 types of bird and ten species of fish. Just a few of the activities you can get to grips with at the park include glacier hiking, ice climbing, canoeing and whitewater rafting.
Kenai Fjords National Park
Kenai Fjords National Park – 60 per cent of which is covered with snow and ice – is another popular destination for Alaska holidays. The 669,983-acre park is home to one of America's four icefields in addition to a number of impressive fjords, lakes and streams, and its coastal location means visitors will be able to view tidewater glaciers and a variety of marine wildlife. Nature walks, kayaking, hiking, fishing, camping, mountaineering, cross-country skiing and snowshoeing are among the activities on offer at Kenai Fjords National Park.
Wrangell-St Elias National Park
Wrangell-St Elias National Park is the largest in the US National Park System, sprawling across more than 13 million acres of land. Here you will find four mountain ranges that are home to nine of the 16 highest US peaks and much to see in the way of flora and fauna. One of the most interesting attractions in the park is the Kennecott Mine town site, which is a National Historic Landmark and offers guided copper mine tours.
Homer
Homer is located in southern Alaska and is a picturesque town that is ideally placed for trips to Kachemak Bay State Park, Katmai National Park and Lake Clark. Situated among rolling hills and beaches, Homer has a reputation as an emerging arts hotspot and offers the perfect location in which to relax after a trip to Kenai Fjords National Park. Visitors can take in a number of museums and art galleries here, as well as sample some fine fresh fish dishes and watch out for the spectacle of migrating seabirds.
Seward
Another southern Alaskan town, Seward serves as a great base from which to explore the Kenai Fjords National Park and the rest of the region on day and overnight trips. It has previously been named an All-America City and you can see how much it deserves the title in the friendliness of its inhabitants, the quality of the local food and the wide variety of things to see and do. These include glacier and wildlife cruises, fishing and visiting the Resurrection Bay Historical Museum and the Alaska SeaLife Center.
Anchorage
Anchorage is the largest city in Alaska and the main base from which most tours of the southern part of the state are made. As you might expect, Anchorage is busy year-round with a plethora of arts, culture and outdoors events and offers an excellent mix of activities and sights whether you choose to stay in the city or spend most of your time exploring the territory around it. There are plenty of opportunities for alpine and Nordic skiing, ice fishing, snowshoeing, snowboarding and dog sledding nearby, as well as a number of mountains and forests ideal for trekkers.
Tangle Lakes
Tangle Lakes is an expansive wilderness located off the beaten track that is perfect for fans of fishing. Lake trout can be found here, while the nearby Paxson and Summit lakes offer some great whitefish and grayling fishing. Watch out for spectacular views of the Gakona and Gulkana glaciers and Icefall Peak on particularly clear days.
Beyond Alaska
Other tours that you can book as part of adventure holidays in Alaska include those that venture out of the state. Tours along the Alaskan-Canadian highway represent one example of these, offering the opportunity to take in the boomtowns that sprung up as a result of the Klondike Gold Rush and natural wonders such as Stewart Canyon.
---