Travel blog: Backpacking to Rainbow beach
Sunday, 26 July 2009 12:00 AM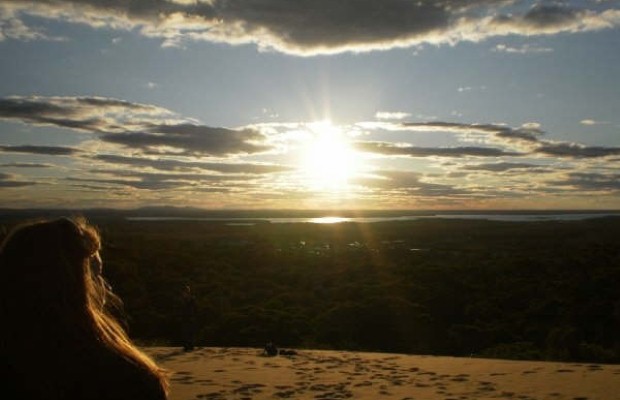 Hatty James has embarked on a gap year adventure, travelling by plane, train and automobile around the globe for six months before heading to university to study social anthropology.
She spent the first three months teaching English in the Chinese town of Wujiang and is now back-packing from Shanghai to New York via Bali, Australia and Los Angeles. Here is her third travel blog:
When the long day (or in reality night!) travelling from Bali to Cairns via Darwin, ended around eight o'clock in the morning, we had finally arrived in Australia! Not that we were really up for seeing much of it at that moment, but we were staying in the liveliest hostel in Cairns – Gilligans.
A massive place, half of Gilligans is a night club; excellent for nights out, but not so good for actual sleeping at night, unfortunately. However, it was clean, had a good kitchen, and our dorm came with three charming French guys.
Our first day mainly revolved around sleeping and exploring, although we did venture out that night. Our first mistake. Unknown to us, two US Navy boats had docked, and the Marines and sailors were out in force; with only a few nights left in town.
Needless to say, Marines are no longer our favourite thing.
After ditching quite a few drunken Marines we called it a night. Our second followed the pattern of the first; we spent the night drinking with the Frenchies, leaving the Marines strictly alone.
Great Barrier Reef
The third day was possibly my favourite of the trip so far. We managed to get up early, very early. We found our way to the Marina, boarded our catamaran and set off for the Great Barrier Reef. We were booked on the trip with Passions of Paradise, a slightly more expensive option, but one that we'd been promised was worth it, as we'd be snorkelling in an area which was exclusive to Passions.
Despite the early start, we soon recovered as we enjoyed free tea and muffins, and were entertained by the polite and amusing staff. We soon found ourselves at our first stop and a glass bottom boat took us over to a sand bank, an area strategic for nesting birds, and we were given two hours to play in the shallower waters. It was a perfect way to start, especially for me, a slightly nervous and incompetent swimmer. It was easy to swim back to the shore for breaks, and the coral was only a few metres from the sand bank. It was possible to see the coral without ever getting out of your depth.
A large lunch comprising of salads and hot chicken followed, as we made our way to our next stop. We had only about forty-five minutes here, and it was out in the sea, but also worth the effort. Once I got over the fear of the waves, and began to enjoy myself, and truly feel in love with the reef. I saw the most amazing colours, coral and fish. I even witnessed a shoal of rainbow coloured fish eating the coral!
We arrived back at five, making it nearly a 12-hour trip, but it was well worth the money, time and effort. An experience of a life-time. As my friend brilliantly summed up, when I asked which she found more impressive, the Great Wall, Terracotta Army or the Reef: "The reef, because nature made this…its amazing."
Oz Experience & Magnetic Island
The next day bought another early start, as we boarded our first Oz Experience bus, to our next stop, Mission Beach. Along the way, we got to know some of our companions and our bus driver, Binks, as we were taken to a crocodile farm and rehabilitation centre.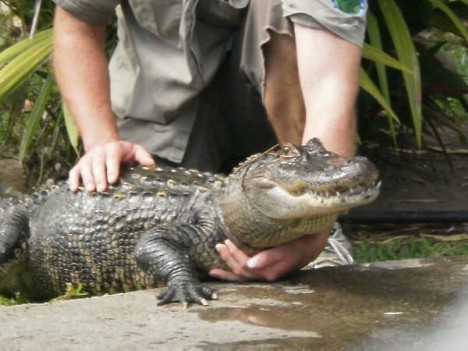 I fed some cute kangaroos, stroked a dingo and ran away from some emus!
Absolute Backpacker's' on Mission Beach was our next stop, and we found ourselves in the company of many of our companions from the bus.
We were encouraged to attend a full-moon party on the beach, even though it was the day before full-moon(!), and the full moon parties are more famous on Magnetic Island than on Mission. Nevertheless, it turned out to be good fun. Mission Beach is a stop for many who want to 'Jump the Beach', skydive landing on the beach, and although we didn't participate, we saw a lot of funny videos of others who'd taken the plunge.
A day of careful chilling followed, and the next day we found ourselves on the next Oz bus with our new driver – Bunny. We'd hoped to stay in Townsville, but with the V8 in town, we went over to Magnetic Island.
However, we soon found out that there's not a lot to do on Magnetic, and nothing in Picnic Bay, where we were. One day consisted of taking a bus to the supermarket, and the next of taking a walk up a bolder to check out the views, and sunbathing and reading in-between.
Our hostel, Traveller's Hideaway, had a cosy TV room, where we spent most of nights, tuned into Channel Ten – Australian Masterchef and 'So You Think You Can Dance?'.
Airlie Beach
We waved goodbye to Magnetic as we took our next bus to Airlie Beach. This bus journey was slightly different thanks to our crazy bus driver, Keno, who decided the best way to pass the time was to play games, sing and get the microphone out; needless to say, time passed quickly.
On arrival in Airlie, we were informed of a few things, don't stay in Koalas, all hostels are riddled with bed bugs, and it is the centre for STDs in Australia! Greatly cheered by this dire information, we checked into Magnums the cheapest hostel, at only $18 a night, but not the nicest. At least we had an en-suite.
That evening we had a meal with our bus companions at Beaches, the 'place to stay', except it was fully booked when we arrived! Free wine and beer were aplenty; all we had to pay for was the food. A fun night ensued, culminating with a search through Koalas (the hostel we were meant to avoid!) looking for a kettle as we craved some good English tea.
Unfortunately, no tea was found, and we retreated to bed.
Airlie Beach is the place to stay if you are going to the Whitsundays. We, on the other hand, were not going to the Whitsundays. We decided to give this sailing trip a miss, my friend sails at home and I tend to get sea sick – but mostly because of money!
Due to being unorganised, we found out that we would have to take the next bus out of Airlie, as the others were booked, which meant we were leaving the next day. All-in-all, we only had a day at Airlie Beach, but for those not going to the Whitsundays, trust me, a day is enough.
Kroombit
We jumped on the bus at the early of 6:40, to go to our next destination, Kroombit. Kroombit is one of the scheduled stops on the Oz Experience, Cobber Pass, and is actually a cattle station.
For a compulsory stop, it cost us $45 for a dorm bunk, two course dinner and breakfast. We soon found out this was well the price, because extras, such as a bucking bronco and whip cracking lessons were included that evening.
A fully licensed bar was also on site. After a great night, we went to bed fairly early, the next day was another 06:00 start.
The next day we hopped on our bus to another area of the cattle station. Here those who paid extra were treated to clay pigeon shooting, and we were all taught how to lasso. Little did we know that we would soon have to hone these skills as one of the wranglers challenged us to lasso a goat, tip a goat, and also brand it (don't worry, it was a fake brand, although the goat was real!). We were set up in teams of three, extra points for getting the goat our wrangler choose for us, points taken off for touching the 'hot' part of the brand. If we hadn't caught our goat in a minute, we had to catch it by hand – so thankfully the member of my team lassoing the goat got it first time! We won, having completed the task in a skilful, but nerve-racking, 33 seconds! Our prize? We choose to do the 'circle of love', and were lucky enough to get electrocuted by a cattle prod.
For those of us who wanted, which I did, we were then taken back to either horse ride or quad biking. We paid $40 for two hours on the horses, which was well worth the money. We weren't taken on a scenic walk, instead we had to wrangle some goats, and move them into a new pasture!
While it sounds daunting, we were given very calm horses, and were in the care of experienced riders. It turned out to be the best of fun, and we were soon getting in to the swing of things showing off our goat calling, and rounding up stray goats. The only sticky moment came when we accidentally herded the goats into a small gorge, and had to follow them across, losing some kids along the way. We were back on the bus as soon as feet touched back on the earth, for our journey to Rainbow Beach.
Rainbow Beach
Rainbow Beach consists of nothing much at all. Much like Airlie Beach, it exists almost solely to take tourists over to Fraiser Island. Once again, we weren't much up to camping on a freezing cold beach for two nights with no loos or showers, so we decided to leave this one be as well.
Besides – we didn't want the dingos to attack!
We stayed, amusingly enough, in one of the only two big hostels in the town, Dingos. This hostel was one of the better ones, although quite quiet. They offered $5 dollar suppers with generous helpings and salads too, and free pancake breakfasts – the only issue being that the breakfast was served at 07:00. One morning our whole dorm got up, ate the pancakes, and went back to bed! The drinks were inexpensive, and the bar area relaxed – we were even entertained one night by free, live music.
A beautiful beach and a road of shops were all that was around, although they did have two fantastic bakeries, which we managed to visit several times in our stay. We left Rainbow Beach duly rested from our early mornings, and ready for our next town, Noosa.
Hatty James