Travel blog: The Torres Del Paine Park, Chile
Tuesday, 24 February 2009 12:00 AM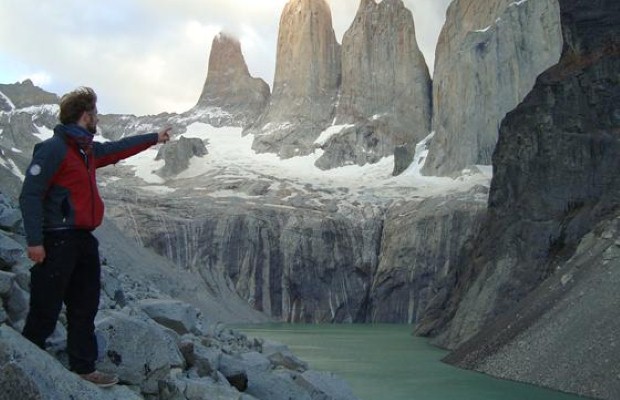 In an attempt to avoid the credit crunch, the bleak prospect of winter and another final of X Factor, Greg Ash has gone to South America for 6 months. In his blog 'Searching for Waves and Other Friendly Hand Gestures', Greg travels through this vast continent, starting in Argentina and tracing the coastline as far round as his budget will let him.
Along the way, he describes the strange sights, wonderful peoples and the inevitable sunburns of an pale Brit passing himself off as a beach boy. This is his eighth blog:
I was sitting in the common room of the Eratic Rock hostel in Puerto Natales awaiting a talk on hiking the Torres Del Paine national park. I felt more than a little out of place. I have never considered myself a hiker.
I'm more a theme park man than a national park man.
Put a big roller coaster or even a log flume in the Lake District, and I'd be straight up there. National Parks require hiking, trudging with little purpose through bad weather and tough terrain while munching on a nut that is supposed to be lunch. Theme Parks, on the other hand, require chilling in the sun, eating a burger and a slurping a big gulp soda as you look at the hilarious faces you have pulled for the camera on Nemesis.
Theme parks close in bad weather. National Parks don't. Ugly people like Ray Mears and Janet Street Porter were hikers. I wasn't. I considered my surroundings. Eratic Rock. This was definitely a place for hikers. Pictures of hikers on the wall, hiking equipment you could rent, hikers reading books on hiking in the kitchen.
What was I doing here?
Well, I am traveling, and traveling requires challenging yourself, getting out of your comfort zone, and experiencing new things. That, and southern Chile doesn't have much to offer in the way of theme parks. So here I was, sat with around twenty others, as Rustin, our lecturer, came before us. He began at lightning pace, in an American accent that surprised me: "Put your hands up if you are hiking the 'W' trail. Put your hands up if you're hiking the circuit. Put your hands up if you don't know."
I slowly raised my hand. "Put your hands up if you didn't put your hands up… Actually some people usually put their hands up at that point… It's pretty funny."
This was good. Rustin was a fun guy. He was a lean, bearded man with a bandana tied around large dreadlocks. He was sipping on a glass of dark liquid that he insisted "did contain alcohol" and he spoke like one of those wacky tour guides you get in American theme parks. In fact, if I closed my eyes, I might very well have been at Universal Studios awaiting embarkation on the Back to the Future ride.
For the next hour and a half, Rustin talked and I listened. "You will get wet. You'll be hiking along, warm sunny day, not a cloud in the sky and BOOM and big rain cloud approached and drenches you. You will get wet. But if you expect it then you're going to eliminate a big part of trail stress," he explained.
"Anyone who tells you they got sick drinking the water at Torres Del Paine did not get sick drinking the water at Torres Del Paine. Drink it, fill your water bottles with it, get down on your knees and lap it up like a dog.
"Put your hands up if you have ever lapped up water like a dog?"
And so it continued. A high speed blast of well-rehearsed tips. Rustin made it the 'W', a five day trail through the Torres del Paine Park, sound easy. Better, he made it sound like a laugh.
Literally a walk in the park.
Rustin finished with the same question he had began with: "Ok, put your hands up if you are hiking the 'W'." I wasn't prepared, I wasn't fit, and I wasn't even a hiker. More a surfer. But I felt prepared. Everything I needed was in my grasp – equipment to rent, supplies to stock up on, companions to walk with. Slowly I raised my hand. I was hiking the 'W'.
The next day I set off with tent, stove, sleeping bag, food and a change of clothes. I wasn't alone. Around five bus loads of people from Puerto Natales set off every day to the park. In fact I had already found a group to walk the trail with. The Torres del Paine Park isn't quite the wilderness you might expect. It is superbly managed and well signed, and you are never far from the nearest refugio or campsite.
In fact it is possible to walk the trail without camping at all. But taking a tent with you makes it all the more exciting. The heavier your bag the more satisfaction. And my bag was heavy.
The next five days were some of the best of my travels. I walked with my Australian companion Paddy, picking our way through thick green forests, tiptoeing on stones across fast flowing ravines, along flat grassy trails and up steep muddy hills, treading carefully down gravel paths, banked by huge drops, and bounding excitedly over ridges to see the next breathtaking view.
The vistas in the park are impossible to do describe. Every half and hour brings what seems to be a totally different landscape, and it is in the moments when you stop, get your breath and look about you that you truly understand the pleasures of hiking, skimming stones off misty, prehistoric lakes, breathlessly admiring beautiful green valleys, staring down at huge blue glaciers, and looking up in wonder as avalanches fell from the huge mountains that surrounded us.
Of course, it is hard work.
Walking with a heavy pack for up to eight hours a day is not something my body was used to. Wind knocks you off your feet without warning, and, at times, the blisters and the exhaustion made me long for the end. The second day was the bleakest, when I hit what runners describe as 'the wall' and I kicked my Nike trainers off (not the best choice) and sat and examined my red and blistered feet. But Paddy was at hand to give me an extra pair of socks, I pushed on.
As we progressed, I joked that Rustin was channeling himself through me, "I can feel him". Any change in conditions was met with the assertion that 'Rustin said this would happen', and, as we went on, the hiking, as Rustin had said it would, became easier and easier.
Suddenly as if it had all been a dream, I found myself at the end of the fourth day and scrambling up the boulders towards the final viewpoint. It had been a long day, but I gritted my teeth and told myself that nothing good ever came easy. As I reached the top, I saw the huge granite spires, the Torres, that give the park it's name, standing mightily before me, free of the mist that had surrounded them for the past few days.
This magnificent sight felt like a fitting reward for five days work. It was then that I looked, for the first time, at a name printed on the sleeve on the jacket I had rented from Eratic Rock. It read, 'R. Mesdag – Guide'. I smiled.
This had been Rustin's jacket, and everything, the preparation, the journey and this discovery, at once, all made perfect sense.
Greg Ash